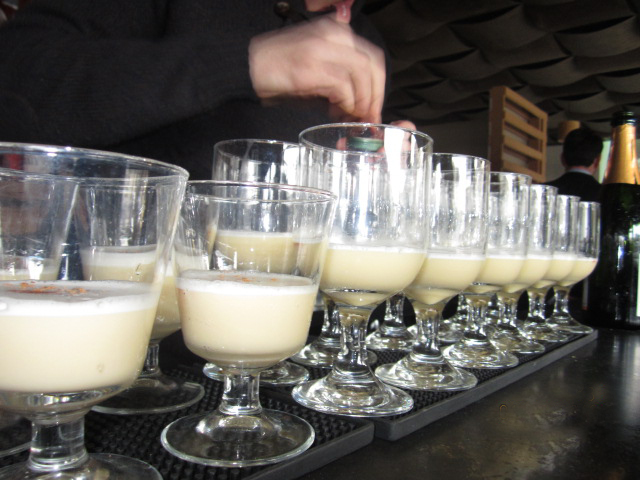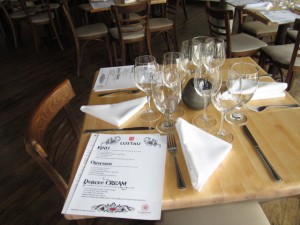 The two-hour seminar featured the history of sherry, specifically the Lustau brand; an overview of Jerez, Spain, the famed sherry region; and tastings of several Lustau sherries. Klebanow shared sherry stories and facts: beginning in 1896 with the history of Don Jose Ruiz-Berdejo, Lustau founder; an explanation of the Solera System of aging wine as developed by the Spanish and Portuguese; and the regions that grow the best grapes for Lustau Sherry.
Klebanow explained "Capataz" – head cellar master – and wondered aloud how "if you looked in his veins, if it would be sherry inside." The Capataz keeps a close eye on all the sherry to see how it is developing; and if it should be moved to another part of the solera system to be the style of sherry it will best evolve into.
Nat Saywell, Fine Wine Portfolio Manager and Mike Lester, On Premise Manager, both of MS Walker along with Jennifer Ferreira, a Cook & Brown bar manager and a 2012 Beverage Network-featured "Top 10 Mixologist," poured what Klenbanow called the "most misunderstood wine." Guests enjoyed traditional tapas that accompanied the tasting.
Three cocktails were made with Lustau Sherry as a key ingredient: the "Fino," the "Oloroso" and the "Deluxe Cream" all from Corey Bunnewith, CSW, with Inspired Beverages, Inc.
The recipe for the "Oloroso" is adjacent in this month's SERVING UP.