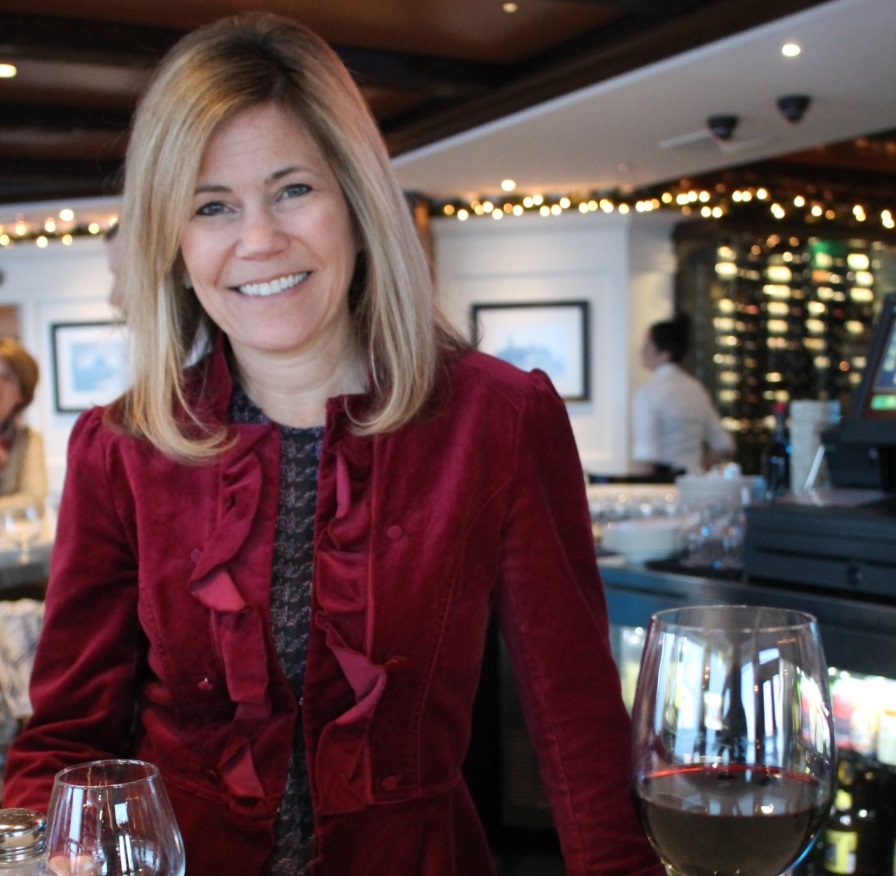 A Mid-Career Switch Proves Fruitful for Coast Guard House Sommelier
By Lauren Daley
In listening to her talk wine, it's hard to believe that just a few years ago, Court of Master Sommeliers Certified Sommelier Elisa Wybraniec was a mortgage account executive.
After Hurricane Sandy destroyed much of Narragansett's coastline, including landmark destination venue Coast Guard House, in 2012, Wybraniec left her 19-year career in banking to focus on rebuilding the business with her husband, Coast Guard House co-owner, Bob Leonard.
Now the Wine Director at the Coast Guard House Restaurant — and a Wine Spectator Award of Excellence winner — Wybraniec's sophisticated palette is evidenced by the Coast Guard House's extensive and impeccably curated wine list of some 175 bottles —from a 2014 Txacoli white from Luzia de Ripa in Arabako Txakolina, Spain to a 2013 Pinotage red from Bosman Family Vineyards in Wellington, South Africa and a spectrum of terroirs and appellations in between.
The New Jersey native and 1990 University of Rhode Island alum is also now adjunct faculty at Johnson & Wales University.
The Beverage Journal: First off, why did you want to leave banking for wine?
Wybraniec: I was in banking for 19 years, but I'd been interested in wine for a long time … Then [Hurricane] Sandy gave me the opportunity. My bank said I could take three months off to [help rebuild the business] but … I decided I wasn't going to go back. I called them and said, "Listen, I need to do something else for me, personally" …and they were so great; they were terrific and understanding.
TBJ: And what was your wine education like?
Wybraniec: At Johnson & Wales, I obtained levels 1, 2 and 3 for WSET [Wine and Spirit Education Trust]. I also obtained Certified Specialist of Wine through the Society of Wine Educators at Johnson & Wales. For my WSET Level 4 Diploma, I did that in Boston with Adam Chase [director of] The Grape Experience. I was certified by the Court of Master Sommeliers in 2016. Overall, it's a 3- to 5-year commitment, depending on how frequently you want to take the exams…
Ed Korry at Johnson & Wales is brilliant. To be able to have his knowledge and expertise available here in [the] state of Rhode Island is a luxury … Adam in Boston was a fantastic educator … Having great educators was part of what made me more and more intrigued by the subject. There's so much to know about wine, you'll never know it all. It's a continuing education as well as camaraderie, especially as I proceeded to the highest level, the diploma level, where nobody else knows how difficult and grueling it is, so you develop friendships with these people in your class…
TBJ: What do you love most about wine?
Wybraniec: It's something that embodies happy times with family and friends; it's a complement to your whole dining experience. In college, we did a lot of cooking at our house dorm in URI, and we'd cook and have friends over, and it was part of the social culture. I also love the whole process of cultivating a grape vine into a Pinot Noir.
TBJ: What wines do you like right now?
Wybraniec: It changes … My big one is sparkling, and my biggest is Champagne, which I know is cliché, but so much goes into that bottle. We went to Champagne recently … The British are also making quality sparklings right now…
For Pinot Noir, I'd love to buy more Burgundy … Italian wines are some of my favorites. I like the fact they don't use a lot of oak on their whites; I'm not huge on oaked whites. I'm not huge on California Chardonnays…
TBJ: How would you characterize the Coast Guard House wine list?
Wybraniec: I aim to keep to the familiar, so I'll try for popular wines, like Cabernets, but from a different area than people are used to. So for Chardonnay, I'll offer a Napa, but also offer one from Santa Barbara. I like cabs from Chiles Valley — all these little cabs that exist between Napa and Sonoma; you can taste the terroir…
We update the list semi-annually, which gives me time to play around. The word-of-the day is white blends, so I ended up going with three white blends by the glass … I'm also an advocate for lower alcohol wine … For the winter, we brought on an intense Chilean Pinot Noir and another from Los Carneros, because I didn't have a Carneros appellation.
TBJ: What's fun or different on your list now?
Wybraniec: We have a wine called Txakoli from the coast of Spain; it's a very crisp, refreshing white, a super accompaniment to shellfish. For reds, we have Sagrantino di Montefalco, an Italian wine with a lot of guts to it … For an oddball pick, a Chardonnay from Jura, France, which has nutty tones to it, which can make people think the bottle is flawed, but that's the way it's made.
TBJ: What's popular with customers right now?
Wybraniec: By the bottle, Pinot Noir, cab whites, Chardonnays. By the glass, its Pinot Grigio, hand over fist. For reds, I do see people more interested in Merlots than when we first opened the restaurant.
TBJ: What's a suggested pairing?
Wybraniec: By the glass, we offer a rich-style Chardonnay, from Livermore Valley, not Napa, which is an appellation people don't think of — it's buttery, which goes with lobster pot pie and lobster ravioli just wonderfully.
TBJ: With all your focus on education, do you feel it's important to teach your staff?
Wybraniec: Oh, yes. We try and do field trips once a month to local vineyards and brewers and distillers … because it's important for our staff to know how a beverage was made, and the people behind it.
I've also taught a "How to Analyze Wine" class, where they can taste and describe it … We'll sit in tasting sessions, so for example, for a Chardonnay, I'll collect all the different flavors and aromas — caramel, toast, butterscotch, butter, green apples, chalk, rocks … and I put 20 things out on a platter, and I'll say: "All these flavors can be in that glass. What do you taste?" Visual learning can be so effective.
TBJ: That's fascinating. What wines do you drink at home to relax?
Wybraniec: Depends on the time of year. This summer was definitely all about rosé. Right now, in the winter, more towards reds — there's a Pinot Noir I like now from Oregon, Big Table Farm. And La Voix, a California Pinot Noir, which is just pure, vivacious, complex.
TBJ: Anything else you'd like to add?
Wybraniec: One of the educators I had said, "Don't over stress about wine. It's just wine; it's supposed to be fun." And because banking was so serious, that made an impression on me. I get to freestyle it. I love it.
Interview has been condensed and edited.