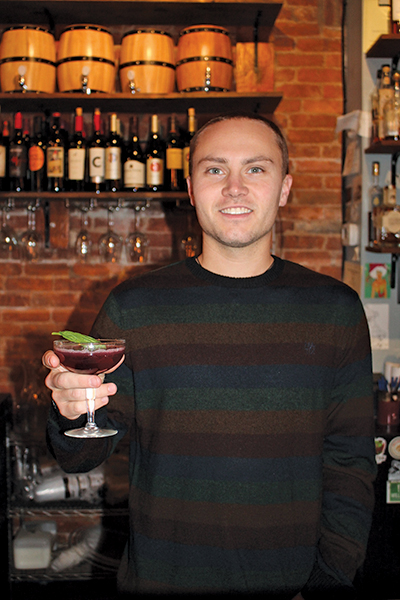 The Malted Barley
42 High Street
Westerly, RI
A destination for craft beer enthusiasts, The Malted Barley features 40 draft lines and more than 100 bottled and canned offerings. A modern cocktail list, plus local and national wines, accompanies the gourmet stuffed pretzel menu, dipping sauces and sandwiches. The first franchise location recently opened in Providence at 334 Westminster Street.
Bartender: Dylan Sheak
Cocktail: The Aphrodite
Recipe:
2 oz. Hendrick's Gin
1/2 oz. St. Germain elderflower liqueur
Splash of tonic water
A couple of fresh basil leaves
Handful of blackberries
Fill a coupe glass with ice. Muddle basil and blackberries in shaker, add Hendrick's Gin and St. Germain and shake. Remove ice from coupe glass, strain cocktail into glass. Add a generous splash of tonic water. Garnish with a basil leaf and a blackberry.
"It's delicious. The right ingredients just came together," said Sheak. "We named it after a yacht in Watch Hill, The Aphrodite. It's similar in color [and] it all came together in that fashion."