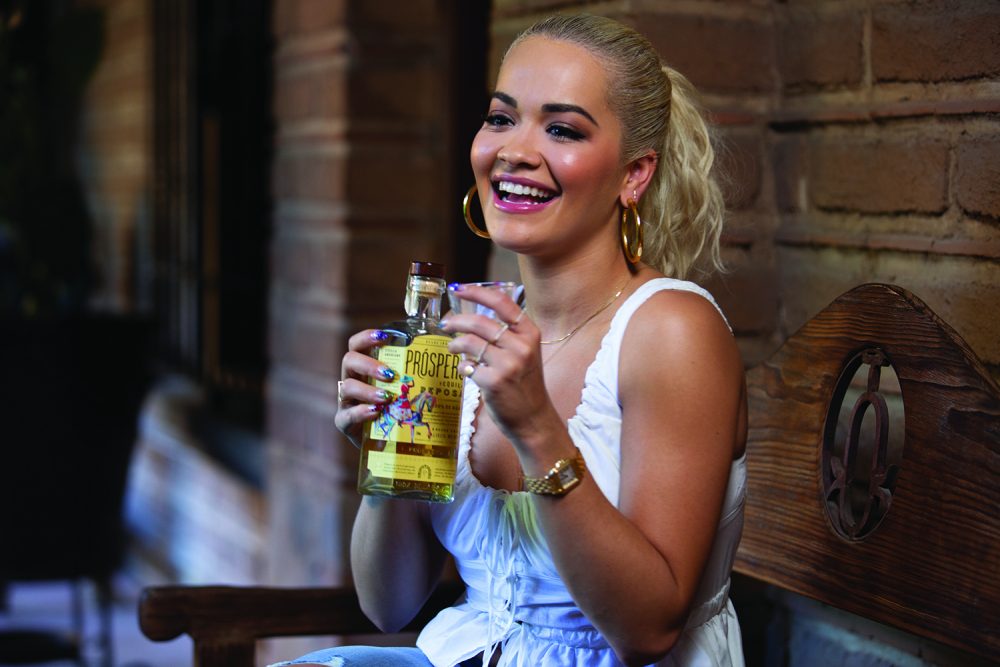 The Breadth and Influence of Celebrity-Branded Wines and Spirit Keep Evolving
By W. R. Tish
Once upon a time, celebrities made the covers of wine magazines just for drinking wine. Then they started making it. Or at least Francis Ford Coppola made it—and made it look easy. And Marilyn Merlot made it fun.
Next thing we knew, as Americans were drinking lots of different kinds of wine and spirits, brands with celebrity connections—from movie stars and musicians to athletes and politicians and porn stars—started to crop up. And never stopped. Enough Reality TV stars had wines (count 'em: 12) that a pop culture website staged a taste-off.
The star-studding of beverage alcohol extended to spirits, too. (Even the Hatfields and McCoys have a whiskey.) Indeed, it was on the liquor side where the financial clout of star power would be felt in the form of P. Diddy's Cîroc Vodka, which launched in 2007. Other star-aligned spirits that have established themselves include Dan Aykroyd's Crystal Head Vodka, Kenny Chesney's Blue Chair Bay Rum, Sammy Hagar's Cabo Wabo Tequila and Jay Z's D'Ussé Cognac.
But there is no simple formula—otherwise, P. Diddy's tequila, DeLeón, would sell like Cîroc-cakes. And what happened with Effen Vodka and 50 Cent? Does anyone even know that Ludacris had a Cognac (Conjure); or that Martha Stewart had a wine brand; or that PitBull had/has a vodka (Voli)? And how many people know who Steven Soderbergh is (a film director), let alone his Singani 63, a Bolivian distillate of Muscat of Alexandria grapes?
In a way, the proliferation of star driven wines is a natural byproduct of wine's overarching boom, and a sign of alcohol, despite regulatory hurdles, becoming more in tune with of American consumer culture. But just when it seemed the idea of star-branded wines and spirits might have plateaued, the past few years have seen a spike of huge hits. George Clooney's and Rande Gerber's Casamigos Tequila and Conor McGregor's Proper No. 12 Irish Whiskey practically broke their respective bottle molds. And last summer's sudden must-have rosé was Diving Into Hampton Water, South of France veteran Gérard Bertrand's collaboration with rocker Jon Bon Jovi and his son Jesse Bongiovi.
Predicting a hit is dicey business. It can't be just the juice in the bottle. Having a television platform never hurts, as evidenced by Avión's boost from HBO's Entourage. Bethenny Frankel's Skinny Girl—built on an audience of TV-tuned-in, calorie-counting women—effectively flipped the script; the street-savvy Real Housewife of New York became more famous after launching her brand of alcohol.
Perhaps most important of all, today's digitally-fueled society has recalibrated the whole notion of celebrity. True stars can be completely unrecognizable to people who don't follow those specific genre of arts or sports. So, part of the trick for wine and spirits merchants is determining just what (and how relevant) a celebrity angle is.
There are also matters of supply and promotion. Many celebrity beverages are made in tiny quantities; so, for example, even if you did know about Pink's wine label Two Wolves, you would not be able to sell it. As for promoting a celebrity connection, there is every reason to flag it in the store. Distributors are usually happy to provide brand details, but they don't always have point-of-sale materials. In that case, house-made shelf talkers can play silent publicist.
Here is a look at some of the obvious and not-so-obvious celebrity-connected wines and spirits to consider carrying, depending on availability in respective markets. The fans are out there. Even when the star is not in-store signing bottles, making sure that celebrity connection is evident is a common-sense means of helping make sure you don't miss out on sales.