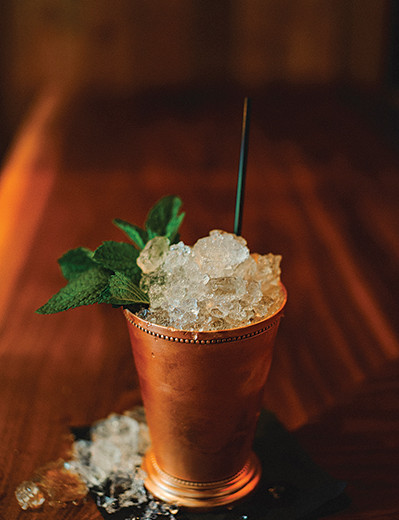 Statesman Tavern
31 State Street
Bristol, RI
The American-style tavern's kitchen is "ingredient-driven" — and its bar echoes the same attention to detail, using hand-carved ice blocks, fresh juices, homemade bitters and syrups, and house infused spirits.
Bartender: Alan Caswell
Cocktail: Kentucky Mulep
Recipe:
Add to a shaker glass:
2 oz. Buffalo Trace Bourbon
1/2 oz. House creme de mint (recipe below)
Ice
Shake
In a copper mug, add crushed ice to form a dome. Strain mixture into the mug.
Add 1 oz. Barrett's ginger beer.
Garnish with mint sprig.
House creme de mint: Tear 1 cup mint leaves into quarters. Place in a sealable glass jar and pour 1-1/2 cups Hammer and Sickle vodka on top. Shake. Let steep 12 hours. Strain mint leaves. Return infused vodka to the jar.
Meanwhile, bring 1 cup water and 1-1/2 cups sugar to a boil. Let simmer 5 minutes. Remove from heat and let cool, then add syrup to mint-infused vodka. Add another ½ cup of torn mint leaves to the jar. Shake. Let steep for 10 hours. Strain twice to remove all mint leaves. Keep in resealable bottle.
"A cross between the iconic Moscow Mule and a Mint Julep, this cocktail packs the bourbon punch while also being refreshing," said Owner Sam Glynn.