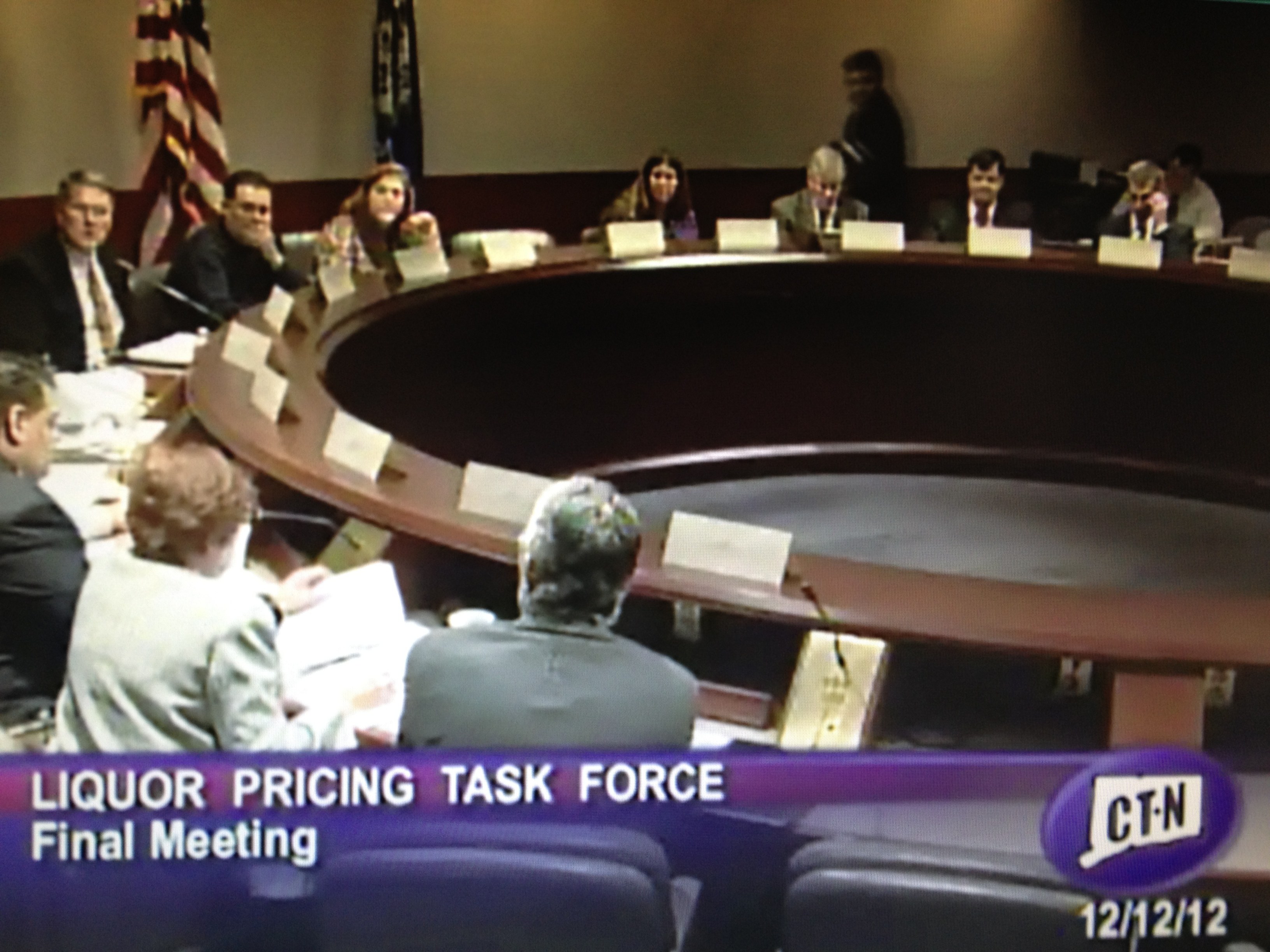 By Lauren Daley
The Governor's Competitive Alcoholic Liquor Pricing Task Force decided at its Nov. 14 meeting to gather all data and studies from the past five months and hand it off to the Office of Legislative Research (OLR) for them to boil it down to a report to hand back to the Task Force. OLR legal analyst Duke Chen drafted that report to the Task Force on Nov. 28. The 15 members of the Task Force had until Dec. 5 to make any comments, notes or changes. Those were sent back to Chen to draft a final version. The Task Force was slated to meet for a final time on Dec. 12 to approve that version.
Their final report to the General Assembly will contain no opinions— it is a list of facts, graphs and charts, economist and Task Force member Stanley McMillen told The Bev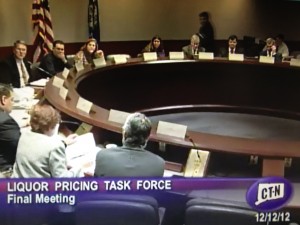 erage Journal.
Chen told The Beverage Journal that he could not discuss the report, as it was not public knowledge as of press time. When and if the final report is approved on Dec. 12, it will be available via the OLR Web site.
The report is the result of seven months-worth of research by The Task Force. They were asked by Connecticut Gov. Dannel P. Malloy (D) in May to examine, review, and analyze four major topics: Connecticut alcoholic liquor taxes, quantity and volume discounts, existing liquor permit restrictions, and minimum pricing and price posting. They were also asked to look at alcohol law in other states and note the impact on consumers and industry stakeholders.
Task Force Co-chair Deputy Majority Leader State Rep. Kathy Tallarita (D) from the 58th District in Enfield and co-chair Ed Berthiaume did not return repeated calls.
During their Nov. 14 meeting, McMillen delivered an extensive report of research. Filled with statistics, charts and graphs, McMillen's 30-page report is a detailed look at Connecticut consumers' drinking habits and buying habits; a review of how alcohol laws have changed since Prohibition; a look at the three-tier system consisting of the production, distribution and final sale of alcoholic beverages that evolved after the repeal of Prohibition; the differences between federal and state taxes levied on alcoholic beverages, and other facts.
The report is available in its entirety online on the Task Force's website.  A few points include:
"Connecticut's alcoholic beverage permitting structure and there have been initiatives for changes in that system, we suggest a thorough and critical review of the LPRIC report could be a useful starting point for legislative action to simplify the current system of alcoholic beverage permits in the state."
"We believe the threats to post and hold laws and the three-tier system are credible and suggest that the legislature and the Governor's office consult with industry and other experts to determine what changes could be made to Connecticut's laws regulating the production, distribution and sale of alcoholic beverages to reduce or eliminate these threats. Such action could save the state resources needed for other purposes.
"Finally, in considering the current system of laws and regulations, we should ask what public policy objectives do they serve and what alternative policies would serve them better. In this consideration, the efficiency and equity of free markets can be used as a measuring device to gauge how close Connecticut can approach that ideal trading off the benefits to responsible consumers and the reduction of social harms caused by irresponsible consumers."
The report issued by OLR on Nov. 28 is 15 pages, McMillen said, with an appendix that contains his report, and comments made on his report by other Task Force members. The document is a total of 50 pages. "It's basically just a collection of facts,"
"OLR has published a number of reports over the years answering questions from legislators on bills, and so on. From doing the work they've done over the past 10 years on this issue, they've compiled a lot of facts."
McMillen noted that in 2004, The Legislative Program Review and Investigations Committee published a "large report on permitting regulations pertaining to on-premise and off-premise sales. They had made a number of recommendations. The legislature never did make those changes at the time. I suggest—which is short of recommend—that people use that report as a place to start, to examine the overall environment without reinventing the wheel."
Of course, McMillen notes, that's only one piece of the pie: "There are still quantity discounts, post and hold, taxes, limits on hours, convenience store sales, the bottle bill and so on… There a number of factors that go into a final price that we pay in the store."
In a column titled, "High drink prices: The real culprit is the minimum pricing scheme," that ran in the Nov. 28 issue of The Connecticut Post, Jay Hibbard, vice president of the Distilled Spirits Council, wrote: "The Competitive Alcoholic Liquor Pricing Task Force is eyeing the state's artificially high alcohol prices… We need to make sure that policy makers are calling up the right brand of tax reform… While the distilled spirits industry certainly supports lowering our burdensome excise tax rate, simply lowering the rate will have little impact on shelf prices in this case. The only real path to reducing shelf prices is to get rid of the state's minimum bottle price scheme."
McMillen responded, "To say that 'minimum bottle pricing is real culprit,' what does that mean? I'd say that's an emotional statement. I'm not criticizing him, but from an economist point of view, there are many factors that contribute to the final price we pay for a bottle of alcohol. We have to look at to say, 'Are some of these factors anti-competitive? If an examination suggested that one of these factors was anti-competitive, then one could say, 'We need to increase competition here, or remove barriers for others to compete, so prices can get lower.' That's the kind of discussion we need to have, because there is a lot of emotion in the issues at hand here—people feel their profits are threatened. But being emotional is not helpful."
As a Task Force member, McMillen acknowledges these are big issues—but as an economist, he acknowledges that alcohol laws are not the most pressing the Legislature will have to deal with in 2013.
Connecticut Gov. Dannel P. Malloy's officially announced a $363 million state budget deficit. According to the CT Mirror, the administration released $123 million worth of emergency cuts ordered by the governor; it's mostly education and social services that will take the brunt of the hit—the administration aims to cut $70 million from health care and social service agencies and $25 million more at public colleges and universities.
McMillen said, "We live in a very difficult time. Connecticut is in a severe budget crisis, plus we're looking at a short session, smaller tax revenues, an aging population and so on. Meeting our commitment to education and social services will be the most important thing for the Legislature to address. These issues with the alcoholic industry have been around for decades. I mean, it's important, but there are more pressing issues."
The final step for the Task Force is to submit the final report to the General Assemble by January 1, 2013.