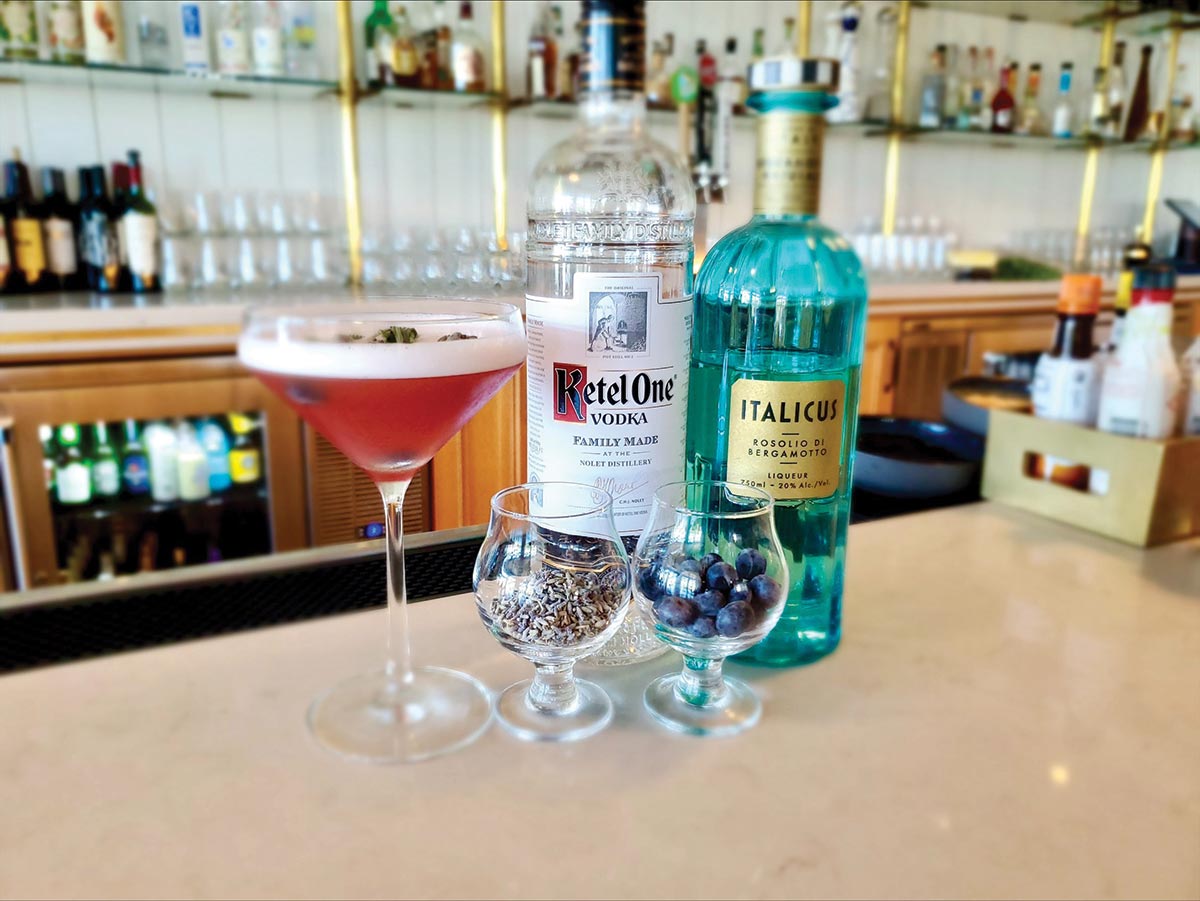 The Brenton Hotel
31 America's Cup Avenue
Newport, RI
Opening its doors in the summer of 2020, The Brenton Hotel is one of Newport's latest luxury boutique destination stays. The 57-room hotel in the heart of the historic waterfront district offers spacious suites set against beautiful views of the Newport Harbor. For food and drink, guests have a variety of options to choose from in-house, with spaces such as The Living Room, the venue's comfortably furnished lobby bar and restaurant offering seaside scenes and fresh, locally sourced cuisine; The Bar at LR, with its emphasis on creative cocktails featuring artisanal and high-end spirits and fresh botanicals, as well as notable Rhode Island craft brews and fine wines; and The Rooftop, a hot spot offering small plates, curated fine wines, artisanal local beer, ready-to-drink selections or artful libations accompanied by sweeping three-directional views. Created in the summer of 2021 by Bar Supervisor Maurice Taylor, the Naked Topsides cocktail is a prettily pink-hued and popular offering on the venue's cocktail menu, encapsulating its tilt toward botanicals and Newport-inspired selections.
Bar Supervisor: Maurice Taylor
Cocktail: Naked Topsides
Ingredients:
» 1.5 oz. blueberry- and lavender-infused Ketel One Vodka
» .75 oz. Italicus Rosolio di Bergamotto
» .5 oz. lemon juice
» 1 oz. white cranberry juice
» .5 oz. simple syrup
» Garnish: lavender sprig and blueberries
Method: Crush blueberries and dried lavender flowers, add and stir, then leave to infuse in Ketel One Vodka overnight. Add infused vodka, Italicus, juices and simple syrup to a cocktail shaker over ice. Shake and pour into a martini glass. Garnish with a lavender sprig and blueberries.
"The name represents the laid-back atmosphere of Brenton but without sacrificing quality," Taylor said. "The Ketel One is infused with lavender and blueberry and garnished to match with three blueberries and a sprig of lavender," he continued.
"Italicus provides a superb botanical twist, adding hints of sweetness and herbs that are impossible to replicate. This drink is the cocktail to enjoy in Newport's Living Room at the Brenton. Sitting alongside floor-to-ceiling sliding doors overlooking the harbor creates the feeling of being aboard a luxury yacht set in historical New England."