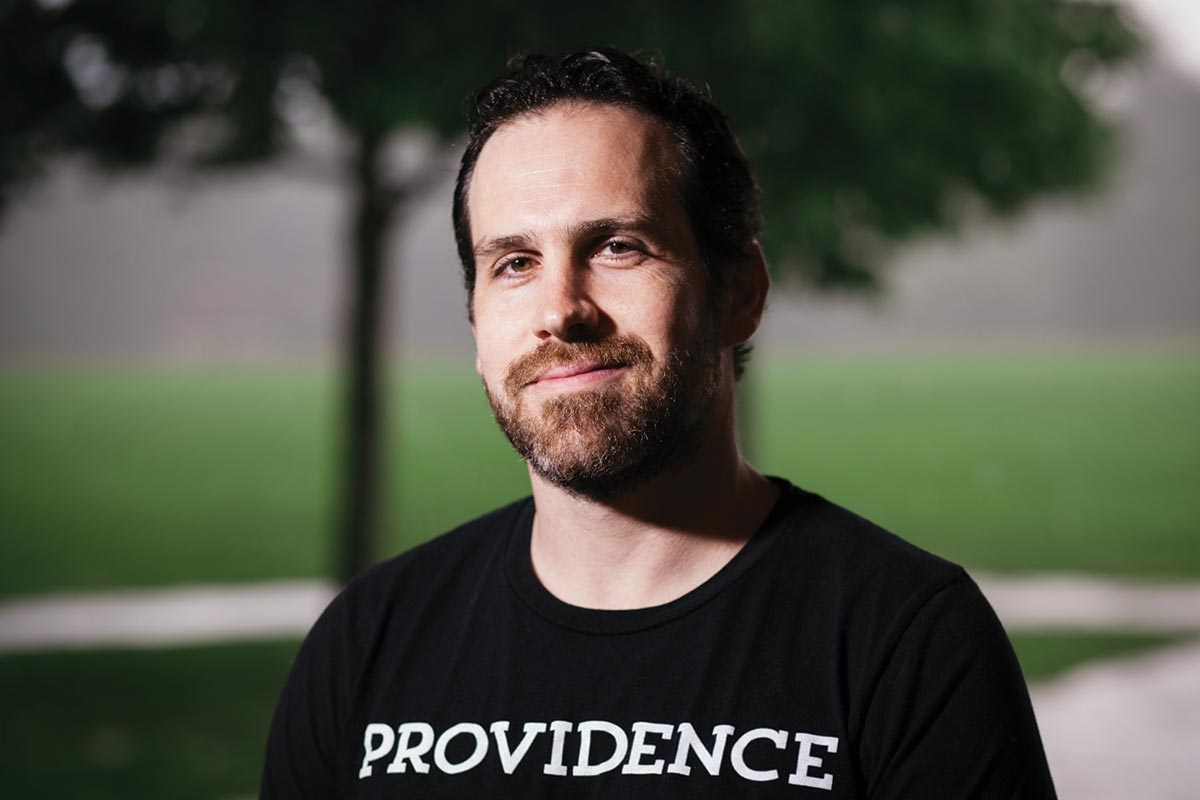 Filmmaker Dave Ricci Discusses Award-Winning Documentary
By Lauren Daley
As Rhode Islander Dave Ricci will tell you: He's just a beer fan who couldn't help but notice the growing craft beer industry brewing in his home state, so he decided to make a film about it. His directorial debut documentary, "The Craft: Rhode Island," won the Providence Film Festival Award Grand Prize at the Rhode Island International Film Festival in August.
"The Craft: Rhode Island" offers a "behind-the-scenes look into Rhode Island's booming craft beer industry" according to the film synopsis, and examines local brews "from a variety of angles and perspectives. It delves into the personal histories and career paths of a number of our state's most well-known brewers," from the history of Narragansett Beer to legislative changes to the brewing process itself.
Ricci's film co-producers are his siblings Chris Ricci and Beth Ricci, and his brother-in-law Nick Charello. The four are co-owners of Providence-based media production company Eleven Design. "I think of myself as a casual beer drinker and I love anything local … I'm not going to pretend I was an expert. [But] I think that's to our film's advantage, because the story is told through the lens of people who want to learn more about the entire movement – from the people to the process, the history," says Ricci, also a teacher at La Salle Academy in Providence.
"It's important to toe the line between being too 'geeky' and too 'introductory' – I think we found the right balance," says the Providence resident. "Creating a documentary is not much different from trying to get a bunch of 15-year-olds interested in world history; it's creating a compelling story and helping them understand why they should care and how it pertains to them."
The Beverage Journal: First, this film is fascinating. What sparked the idea?
DAVID RICCI: Thanks so much! I've always been a beer fan, though not to the level that you see of some of the craft beer geeks today. Thinking back over the last decade or so, I recall selecting craft options when they were available – mainly Sam Adams, Sierra Nevada, Dogfish Head. [Then] around 2012 or '13, I remember hearing about Foolproof and some other smaller breweries that were springing up, and, when available, I'd drink those as well. [In] early 2017, I had heard about all of these other local breweries popping up. I knew [craft beer] was "a thing" but really had no clue how big it was becoming. And being a teacher with an extensive background in research, I decided it was time to put those skills to good use.
TBJ: What are some of the most interesting things you learned while making the film?
DR: [I]t's been really interesting to learn how skilled all of these brewers are, and how each of them bring something unique to the experience. These folks come from all different backgrounds and life experiences, so it's been fascinating to learn how those experiences shape their business models, the actual brewing, their marketing and everything that comes with it. People are doing what they love and you can see their personalities come out in their breweries. I think that's part of the reason why the industry can sustain itself. It's not a cookie-cutter industry.
TBJ: Did you taste beers? What were some favorites?
DR: I think beer fans go in phases of being really into something and then wanting to take a break from it. I've always been an IPA fan and I personally love a good 7% to 8% NE Double. I love that our Rhode Island breweries are creating a number of pilsners and other lighter options as well. It's important to find a balance between appeasing the die-hard fans and opening yourself up to newer customers that simply want to understand what the scene is all about.
We're at the point where our brewers are comfortable and savvy enough to offer a wide portfolio of options. Some of our newest breweries have proven that they can hang with the big dogs in the industry, so I think that speaks to the overall quality of all of Rhode Island's breweries. We're on par with some of the greats across the country.
TBJ: What was your goal when you started out filming? Did it change as you filmed?
DR: I'll never forget the first day we filmed. We were at Foolproof Brewing [in Pawtucket, RI] in August 2017. I had only spoken to [President and Founder] Nick Garrison a few times. He didn't know what we'd come up with, nor did we. I had a general idea, but we really had no idea what it would lead to.
Once we had two or three interviews under our belt, we began to see some common threads appearing. As is the case with any research project, you generally have an idea of what you might uncover in your research, but until you really get in there and start asking the questions, you don't really know where it will lead.
TBJ: This is your directorial debut. Will you make more films?
DR: Our experience in making this film is something I'll never forget. To see where we started to see where we are now is pretty surreal. There are a lot of moments throughout the process where you wonder if it's worth it to continue, if your film will be any good. [T]he way the film has been received has given us a lot of confidence to realize that these are stories we should be telling, and that's a good feeling.
There might some other craft beer content down the road, if the opportunity presents itself. On the other hand, we're storytellers and there are a multitude of other stories that we are interested in telling. Hopefully we will be presented with an opportunity to do that soon. If we are able to complete another film and receive an award, hopefully I won't temporarily black out from shock next time.
TBJ: Tell us a bit about yourself.
DR: I live in Providence with my wife and my two children. I'm a social studies teacher at La Salle Academy. Though I personally don't have a background in film, our team – my siblings, Chris and Beth, along with my brother-in-law, Nick – have worked on other projects over the past decade or so. While I do not have the technical training of the other three, I do feel like creativity is somewhere in my DNA as well – our mother is a professional cellist, and Chris and Beth are amazing musicians, composing a lot of the music for our film themselves.
TBJ: You're a founding partner of Eleven Design.
DR: Eleven Design is a media and marketing firm in Providence. [We] evolved from being more of a graphic design and promotional company about 10 years ago to getting more involved in multimedia-type work. "The Craft" was a passion project for us, but I think our success has shown that our skills and creativity equal some of those who may have been at this for longer than we have. That's not to diminish their talents, but we do feel like we have a lot to offer.
TBJ: I read that there were 18 breweries when you started, and 30 now?
DR: It's crazy to see the growth in Rhode Island alone. When we began, in roughly late 2017, there were 18 breweries. By the end of 2019, I believe Rhode Island will have 30. And their proximity to one another plays to [Rhode Island's] strength because you can get to five or six of them in one day.
TBJ: Anything else you want to add?
DR: I just want to reiterate that none of this would have been possible without the generosity of these brewers. They had no idea if this project would be good or bad and they put their faith in us to properly tell their story. We hope we were able to meet their expectations.
Interview has been edited and condensed. Learn more and watch the trailer at eleven-ri.com/craft.