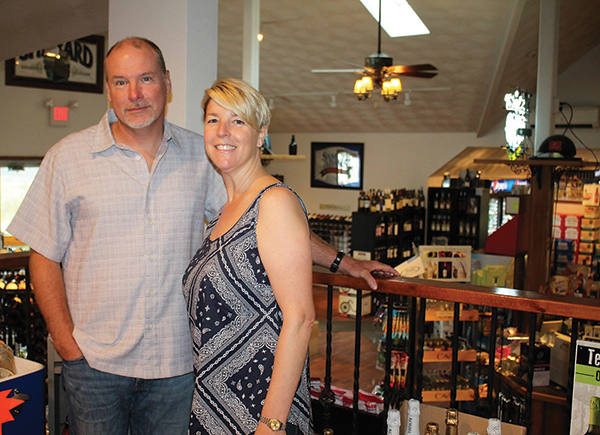 The Watering Hole
185 Hartford Pike
Foster, RI
Square footage: 3,000
Years in operation: 5
By Savannah Mul
Six years ago, if you were to drive by where The Watering Hole stands today on Hartford Pike in Foster, you would have found an overgrown, grassy lot and an abandoned home, or you might not have noticed it at all. When Dan Healey bought the property in 2012, he had a vision in mind.
Healey transformed the abandoned three-bedroom house, which also housed a two-bedroom apartment and a ceramics studio, and converted the property into a liquor store. The construction and excavating took about a year, with doors opening in 2013, right around Christmas time. "When people walk in this store, they look around and say 'wow,'" said Store Manager Tracie Wiggins. "People don't expect it."
The store features a 16-door beer cooler, along with a walk-in cooler containing a variety of 12, 18-, 20- and 30-packs of beer. There are also two coolers near the register for chilled wines. The wooden floors and custom-made wooden shelving and racks give the store character, inviting a clean and welcoming shopping experience.
"What appealed to me about this location was the length of the building," Healey said. It is shaped more like a long rectangle. Healey arranged it for easy shopping and visibility. Upon entering the store, to the left is imported and domestic beers and craft beers, which are curated by Justin Norman, who Healey calls "the beer guru." The middle of the store showcases wine accessories and selected wine offerings. To the right and up a couple of small stairs lies an expanded offering of wine and spirits.
Wiggins and Healey are both passionate about wine and look to stock interesting finds, introducing new varietals, brands and regions to their customers. Due to their own curiosity to taste new wines, and shared love for any and all grapes, wine has always been a main focus; the store carries approximately 2,500 different labels.
Currently, they both are fond of Austrian wines and stock a variety. Their approach on marketing different, lesser-known products or brands consists of in-store tastings and hand-selling. Healey also highlights a rack of wines at $10 or less.
This isn't Healey's first liquor endeavor. He previously owned a Cranston store, but was looking to get away from the city bustle. Selling the store, he moved to a "quieter neighborhood" in the Ocean State.
Customers "have come to trust" the staff and its recommendations. Wiggins began putting a pink star next to bottles that she recommends. "When they see the star, they know this is a good product," she said. "Customers will just ask me to build a case for them. We have great cliental here. Everyone is friendly and very honest."