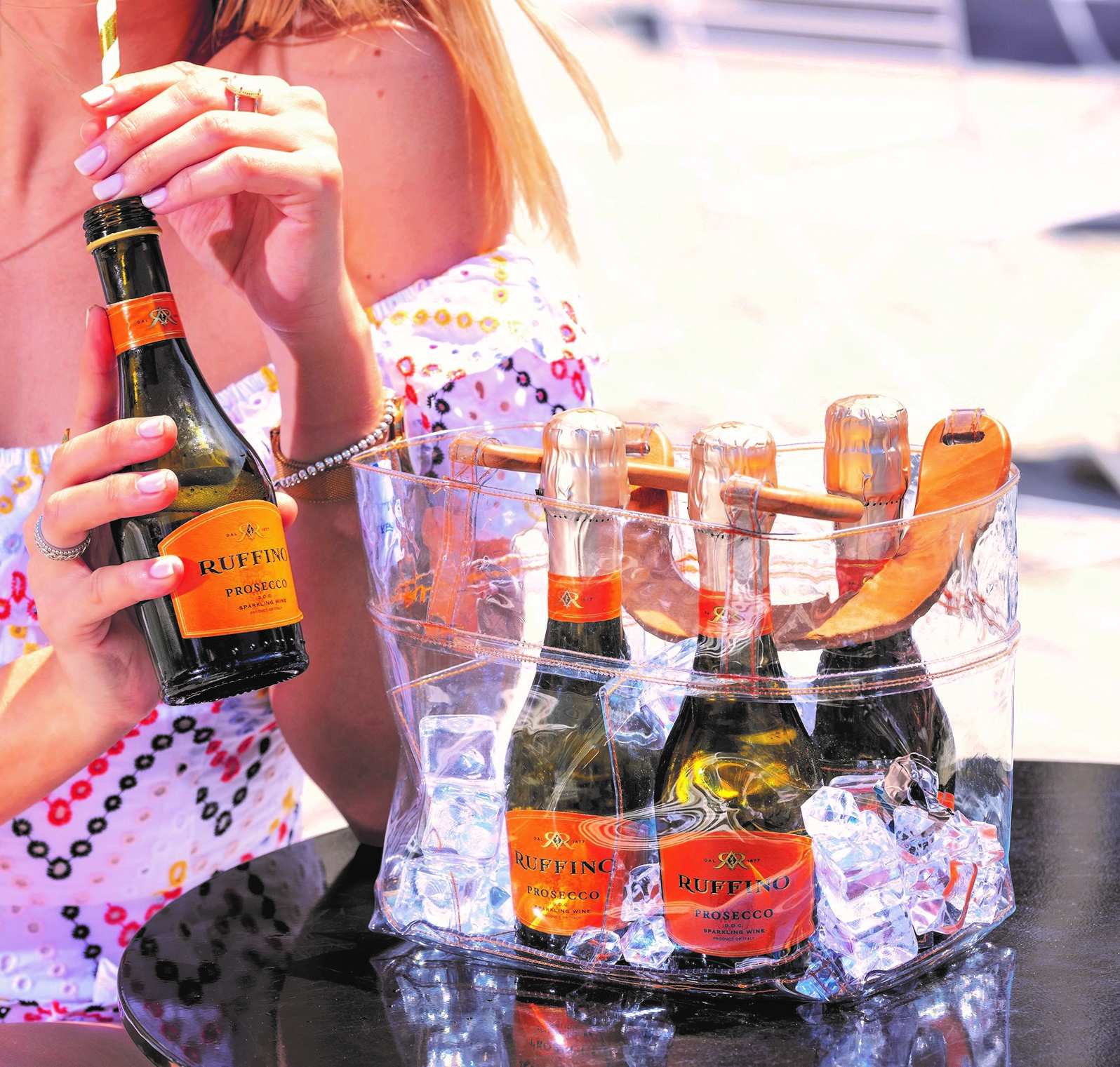 Sleek, Sexy Smaller Formats Fit Right in to Grab & Go Culture
By W. R. Tish
There's an old marketing saw: "The wine doesn't know what package it's in." Maybe so, but people sure do. And that package is not only about the look but also the size. In fact, it appears that, quietly—or not so quietly in the case of cans—single-serve formats are enjoying newfound popularity.
According to IWSR Drinks Market Analysis, wines packed in 187ml, 375ml and 500ml are all growing faster than table wine overall (from 2017 to 2018, up +11.4%, +10.4% and +27.5%, respectively). And while their volume is still tiny (each garnering less than 2% market share), the explosion of canned wines and brand extensions into smaller formats has made sub-750ml containers a force to be reckoned with.
Brandy Rand, COO of the Americas at IWSR Drinks Market Analysis, sees the small-getting-bigger trend as a reflection of several general consumer trends, including "convenience, experience, portion control, sustainability and quality for value." It is also a sign that wine is joining America's mainstream beverage consumption habits. Consumers today are more relaxed about wine in general, which extends to greater openness to 'unfussy' eco-friendly packaging.
Rand notes, "Single-serve has been the primary package size for beer, malt-beverage, soft drinks and water, but over the past few years, spirits and wine have also seen growth in small sizes. For wine, new product innovation and wider availability has spurred consumer interest in alternative packaging." In turn, smaller formats—especially non-glass—help wine fit a wider variety of occasions, from boating to beach days to outdoor concerts and sports events.
Sutter Home was the first wine brand to package wine in Bordeaux-shaped 187mls that resembled traditional bottles. They have been the genre's lead dog ever since, and today control about half the total 187ml market, according to Nielsen. (In fact, if Sutter Home 187mls were their own brand, they would rank as the 15th largest in the U.S. in dollar sales.)
Recent experience at Korbel sees the trend lifting bubbly as well. In 2018 the brand sold more than 208,000 flat cases of 24 187mls—up 33% over five years earlier. And while nearly all of the 187ml sales were Korbel Brut, Korbel added the Brut Rosé in 187ml SKU just last summer based on demand from accounts. Margie Healy, PR Director for Korbel, believes that the 187mls are benefiting from the expansion of sparkling wine usage occasions, and even as cocktails (one in four sparkling drinkers prefer to drink it mixed).
Ruffino launched 187ml bottles in March 2018 and as of July 2019 had the highest volume gain of any brand in this size category, according to IRI. Perhaps more surprising, a special online "six-pack" project with the designer Stickybaby sold out at $100 a pop.
Roscato, the red-hot sweet red Italian bubbly, recently added 250ml cans to their line—precisely because 187s were the brand's hottest SKU. Sandra Krut, Brand Director for Banfi's Rosa Regale, another sweet sparkling red, notes: "Our customers are drinking less but more premium, and the sparkling wine and rosé craze has certainly helped fuel growth. Single-serve fills a need and a niche in this space."
Mionetto is another sparkling supplier bullish on small formats. "The trend started on-premise to control: quality, consistency and cost," notes Enore Ceola, President & CEO Freixenet-Mionetto USA, where single-serves are up 15%. "Today, the single-serve trend is primarily driven by the consumers' desire for convenience. It's a 'fun size' and a great option when they don't want to open a full bottle."
Still a Handful
Stepping up in size, while 500ml Tetra Paks are not exactly single-serve, their compact design and light weight help them blend right in to the hot hand-held camp. Setting the pace here is Bandit; the 500mls have been part of the brand since inception in 2004. It was more than a decade before they were copied, when Delicato's Bota Box spun-off the Bota Minis. This year…boom! Both Barefoot and Woodbridge by Robert Mondavi are releasing 500ml Tetra Paks, and each with a big push.
Barefoot Wine-To-Go—in Moscato, Rosé, Pinot Grigio and Chardonnay—was launched in brightly colored, playful 500mls, supported by a series of videos of well-known TV personality Mindy Kaling showing how difficult it is to take three glasses of wine with her in real world situations—the nail salon, the great outdoors, the dressing room…. Yes, these packages hold three servings, not one. But that is the whole point of smaller formats: they go anywhere.
Meanwhile, Woodbridge by Robert Mondavi's "From One For All" campaign (their largest marketing investment ever) coincided with the debut of their "Go-Pack" 500mls in Chardonnay, Pinot Grigio, Red Blend and Cabernet Sauvignon. Jaymie Schoenberg, Vice President, Marketing for the brand cites IRI figures showing the single-serve wine category up +64% in dollar sales growth vs. one year ago."We're seeing especially high growth in the Tetra category, up +15% in dollar sales year over year, and the can category, which accounts for an impressive 14% of total wine growth in the last 12 weeks [ending August 11th, 2019]," says Schoenberg.
What Else to Watch For
Halfs Have It Too. Splits, aka half-bottles or three-seventy-fives, were once upon a time the only small wine format, typically mimicking their standard-size siblings. But even this under-750 size is poised for growth. Wente, a brand that was an early single-serve supplier to trains and planes, is keen on 375mls, says Aly Wente, Director of Marketing: "Historically, we focused our small format business to airlines because we knew we had a captive audience to trial our wines. Now, with the shift in consumer preference towards convenience, we are expanding distribution of 375ml into the broader market. We are excited to see how the small format business evolves." And Sterling took a bold approach to the 375ml format: they slimmed down and added aluminum. The sleek trio went on sale earlier this year, with special emphasis on outdoor occasions.
Light Metal. Sterling is not the only brand going to metal, but not cans. Apothic is now available in cute little two-packs of aluminum 250mls. And Stella Rosa has just added a Peach variation to their line of sweet wines in aluminum; also 250ml.
(In)convenience. With the rise of small format popularity comes the rise in availability, not only in terms of product, but also distribution. Traditional retailers can expect more competition in the single-serve categories from convenience stores, where grab 'n' go is the American way.
Insta-grammability. It is no accident that Barefoot Wine-To-Go looks the way it does…colorful but not busy. It is effectively a perfect photo prop as well as a container of wine. (Press materials call the wine "a great accessory to up your Instagram game all summer long.") Stores and restaurants that stock small formats should be bringing them front and center in social media posts. IRL ("in Real Life"), retailers have smartly been displaying grabbable small cans, bottles and Tetra Paks by check-out.
Listen to Chuck. Talk of sizes may literally take on new dimensions—if government gets further involved. The explosion of cans has brought attention to the legal constraints of alcoholic beverage packages. At a photo op in the Finger Lakes this summer, New York Senator Chuck Schumer urged TTB to allow flexibility in the Standards of Fill regulations that are limiting New York wine producers (and other producers, of course).
Currently, per TTB regulations, the popular 12oz can, typical of sodas, is prohibited for wine. Wine can be sold in the 375ml (2.7 oz) can, and in a 250ml (8.4oz) can. But the 250mls are only allowed to be sold in groups of 3 or 4, not individually. Schumer argued that TTB removing these bureaucratic hurdles would unshackle producers across the state, leading to even further growth. And it might make the small, single-serve format even more vibrant than it has become.