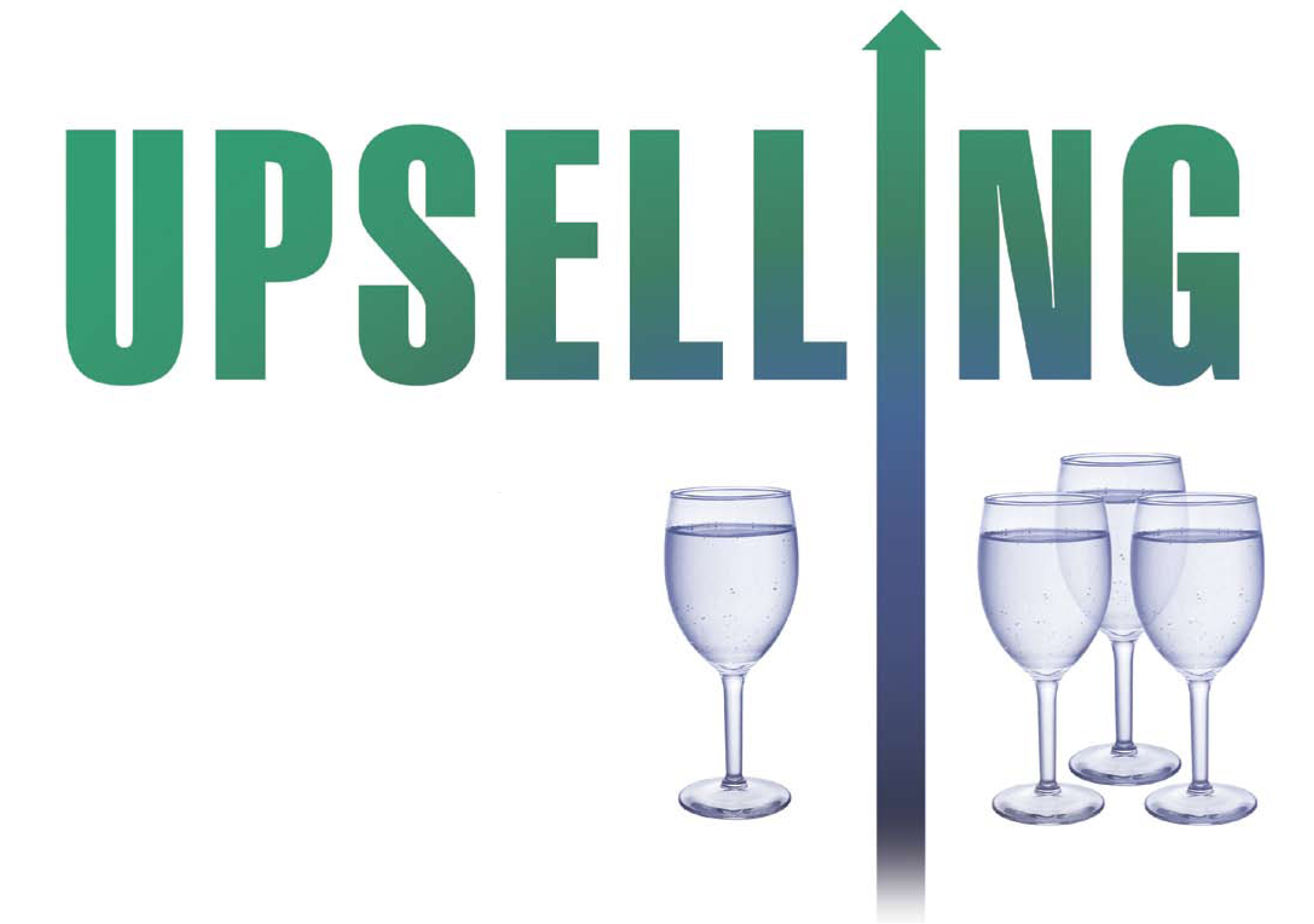 You're salespeople, not order-takers." Probably every server in America has heard that from their managers at some point or another. It's a simple principle: Don't just bring the guests what they ask for; sell them something. Upsell them.
In the strictest sense, an "upsell" means convincing guests to have a high-er-priced version of something they were already ordering. "If they're looking for a martini," says Alex Cauchon, director of wine and spirits for the BR Guest restaurant group in New York, "offer them Grey Goose and Absolut, but lead with the premium; nine out of ten times they'll go with that." Today, most people in the industry use "upselling" to describe a variety of techniques that help servers and bartenders up their check average.
For example, "Don't automatically get the wine order right away. If you get a round of specialty cocktails first, that's $60 on the check," says Ramsey Metcalf, an experienced server at Edison Food + Drink Lab in Tampa, FL. That $60 is only part of the story; it gets drinks in the guests' hands while at the same time slowing down the need to decide on a bottle of wine, so guests can get deeper into the list and Metcalf can take his time guiding—and perhaps upselling—them.
Wine, cocktails and beer are all fair game. Today's drinkers are open to splurging on single malt and other esoteric whiskies, Cauchon says, and the craft beer movement has made beer an easy place to upsell. "If the guest normally drinks Sam Adams, say, 'Try Avery's Ellie's Brown.' People are receptive to it. Sometimes it might not be a dollar upsell, but it might be a quality upsell, that wins a guest's confidence."
Economic Realities
Some guests upsell themselves: "A big shot banker looking to throw down," says Cauchon, "you've got to let them do it." So the skill sometimes lies in recognizing the guest's intentions and getting out of the way—not recommending items so much as making sure the guest knows their options. Of course, that doesn't happen as much as it used to; Cauchon says BR Guest has changed their approach to upselling since the economy began struggling in 2008. "We're not putting our palates, our opinions out there as much," he says. "Instead we're giving people something they're comfortable with. We're having success leaning toward mainstream brands."
In San Francisco, Petra Polakovicova, wine director at Epic Roasthouse, says the faltering economy certainly affected the size of the jump guests were willing to entertain. "We used to upsell even $100 more and people would go for it; people would jump from $150 to $260 if you told them it was a great bottle of wine. Now half don't want to listen at all. It's $60 to $90, $90 to $100." She says it takes multiple bottles and working the smaller angles to make the same check averages these days.
Those angles can mean filling in the other parts of a guest's experience rather than focusing on a landing a high-price bottle. "We have a decent half-bottle selection," says Polakovicova, which gives her staff something pricier than by-the-glass selections when people want to start with white wine or bubbly. At least once a night she finds herself working for that second bottle by reminding a guest, "You don't have to finish the whole bottle; you can take the rest of the bottle home with you. Good wines will be even better the next day." It makes the sale, even though Polakovicova says, "99% of the time they finish it here anyway." (Note: not all states permit guests to take home unfinished bottles.) She says dessert is also often a missed opportunity: "Two desserts and after-dinner drinks can be another $50 or $60 on the check."
Anchored by The List
A lot of upselling is being prepared with a well-organized, smartly priced wine list. "We try to underprice items people know," says Cauchon. "It gives the perception of value." That makes it easier for servers to upsell less familiar brands: "Say you've got Honig Cab from Napa Valley for $75, a brand that's not unheard of, then you put something at $10-$15 more that's a natural upsell. Mount Eden, for example, for a more Bordeaux style, a more elegant wine," he explains. Once the right wines are on the list at the right prices, the staff needs to know about them.
Cauchon says at Strip House, their newest property, they taste one or two wines each day, and he follows up: "I'll ask, 'Who was here yesterday? Talk us through the Beaux Freres Pinot Noir we tasted.' It puts peer pressure on them to do a good job. At the end of the process we agree on how we're going to present it; it's important that guests get same answer from different people."
Polakovicova says she recently sourced 25 samples from suppliers, all high-end Epic Roasthouse, San Francisco hand sells, and did a massive staff training session on them. "If you get every single server passionate about a wine, it's going to sell," she notes. Metcalf says product knowledge gives a server confidence, which allows him/her to win a guest's trust. He adds that it helps to dress like you know what you're talking about. He's worked in a suit, and in a T-shirt; wearing the latter he notes, "you have to do more to convince people you have the knowledge and ability."
Ultimately, "product knowledge is everything when it comes to selling or upselling," says Kristie Petrullo of Petrullo Wine Consulting. "Gaining the trust of a guest is extremely important, and you do that by letting them know that you are an expert in your field." That said, the concept of upselling sticks in her craw. "I find that upselling to every guest is shortsighted. Understanding what they are really asking for is more important, as in the type of experience they want. This establishes a relationship between you and the guest and usually means that they will come back. That is more important to the bottom line. One good night in sales is less important than a guest that comes back once a week because they know that you'll have what they want and not try to gouge them."
10 Real-World Tips (for more tips…)
Recommend a premium brand first when a guest asks for a cocktail and doesn't name a brand.
Try to sell a second bottle or glass before the guests receive their entrée; otherwise they may decide to just nurse the first. Suggesting a switch from white or red (for pairing reasons, for example) can help make that happen.
Offer the next drink before the guest finishes their current one, so there's no interruption in their experience.
When feasible, upsell wines that will pair better with the guests' food; even if they're not interested in pairing, they will likely drink it more quickly, enabling second glass/bottle sales.
Favor sparkling wines; people tend to drink them more quickly. n When two or more guests order the same wine by-the-glass, upsell them to a half-bottle or bottle of the same or a similar wine.
Ask questions and recommend what you think the guests will like, not your own favorites.
A quality upsell—recommending a better product at the same price—or even a downsell to a lower price point can improve the guest's experience and increase the tip percentage and likelihood a guest will return, even if it doesn't increase the actual check.
Keep in mind the possibility of selling two bottles of a cheaper wine rather than one expensive bottle—though two expensive bottles is even better!
Know your products so your guests learn they can trust your advice.