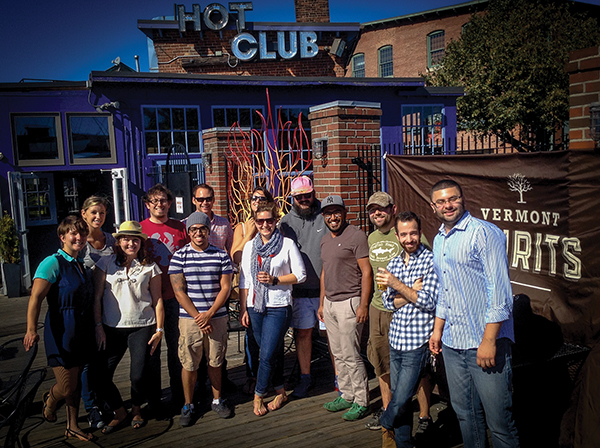 The United States Bartenders Guild Rhode Island chapter hosted Vermont Spirits Distilling Co. for a tasting and presentation at Hot Club in Providence on September 22, 2014. The Vermont distiller's products include Vermont Gold Vodka, Coppers Gin, White Vodka, Black Snake Whiskey and No. 14 Bourbon, all available through Horizon Beverage of Rhode Island.
USBG RI members and area industry professionals gather at Hot Club: Laura Moore; Justine Banspach; Mimi Buttenheim; The Cocktail Guru, Jonathan Pogash; Marco Mezza; Max Overstrom-Coleman; Lucas Bols Northeast Brand Ambassador Jennifer Ferreira; Elizabeth Swatelle; Jesse Hedberg; Joaquim Mezza; Patrick Cull; Kevin O'Connor; Gabriel Rodriguez, Artisanal Spirit Consultant, Origin Beverage/Horizon Beverage.
Photos by Laura Moore.