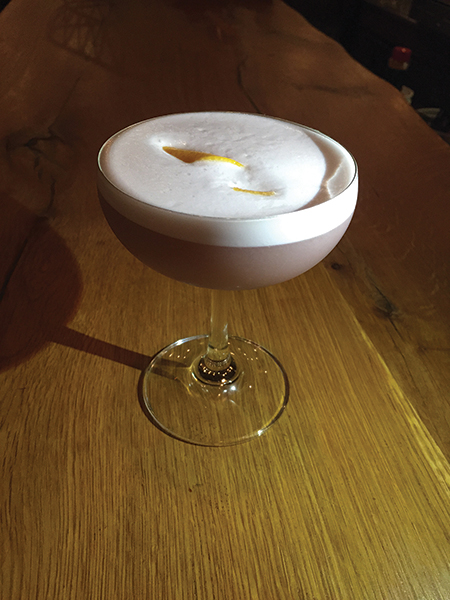 Stanziato's
35 Lake Avenue Ext.
Danbury, Connecticut
Stanziato's sources local, organic ingredients to make farm-fresh artisanal-style pizzas with names such as "Totes McGoats" and "Piggy Piggy." Likewise, the venue offers creatively named cocktails, such as "Sippin' on Gin and Cukes" and "Pillow Talk."
Bartenders: Lundrim Dauti and Kayla Ford
Cocktail: The Velveteen Rabbit
Recipe: Mix
2 oz. Lustau Brandy
1/2 oz. house pomegranate grenadine*
1/2 oz. lemon juice
1/2 oz. Giffard Creme De Violette Liqueur
3 dashes lemon bitters
1 whole egg white
Build drink first, then dry shake. Add ice and shake again. Pour into chilled coupe glass, no ice. Garnish with grapefruit twist peel.
*Pomegranate grenadine: 3 cups fresh house pomegranate juice, 1/2 c. Crop Organic vodka, 1 cup Sandeman Ruby Port wine, 1 whole star anise, 2 whole cinnamon sticks, zest from one whole orange, 5 cups sugar. Reduce for 25-30 minutes over medium heat. Approximate yield: 7 cups. Pour into a tin container. Chill 2-3 hours before using.
Owner Mauro Tropeano called The Velveteen Rabbit "a rich cocktail that is a perfect marriage of creamy, sweet and tart."