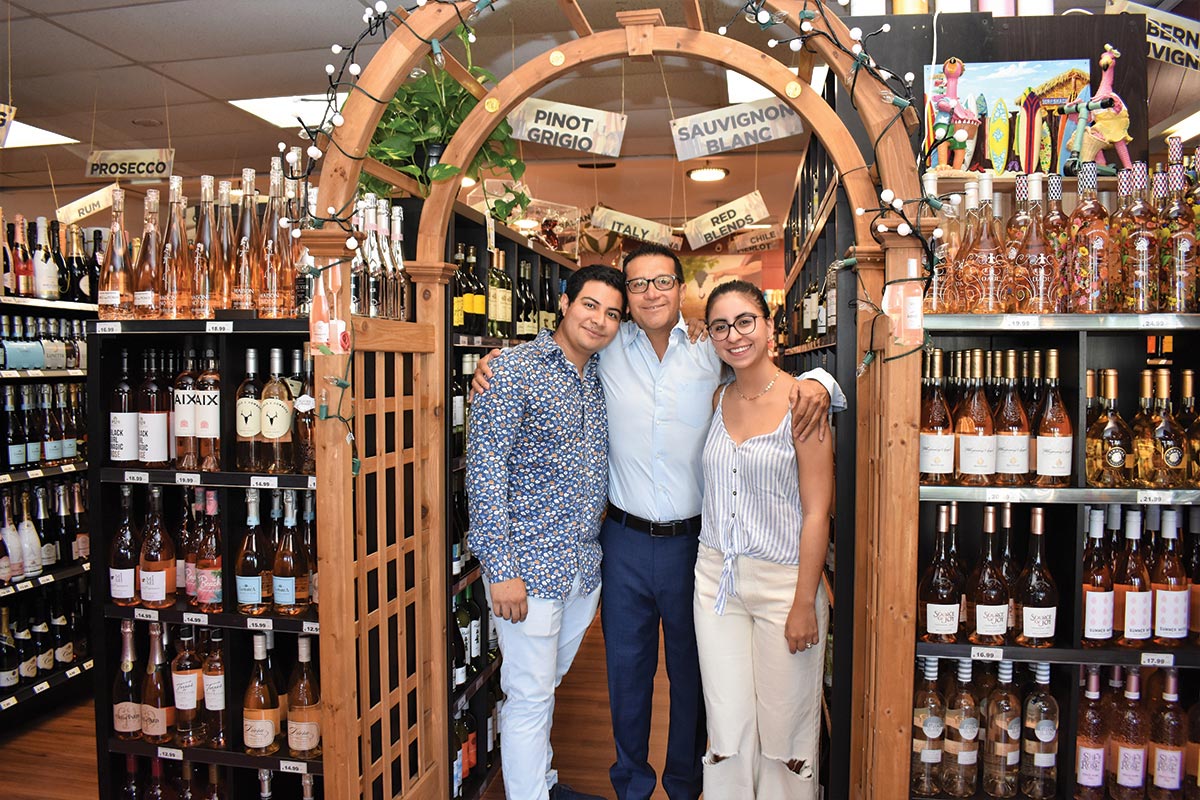 Villa Wine and Spirits
719 Villa Avenue
Fairfield, CT
Square footage: 2,000
Years in operation: 7
By Sara Capozzi
The Villa Wine and Spirits building has been many things to many people over the past few decades. Locals remember it as a tuxedo store in the 1980s and '90s. It sat empty for many years until Monica Davila bought the space to use as a gallery and art framing business in the early aughts.
Now in its latest incarnation, the Davilas are running a successful package store, officially opening Villa Wine & Spirits on Dec. 1, 2015, while Monica continues to operate her framing business and studio from the building's second floor loft.
Helmed by Owner Ponciano Davila, the bright and charming 2,000-square-foot space has incorporated some of the paintings from Monica's gallery. Together, the family has created a thriving local business, offering a wide array of products to please shoppers in a unique and friendly atmosphere.
That the building sits on Villa Avenue was a nice coincidence, as it's so close to the family's last name, and so Villa Wine and Spirits was decided as its perfect moniker. Run day to day by Ponciano and Monica Davila at first, and now by their son, Alejandro, and his wife, Domenica, the store is a family affair.
While it has grown into a successful venture over the past seven years, there was a bit of a learning curve for the Davilas in the beginning. "The first years were very tough for us," Ponciano said. "But little by little, we started to learn, and we've changed dramatically to how it is now." Their cousin, Junior, had extensive industry experience, helping them learn the ropes in the early days.
Family friends helped the Davilas with the initial conversion from a gallery to a package store, painting the interior and adding new shelving and signage. While their first customers were mostly friends and family, the Davilas have increased the customer base through word-of-mouth buzz around the genuinely fun vibe customers find and also regular weekend tastings and special events in the upstairs loft. Customers are kept up to date on the latest news through the store's Facebook page.
Villa Wine and Spirits has increased their inventory more than 100% over the past four years, much of that based on customer requests and top-selling items. Ponciano created his own POS software system for the store, which allows them to complete transactions and track sales, perfect for generating end-of-the-month reports and predicting what they need to purchase.
Wine is the leading category in the store, offering more than 1,600 SKUs from regions all over the world. "People are surprised when they come in here because we look small, but we have everything," Ponciano said. "We try to get them everything that they need, from Cabernets to Pinot Grigios to Moscatos." Top-selling wines are from California, especially Cabernets. Tequila is the most popular liquor, and Cognac is also a favorite among the clientele. The store also offers a vast beer selection with plenty of craft brews to choose from.
Going above and beyond in customer service sets Villa Wine and Spirits apart. "We're different from other stores because of our customer service," Ponciano said. "We focus on that. We try to serve customers as best as we can and they feel we love our customers and they feel that they love us. We treat them like a family, no discrimination; everyone is happy to come here."
The family plans to open another store in the near future somewhere in the area. "We've had great success in this business, so I think we can continue growing in that direction," Ponciano said.