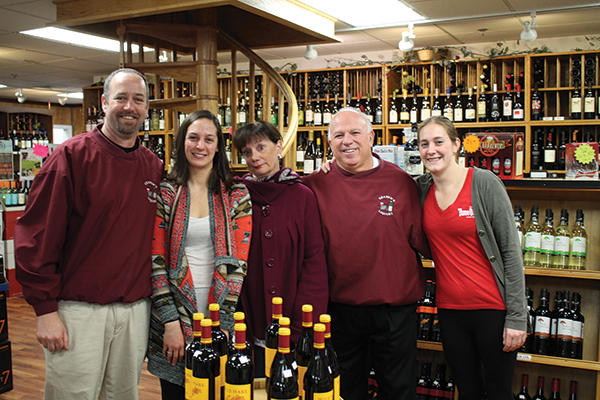 Geaber's Liquors
231 Old Tower Hill Road
Wakefield, RI
Square footage: 4,000
Years in operation: 50
By Savannah Mul
With a winding staircase leading up to offices in the middle of a large wine room fitted with wooden racks and grape garlands, a customer may feel as though they stepped foot into a European wine cellar. As they exit the wine room and explore the rest of the store's offerings, a large selection of domestic and imported craft beers awaits them, plus local and national spirits.
The store's design makes it easy for customers to find exactly what they're looking for, which is what store owner George Geaber wanted to achieve. Its long history in the neighborhood of Wakefield is a nod to the store's popularity. George's father, who is also named George, first opened Geaber's Liquors in 1966. During the late 1980s, Geaber's Liquors was forced to relocate because of road construction and the addition of highway ramps on Route 1 in Wakefield.
The father and son team saw this as a business opportunity for growth, and invested in property across the street, building a new complex. Geaber's Liquors is now double its original size. "We built the store to anticipate changes," said Geaber. "There are a lot more products today than there were in 1966." Geaber also owns and operates the complex, which is home to a Dunkin Donuts, a deli, and business and law offices.
With a staff of 10 employees, Geaber said he owes part of his company's success to his knowledgeable staff and store manager, Steve Clegg, who has been with the liquor store for more than 10 years. Clegg said Geaber's Liquors offers wine specials during the week, discount deals for senior citizens, and features a beer of the month program, which highlights a select brew at a discounted price.
Clegg said Geaber's Liquors also offers a four-pack microbrew variety pack for the customers who are always looking to try the latest in craft beer offerings. "People are always looking for what's new," he said. "The mixed packs are popular."
Clegg said the hardest part about this business falls on the consumer, because people may be too shy to buy products they've never heard of before. "A couple times a month we'll do in-store tastings to make it easier for the customers to make purchasing decisions," Clegg said. "Whether it's a new wine or craft beer, it definitely helps the customer." Over the past three years, Clegg has seen an increase in sales of organic wines.
About 85 percent of the store's sales are from beer and wine. "The brown goods have been slow, but now are making a comeback," Geaber said. As far as spirit sales go, vodka is a popular year-round purchase and Scotch whiskeys are gaining momentum in sales, Clegg said.
"It's been a great family business," Geaber said. "I always knew I wanted to do this and I was good at it. It's just something I've always enjoyed doing."