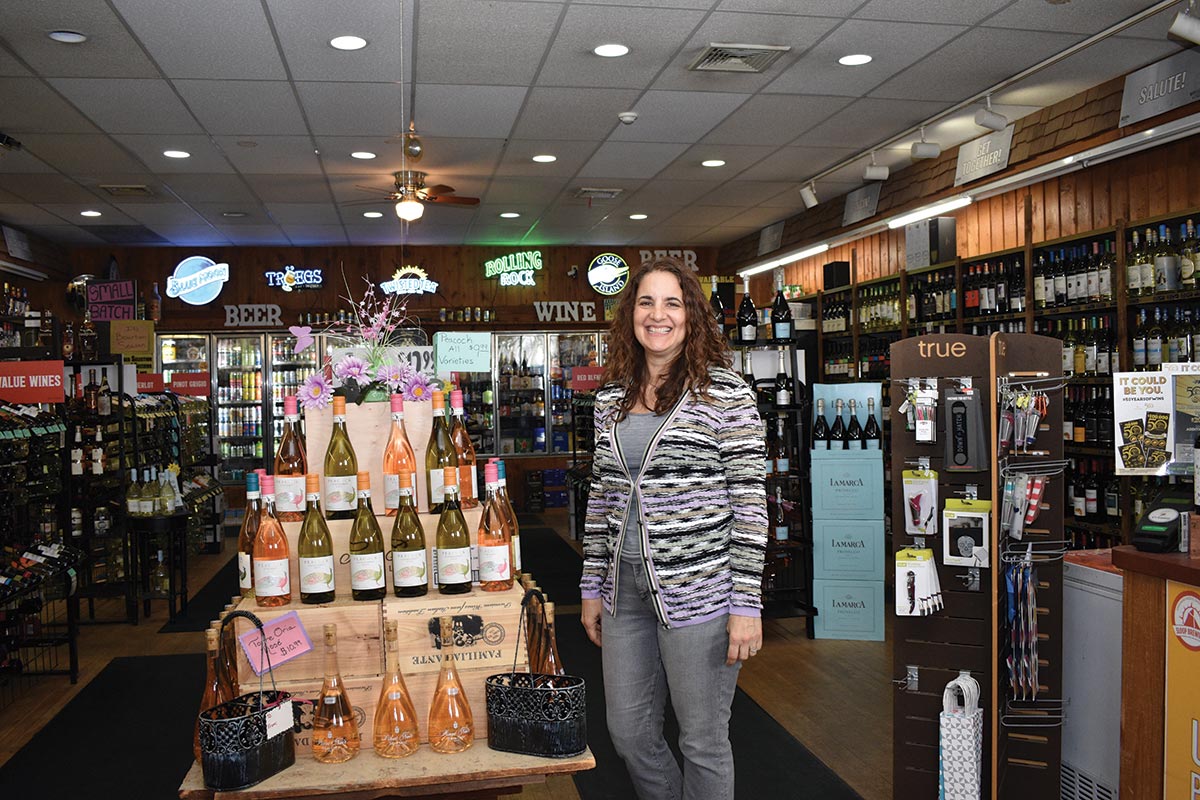 Windsor Package Store
3700 Main Street
Stratford, CT
Square footage: 2,300
Years in operation: 12
Situated in Stratford's picturesque Paradise Green neighborhood, Windsor Package Store has found success among the thriving local businesses on the town's Main Street, which include coffee shops, bakeries, pizza places and other independently owned shops.
"That's what makes this area special," Owner Mary Colacurcio said. "I think people move here for that reason; it's a little old-fashioned. There are a lot of little businesses you can walk to — it's part of the charm of the area. There are super-nice people in this neighborhood, and I think the neighborhood really supports all the stores."
Colacurcio runs Windsor Package Store with her husband, Michael Shuler. The couple purchased it in 2010 when Shuler was looking for a career change and wanted to transition from a corporate career into business ownership. After researching different types of ventures, they decided based on the numbers, combined with their love of wine, that package store ownership was the direction they wanted to go in. Their decision turned out to be a fruitful one — over the past twelve years, the store has grown its revenues by more than 60%.
"It's been a great little business," Colacurcio said. "We're just a small store, but we support what the neighborhood's needs are; that's our big thing."
After taking over from its previous owner, Colacurcio and Shuler set out to transform the location to give customers a more pleasant experience. "It had a lot of room for improvement when we took it over," Colacurcio said. "It really hadn't been updated since the 70s."
The couple transformed the store's interior: first removing old carpeting and wooden gondolas and replacing them with streamlined shelving, which opened up the sales floor space. Then, by updating the decor, infusing music and adding their own signage with handwritten tags, the shop offers visitors a boutique vibe with a fun, friendly atmosphere. They also increased inventory significantly, adding craft beer and a greater selection of upscale wines.
After purchasing the shop in 2010, Colacurcio, a pastry chef by trade, continued working in her industry while working part-time at Windsor. Meanwhile, after a few years working in the shop full-time, Shuler decided to take another opportunity, so Colacurcio left her job to take over the store's day-to-day operations, working alongside the staff of five part-timers.
Wine and craft beer are the store's top-sellers, according to Colacurcio. "We're constantly bringing new things in, tasting all the time," Colacurcio said. "There are a lot of products to choose from, so you really have a lot of room to keep rotating and trying new things all the time. And people want to see that."
"We try to carry a little of everything," Colacurcio said. "We definitely tailor [the selection] to our area to try to keep what people want in stock. And we do special orders – if people are looking for something, I try to find it."
Consistently bringing in new SKUs while keeping customer favorites on hand keeps the regular customer base at Windsor Package happy. "I can't bring in everything, but that's why we listen to the clientele; they point me where we need to go."