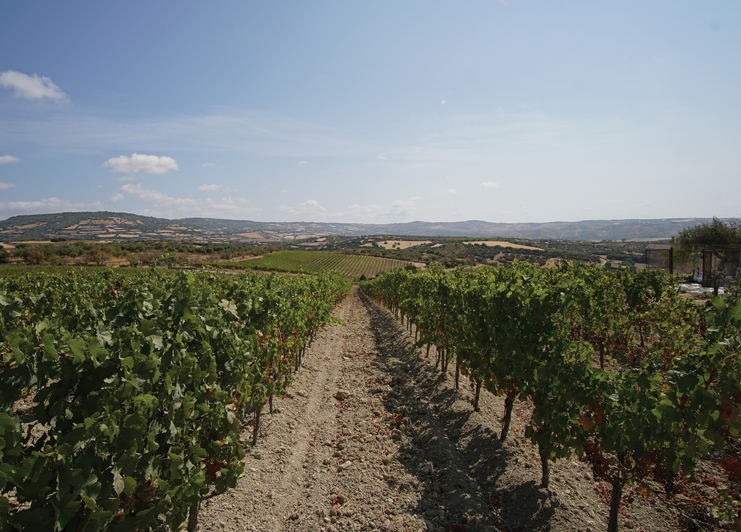 Under-the-Radar Wines are Reaching American Shores in Greater Quantity and with Better Quality than Ever
By Courtney Schiessl
Islands around the world aren't just attractive to Americans for their sunny beaches and pristine blue waters. Increasingly, they are becoming sources of distinctive, delicious wines more frequently turning up on wine lists and retail shelves.
"The more consumers are traveling abroad," says Simi Grewai, the co-founder of DECANTsf in San Francisco, CA, "the more they are coming back thirsty to try wines from warmer Mediterranean climates." At the wine and beer bar and bottle shop she recently opened with her business partner Cara Patricia, Grewai has seen more interest in Sicilian, Sardinian and Greek island wines in particular, but there is still room to spark interest among consumers in order to boost sales: "When you describe the beauty of these islands and their unique terroirs, they become intrigued."
While the winemaking islands are not homogenous—though ocean influence is a commonality, and several have mountainous topographies with volcanic soils—they remain linked. "The common thread in these places is that their products have taken longer to hit the mainstream than their mainland counterparts," says Grewai. "Because they've spent a bit more time isolated from larger markets, the wines can often be truer to traditional methods."
Besides intrigue, these wines also offer a range of prices. "There are a lot of wines available at friendly price points," says Grewai, "but there are also wines that are a bit more high-end. It really allows people to get comfortable and explore the region from a lot of different perspectives."
Sicily
Of the world's winemaking islands, Sicily has been one of the most buzzed-about in recent years. It is the largest island in the Mediterranean, slightly larger than Piedmont. With a warm Mediterranean climate often moderated by altitude due to its mountainous topography, grapes are able to get ripe in the abundant sunshine while maintaining acidity—perfect conditions for winegrowing. The large island is covered in vines, and in 2018, it ranked fourth in terms of Italian wine zone production volume.
But quality wasn't always top of mind for Sicilian winemakers. Throughout much of the 20th century, large quantities of generic wine were either shipped in bulk to other countries or regions, or sold as generic table wine. Alberto Tasca, the CEO of Tasca d'Almerita, which has five different estates across Sicily, notes that his grandfather began researching quality winemaking at the winery's historic estate, Tenuta Regaleali in north-central Sicily, when he helmed the property in the 1960s. But it wasn't until the 1980s and 1990s that Sicily renewed focus on lower yields and optimal sites. Today, the island still sells a lot of bulk wine, but quality wine is increasing rapidly—and the world is noticing.
Quality has risen among small family estates, large producers and strong cooperatives. "A cooperative can be a big opportunity or a failure depending on the strategy and philosophy of the company," says Roberta Urso of Settesoli in Menfi, Sicily, which works with growers to produce optimal grapes. "The need for a strong cooperative is particularly poignant in a small village like Menfi, where 5,000 families are involved in the winery, so success reflects on the financial well-being of all the village."
"Sicily is a mosaic of altitudes, soils, traditions, and varietals," says Tasca. Therefore, it's tough to generalize about its wine styles. The area garnering the most attention in recent years has been the dramatic Etna DOC, located around the active volcano of Mount Etna in eastern Sicily. With volcanic soil, sloped vineyards, and a range of elevations, Etna is known for minerally, terroir-driven wines. In the south, Cerasuolo di Vittoria is Sicily's only DOCG, producing medium-bodied, aromatic reds from the Frappato and Nero d'Avola varieties. Western Sicily has a number of DOCs and grapes planted, and it is a great source of reliable, value-driven varietal and blended wines.
Indigenous varieties are intertwined with the success of modern Sicilian wines, such as the widely planted Catarratto and Nero d'Avola; Carricante and Nerello Mascalese in eastern Sicily, particularly Etna; Frappatto in southern Sicily; and grapes once used for Marsala, like Grillo and Inzolia. But international grapes like Syrah and Chardonnay were planted by quality-minded producers like Settesoli in the 1980s and 1990s, which were some of the first to draw international attention.
"Sicilian wines stylistically have an immediate appeal to consumers," says Urso. "We have seen a real increase in Sicilian wines globally with both our wines and other producers' wines making significant inroads into all key export markets."
Santorini
Of the numerous Greek islands, Santorini is hot in export markets for the characterful white wines made from its signature grape: Assyrtiko. Vines grown in volcanic soils are trained in a basket shape in order to protect grapes from battering winds and to collect water from morning mists on this dry island. Along with plentiful sun, these conditions create powerful, dry wines with searing acidity and a strong mineral character.
Corsica
Located off the coast of Italy, in the Mediterranean, sunny, mountainous Corsica is a French island that has been making wine for thousands of years. Formerly planted to overly productive vines, producers have been focusing on quality practices and varieties since the 1980s.
Because of the island's range of mesoclimates—the north is hotter than the south, and soils include schist, granite, chalk, clay, and alluvial—Corsica has great potential for making quality wines.
Commonly found grapes include Nielluccio, better known as Sangiovese, which can make intense and tannic reds; Sciacarello, which thrives in granite soil; and Vermentino, which can range from ripe and plump to crisp and easy-drinking. The most prominent style of Corsican wine, however, is rosé. Most wines are produced under the island-wide Vin de Corse AOC or Ile de Beauté IGT, but it is worth looking for sub-regions for Patrimonio and Ajaccio.
Canary Islands
Though the Canary Islands are Spanish, this volcanic archipelago is actually located off the coast of Morocco. It might seem impossible for grapes to thrive here; at 28 degrees latitude, these islands are far closer to the equator than is usually optimal for quality wine. But the mountainous terrain and strong ocean influences provide the elevation and wind necessary to make quality wines in these
volcanic soils.
Though sweet wines reigned centuries ago, modern producers are focusing on dry reds, whites, and rosés from grapes like Listán Negro, Negramoll, Listán Blanco (also known as Palomino), Malvasia and more. Of the six Canaries producing wine, Tenerife, the largest and most exported island, Lanzarote, known for its dramatic black soil with holes dug to protect vines, and Gran Canaria, which specializes in reds, are the most prominent.
Sardinia
"Sardinian wines have undergone a fluctuating evolution," says Stefano Casadei, the cofounder of Olianas in Sarcidano, in central Sardinia. Prior to the 1990s, most Sardinian wine was generic table wine consumed locally or sold off in bulk. Over the last 30 years, more attention has been paid to quality and the island's traditional varieties.
Located south of Corsica, Sardinia is hot and dry, rising from the coasts, to arid plains, to rainy mountains. The island was formed long before the rest of Italy, so it has incredible geological diversity. Soils range from granite and sandstone to the limestone and marl that Olianas' vineyards sit on. "The great heterogeneity of the territory allows us to obtain exclusive and particular products," says Casadei.
Though Sardinia is part of Italy, its key varieties come from northeastern Spain: Cannonau, better known as Grenache, and Carignano, better known as Carignan, are the most-planted red varieties. Vermentino is the most planted white grape. Given the island's varying terroirs, the reds can range from bold to easy-drinking and rustic to elegant, while the whites are typically fruity and approachable, with distinct minerality.
Tasmania
Unlike most other winegrowing islands, Tasmania is located in the southern hemisphere, off the southern coast of Victoria in Australia, making it the country's coolest winegrowing region. Vineyards curve from the north-central coastline all the way down the eastern side of the island, where mountains shelter the vines from heavy winds and rain.
Despite a relatively young winemaking industry—little wine was made until the 1950s, and a fraction of the wine made today is exported—Tasmania has attracted attention for its cool-climate varietal wines made from Pinot Noir and Chardonnay, as well as Sauvignon Blanc, Pinot Gris, and Riesling. The island also makes excellent sparkling wines.