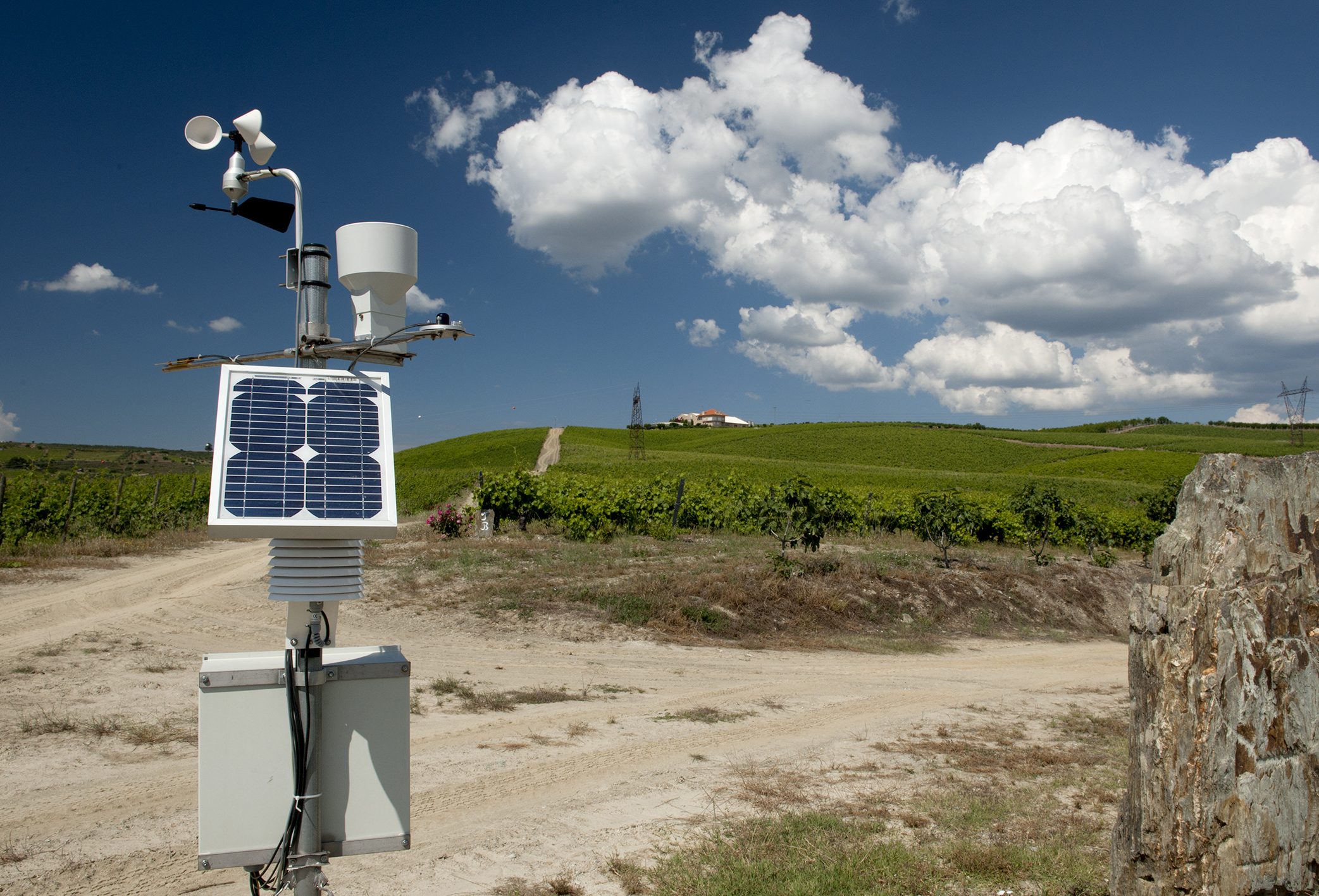 Portugal Emerges As A Global Leader In Responding To The Climate Threat
By Sophia McDonald
In 2017, several vineyards in Portugal fell victim to a series of wildfires. In May 2018, areas in the Douro DOC received their entire anticipated rainfall for the month in one hour. Later that year, the Alentejo region had five consecutive days with temperatures above 104 degrees F, which caused heat burn and led to grape losses of up to 50 percent in some places.
Although wine regions all over the world are grappling with the realities of a warming planet, Portugal—which is the fourth-largest grape-producing country and ninth-largest wine producer—is experiencing the effects of climate change faster than most, according to many scientists.
"Mediterranean climates are quite vulnerable to climate changes," says Filipe Duarte Santos, Ph.D., a professor of physics, geophysics, and environment at the University of Lisbon and a review editor of the most recent Intergovernmental Panel on Climate Change report. Because climate change exacerbates existing weather patterns, wine regions that are already hot and semi-arid places—such as parts of California, Southern Europe, and Southwest Australia—will become even more so.
"Our temperature records and rainfall records in the Douro region more or less accompany the global trends of the last 30 years, which is an average overall increase in temperatures of 1 to 1.5 degrees C," says Rob Symington, associate director of Symington Family Estates. However, average temperatures during the growing season have increased by 1.6 to 1.8 degrees. "The most worrying thing is that we're seeing, in particular, an increase in extreme heat events, which are days above 35 degrees C [95 degrees F]."
Average rainfall also drops off rapidly farther inland and is becoming even more sparse. "We're seeing problems with water resources, especially in the southern part of the country," says Dr. Santos. "You have regions in the north where you have nearly two meters of rain per year. In the south, you have about half a meter per year. It's a big difference."
The phenological cycle of many Portugeuese vineyards is also speeding up, from budbreak to harvest dates. António Rocha Graça, director of research and development for Sogrape, has been compiling information gained from studying grapes from a number of regions in recent years. "When you consider the data from grape berries, you can see quite visibly that three parameters have been changing steadily for the last 30 years: Sugar content and pH are increasing, and acid content is decreasing," Graça explains.
In the face of such rapidly accelerating change, Portugal's wine producers have emerged as leaders, experimenting with creative and proactive new strategies that are already serving as models for regions around the globe.
Pioneering Solutions in the Vines
Located on a gently sloping hill outside Esporão's winery in Alentejo sits a nine-hectare vineyard where the company is testing 180 grape varieties to determine which are best-suited to withstand climate change. About 150 of those grapes come from the nearly 290 varieties that are native to the country. (Portugal is second only to Italy in the number of native winemaking grapes.)
David Baverstock, Esporão's director of wine culture and education and former chief winemaker, says the company has already discovered two varieties that seem promising when it comes to retaining acidity in warming temperatures: Sercial, a white wine grape commonly used to make Madeira, and Souzão, a red wine grape typically used in Port production.
Symington is also growing 48 predominantly indigenous grapes for study. "What is already clear is the amazing distribution range in terms of the maturation cycle of each variety," he says. "There is up to a 30-day spread in the date of veraison of the varieties we are studying."
In addition to researching Portugal's ancestral varieties, Sogrape has been focused on increasing the genetic diversity in its vineyards. "We have been able to move from what has been the standard monoclonal approach in the grape and wine business worldwide to something Portugal pioneered at the world level, which is polyclonal selection," says Graça. (The International Organisation of Vine and Wine recently recognized the nation for its pivotal role in developing this method as far back as the 1970s.) So, rather than planting a whole vineyard to one clone, the company plants balanced mixes of seven or more clones, with the idea that the diverse genetics that reside within each plant will give them complementary advantages in different years.
Different clones show slightly different behavioral characteristics, Graça points out. Should weather conditions prevent pollination and good cluster formation in an early-blooming clone, for example, one with a later budbreak may have a better chance of succeeding that year. Should a disease or pest wipe out one clone, others may be able to resist it.
Embracing New Technologies
Esporão is also modifying its vineyard practices. "Whereas in the 1980s and 1990s, we were encouraged to go to more fruit exposure and not have fruit too shaded, we've gone back to having a bit of a sprawl in the vineyards," Baverstock explains, which helps prevent sunburn. "We have also been spraying our more susceptible vines with a white clay called kaolin. It's a bit like a sun cream. It reduces temperatures a little." A side benefit to the clay is that it seems to repel leafhoppers.
"The shorter that we can make our harvest, the better chance we have of getting the varieties at the right maturity level," says Baverstock. When Esporão rebuilt its winery several years ago, it increased the capacity of its receiving area by 50 percent. "We normally have something like an eight-week harvest. With the new winery, we can reduce it to about five weeks. We felt it was really important to have that possibility in the hot years," he adds.
As part of an EU-funded trial, Symington has introduced an autonomous robot called Vine Scout, which moves between rows in the vineyard and provides real-time data about such factors as temperature and moisture level. Having that information allows growers to irrigate only where needed and limit the application of plant protections to just vineyard blocks that have disease or pest outbreaks. "It gives the grower an ability to have almost X-ray vision into their vineyard," Symington explains. "If you're going to make interventions in the vineyard, you can make them based on science and what's happening meter by meter, instead of the blanket way it was done in the past."
Sogrape is using remote detection technology, including drones and satellites, to monitor vineyard conditions and micro-target for watering, manage diseases and pests, and treat nutrient deficiencies. The company has also invested in technology that measures the hydric state of individual plants to understand when and if they need irrigation. "It's a system similar to taking the blood pressure in a person," says Graça. "We can measure the reverse pressure the plant needs to extract water from the soil and then determine precisely the minimum water needed to get the best grapes."
Biodiversity, Sustainability, and Cooler Spots
Growers in Portugal are embracing low-tech tools as well. Casa Relvas in Alentejo has deliberately left much of its property wild to increase biodiversity around the vineyards, reports Alexandre Relvas, enologist at the company's Herdade de Sao Miguel label. It's proved effective at keeping vines healthy and productive, partly by hosting beneficial insects and animals, which help fight off the harmful pests. "We own 750 hectares of cork tree forest, which means a carbon absorption of 10.5 tons of CO2 per year," Relvas reports. He also recently purchased a new water-treatment system that allows Casa Relvas to recycle 100 percent of the water used on the property.In recent years, Herdade dos Grous has also been investing heavily in building back biodiversity on its property, explains Luís Duarte, brand manager and winemaker. The main focus of its sustainable farming approach is what he calls "land mosaic promotion," which supports the health of surrounding grasslands, oak savannas, olive groves, and other natural spaces near its vineyards. "We are using seed mixes that promote soil protection and weed control, and supporting hedgerows and habitat banks for pollinators of wild plants and animal species that benefit the vineyards and other farming plots," he says. "We have installed a few bird of prey and bat boxes for maintaining 'aerial support' regarding pest control, from moths to rodents, and we are currently defining new sites for new boxes to increase the populations of bats and owls."
Producers are exploring undeveloped regions previously considered too cool for grape growing. Symington, which has traditionally grown only in the Douro Valley in Northern Portugal, recently purchased Quinta da Fonte Souto, its first vineyard in the mountainous Portalegre, a promising subregion within northern Alentejo. The company is also looking to plant at higher elevation sites in the Douro wine region. "It's not easy," Symington says. "After you plant, it takes five years to reach full production and 20 years for peak productions."
Esporão now has a 15-hectare vineyard in Portalegre as well. "It's becoming the go-to place," says Baverstock. Other producers, including wineries Cortes de Cima and Vincentino, are planting on the coast to get the benefit of the Atlantic breezes, he reports. "Even some regions around Lisbon where it's quite cool and damp could benefit from a bit more heat," and have grape-growing potential, he believes.
Portugal Emerges as a Leader
Reducing carbon footprints runs in tandem with efforts to combat the already-felt impact of climate change. Graça notes that Sogrape has shifted to renewable energy sources, decreased the weight of its bottles so less fuel is required to transport them, and optimized its distribution and transportation networks so that bottles travel more efficiently.
Symington worked with Ernst and Young using the World Resource Institute's GHG protocol to measure and benchmark its existing end-to-end greenhouse gas emissions. With that data, Symington implemented a sustainability roadmap called Mission 2025, which gives the vineyard a clear plan to lower carbon emissions. Goals include getting 100 percent of its energy from renewable sources, decreasing carbon emissions per liter of wine by 35 percent, decreasing the water and energy needed to produce a liter of wine by 10 percent, and supporting reforestation and ecosystem restoration projects in the country.
Portugal's sustainability movement has gained tremendous momentum in the past decade. Dozens of wineries have joined The Porto Protocol Foundation, a nonprofit founded by Port producer Taylor Fladgate. The foundation helps food and beverage companies around the world maintain an open dialogue about climate change solutions. In addition, over the past five years, nearly 400 wineries and vineyard owners in Alentejo have joined Wines of Alentejo Sustainability Programme (WASP), an award-winning voluntary program. Members represent 45 percent of the vineyard area in the region.