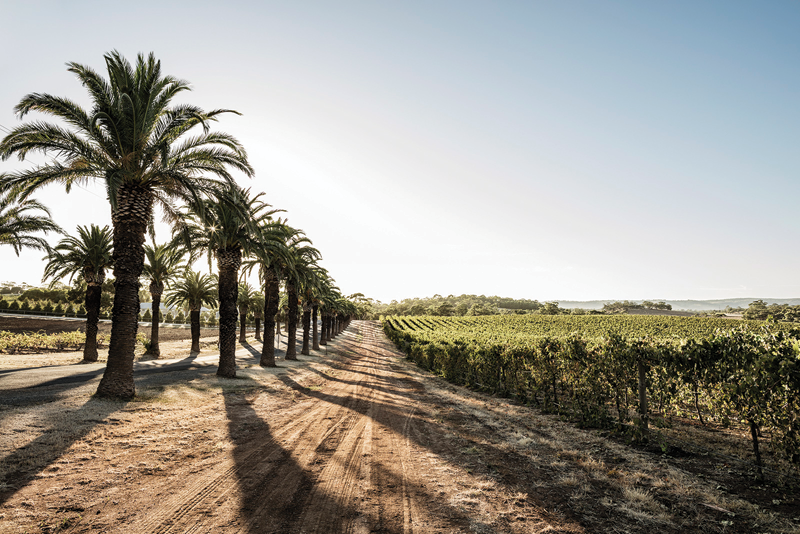 With new generation of wines—from producers both hip and historic—Australia's most famous region finds new footing in the U.S. market
By Kristen Bieler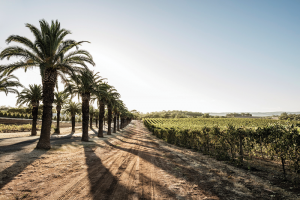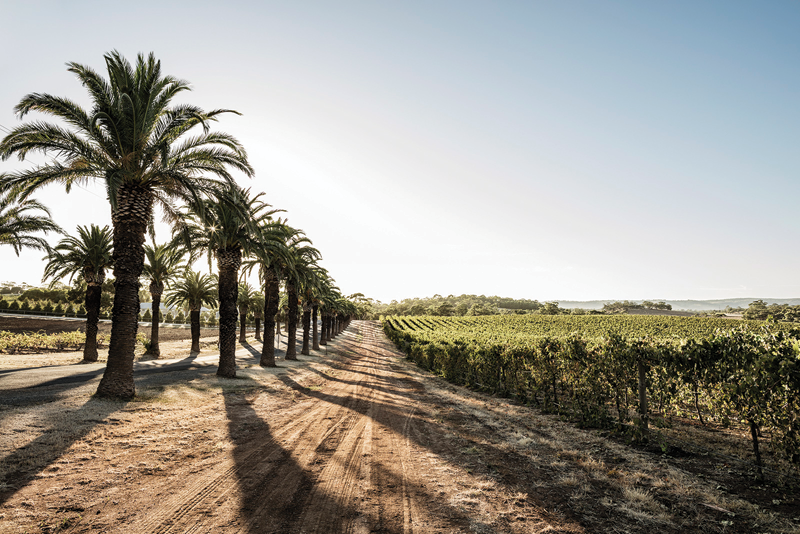 Dean Hewitson recalls the moment vividly. It was May, 2010, and he was on his surfboard off Port Elliot, a few hours drive from his Barossa vineyards, when the signs coalescing in his mind were as ominous as a circling shark. "It hit me—the falling exchange rate, the American palate turning away from Australian wine, the onslaught of Argentine Malbec—I had to get out of the U.S. market," he concluded. Later that year, when Australian sales in the U.S. "fell off a cliff," Hewitson's wines were long gone (not every producer was so lucky).
After a well-timed 18-month absence, Hewitson began a tentative return (first on his own, more recently with Frederick Wildman & Sons) and found the battle back a formidable one: "The shutters were absolutely drawn and there weren't many Australian wines on shelves. It was about going door-to-door, rekindling relationships and working with sommeliers."
The fact that Hewitson's stunning old-vine, single-vineyard wines (his 1853 Mourvèdre vines are the world's oldest) had never been the high-alcohol fruit-bombs that gave Australia a bad reputation mattered little. The collateral damage was done, and the Barossa Valley—the country's most heritage-rich and well-known region—was reeling from the backlash.
Yet Hewitson, like many other Australian producers entering or reentering the U.S., is finding modest yet promising growth: "Sommeliers are looking for wines like ours that have always been about finesse and complexity; today the market is coming to us," he reports.
Kaesler, one of Barossa's oldest estates, founded in 1893, has also returned to the market after a two-year absence (this time, self-importing). "The market turned against all of us—people had become so burnt on the negotiant style," says Winemaker/CEO Reid Bosward. "Memory of those poorly-made wines has faded and people are more open—and Australian winemakers are so much smarter today." But it's work: "We sold a lot of wine for a long time without much effort; this time, it's much harder but it's happening."
Barossa's Changed Landscape
The Barossa Valley is responsible for a mere 7% of the country's wine production, but developed an outsized reputation as the symbol of Australian style—big-boned, syrupy reds that were anything but subtle. "There was a certain perception of what Barossa represents: overblown Shiraz," says Mark Davidson, Wine Australia's Global Education Manager. "People forget that Barossa is the oldest region with the oldest vines and most serious winemaking tradition. Viticulture here has really evolved to handle the warmer climate, and a new understanding of managing ripeness and picking earlier has led to wines with purer fruit quality, higher acidity and more elegance."
Leading this new movement is the growing number of young, small-scale producers who make up Barossa's next generation. They're much more well-traveled than previous generations, and together have made a fairly dramatic break with the winemaking culture they inherited.
Some are descendants of Barossa dynasties, like David Franz (Peter Lehmann's son), Troy Kalleske of the biodynamically-farmed Kalleske Wines (of a seventh generation grape growing family) and Dan Standish of The Standish Wine Company (sixth generation). Others are transplants, like New Zealand-born Fraser McKinley, whose cultish Sami-Odi wines are made from a tiny plot of biodynamically-farmed Syrah and often released as multi-vintage blends. Another Kiwi is Peter Schell, who, with his French-born wife Magali Gely, founded Spinifex in 2001 with a focus on old-vine Mataro (Mourvèdre).
"These boutique producers are still reasonably unknown, but once you get their wines into a sommelier's glass, they realize it's exactly what they are looking for," says Ronnie Sanders, President of Vine Street Imports, who represents many young Aussie vintners.
They are making wine very differently from their predecessors, using techniques fashionable with young producers in top regions all over the world from South Africa to Santa Barbara: Organic and biodynamic farming, earlier picking dates, cooler and longer fermentations, native yeasts, the addition of whole bunch fermentation, extended skin contact. Part of a global trend towards less-interventionist winemaking, their philosophy aims to transmit more soul and vibrancy into the bottle.
"Fraser McKinley of Sami-Odi says top producers in Beaujolais are a bigger influence on him than traditional producers from the Barossa," Sanders says. Which can feel like a repudiation of the old guard.
Take Abel Gibson: His father was a winemaker at Penfolds and he grew up seeing "wine as a commodity." His three Ruggabellus wines—beautifully refined Syrah, Grenache and Mourvèdre designed to portray snapshots of a vintage—aim to evoke a sense of place, not merely "sunshine and American oak," Gibson describes.
"There's a fair bit of resentment towards the young guns," Sanders sees, which is compounded by the fact that their wines garner a disproportionate attention given their tiny volumes. "Bigger, more traditional brands struggle to generate this kind of excitement; we find our boutique producers much easier to sell."
Yet many established winemakers champion this new breed, celebrating their fresh energy, and push toward a savory, more elegant style. "It's wonderful to see the exploration of cooler sites, more site-specific wines, and the greater appreciation of older vines," says Prue Henschke, of the historic 148-year-old family-run Henschke (who is, incidentally, far from stuck in the past: she made the switch to biodynamic farming in 2005). "A lot of these new wines—both from young new producers as well as older wineries shifting their style—have allowed sommeliers to discover the quality and sense of place Barossa offers, and fall back in love with Australia," she says.
Guardians of Old Vines
What unites legendary old estates like Henschke (now in its seventh generation) and the avant garde newcomers is an obsession with Barossa's treasure trove of old vines. While spared the destruction of Phylloxera, the old bush vines were decimated by a government vine-pull program in the 1970s and '80s designed to control oversupply. (Some producers famously stood in front of tractors trying to rip out ancient vines).
"Old vines aren't good because they are old," says Tim Duval, whose father was a winemaker at Penfolds for 29 years before launching his John Duval label. "They are old because they are good; they produced superior fruit which meant they weren't pulled out—plus, they could withstand neglect." John Duval crafts a Grenache from an 1858 vineyard: "These are wines you couldn't replicate anywhere else in the world."
Rescuing ancient plots from destruction or neglect has been the life's work of Stephen Henschke, who recognized their value long before most. His family's Hill of Grace vineyard, planted in the 1860s, is arguably Australia's most famous site. Currently, Henschke is helping work on an empirical study to prove old vines make better wine: "With age comes wisdom—and an extra layer of structure and texture," he explains. "Older vines have higher acidity and lower pH." And they better express terroir, says Kaesler's Reid Bosward: "Some of our old Shiraz and Grenache vines go six meters deep; this allows us to really showcase our zip code."
The Grenache, Mataro & Viognier Story
Grenache and Mataro were considered throw-away grapes from a fortified wine past as recently as a decade ago but have found the spotlight now. Some believe they are more suited to Barossa soils than even Shiraz—especially since they can be dry-farmed, ideal in a hot climate. "Innovation in Barossa today is centered on these grapes, as producers like me are hunting out old, forgotten plots that the big companies have ignored for decades," says Tim Smith, who founded Tim Smith Wines in 2002.
When picked earlier and treated with a light hand, Barossa Grenache can display an almost Pinot Noir-like quality, which many believe makes it an important ambassador for changing global stereotypes about Barossa.
Having searched the world over for "sand-grown Grenache," American winemaking couple Richard and Carla Rza Betts found the ultimate expression to be in Barossa's Vine Vale region, where they craft their Sucette from vines 90-plus years old. "Vine Vale is where you find deep sand combined with the cooling gully breezes," says Richard. "Vines here give us the unique ability to make Grenache as it should be—elegant, red-fruited, perfumed and lifted. Grenache is the warm-climate equivalent of Pinot Noir and there is no place better to realize this than in Vine Vale."
While Viognier isn't a major grape here, it has ardent devotees. Yalumba, family-owned since 1849, pioneered the variety in 1980 and makes some of Australia's finest examples across the price spectrum. Tim Smith became "smitten" with Viognier while working at Yalumba and now makes his own with wild yeasts and partial whole cluster fermentation. "Viognier has the palate weight of good Chardonnay, the lifted aromatics of Sauvignon Blanc and acid structure of Riesling," he asserts.
"Grenache, Mataro and Viognier are where I see new opportunities in the U.S. market, as there just isn't as much competition in this area where old, quality vines compete at an affordable price-point," says Gordon Little of Little Peacock Imports. "Take Tim Smith's outstanding Mataro made from 130-year-old vines which sells for $35 on the shelf. Old World equivalents—even with one-third that vine age—cost far more than that, so the value proposition is unbeatable."
Redefining Shiraz
When tasted blind on David Franz's "Hydraulic Press" Shiraz—marked by earthy, licorice notes, high acidity and 13.6.% ABV—most sommeliers do not guess it's Australian. It's not that Franz doesn't want his wines to express their origin, but that he wants to redefine what Barossa Shiraz tastes like. Franz, like an increasing number of Barossa winemakers, is picking two, even three weeks earlier than many of his neighbors.
Better ripeness management, along with new vinification techniques, such as some whole bunch fermentation to add freshness, less filtering, and a movement away from American oak, allows the Shiraz grape and its terroir to shine.
"When you taste what these winemakers are doing—especially the earlier pick times—you see that Shiraz is actually just Syrah," says Ronnie Sanders. "The varietal character comes through and you see that the typical 'Shiraz' we think of from Barossa is really just a matter of style."
Nothing makes Gordon Little happier than the surprised look on a sommelier's face after tasting a super-elegant Barossa Shiraz: "It's so rewarding when I take these wines to skeptical buyers who flat out tell me they don't want another Shiraz, and end up so compelled by what's actually in the bottle, that they do buy it and advocate to their customers." A perfect example is his Smallfry Shiraz, which he sells out of as soon as it arrives: Made by a family farming biodynamically and vinifying naturally, it's spicy, savory and funky—a Shiraz image-changer for sure.
A New Identity, A New Audience
"People often accuse Australian wines of not having sense of place," says Stephen Henschke—which is not entirely unfair, he adds. Cross-regional blending had been the status quo for decades. Even the country's most famous and expensive wine—Penfolds Grange—is a multi-region blend. But today Henschke sees the mindset shifting away from homogenized blends. "We are moving towards expressing very specific terroirs and calling out special vineyards, and you can taste the difference."
Now, producers want more American buyers and sommeliers to do exactly that. "These wines can't be sold by lazy retailers who want to rely on points; they need people getting excited about them and talking about them," says Sanders. "If it was simply about quality, these wines would sell themselves."