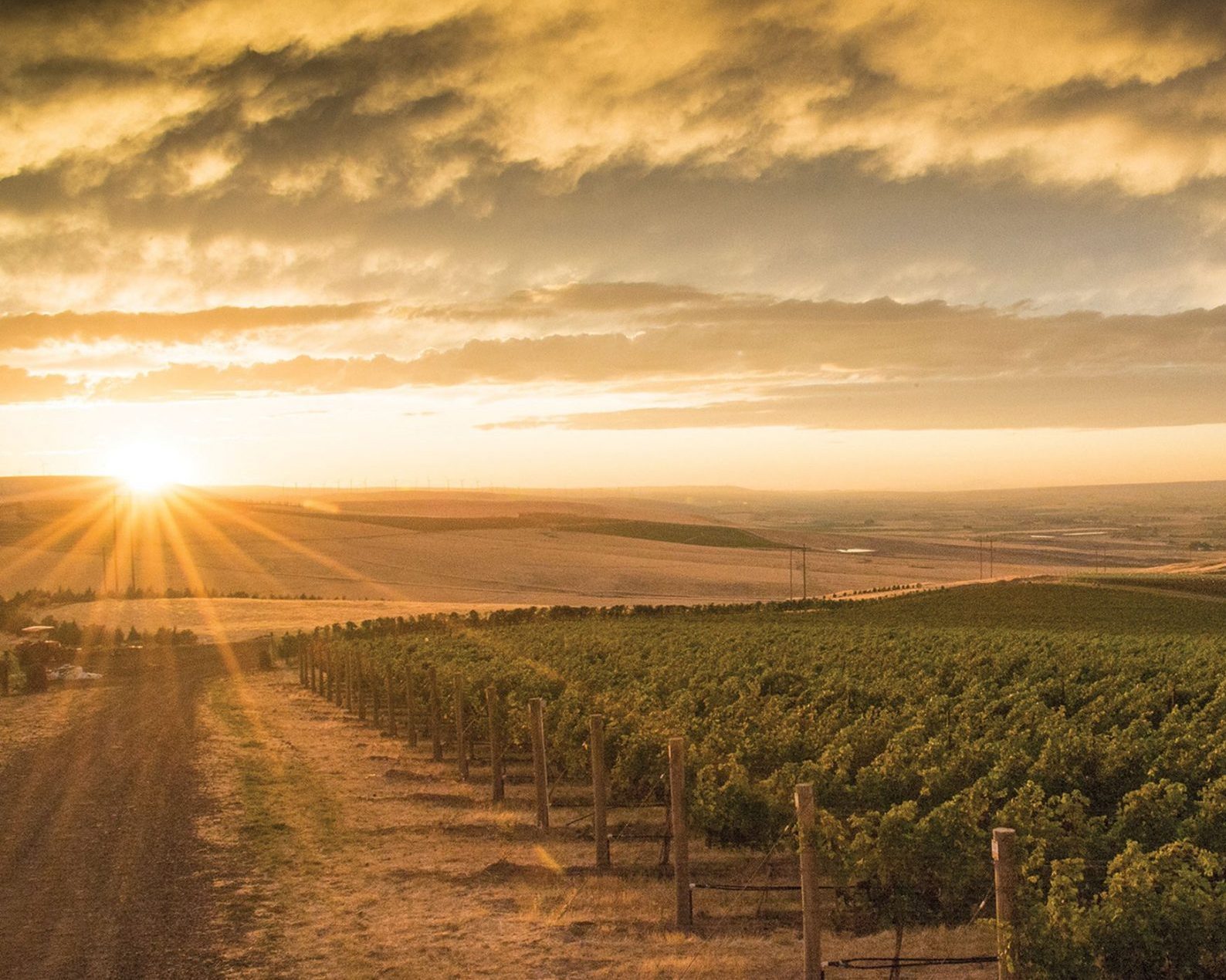 Led by Walla Walla Cabernet, Washington's wine industry builds a reputation at the premium end
By W. Blake Gray
New World fruit with Old World structure. Top quality Cabernet Sauvignon at less than half the price of comparable Napa Valley examples. Though few would argue these are Washington's top selling points, the state remains somewhat under the radar as a source of world-class wine at competitive price points—both up and down the price spectrum.
Relatively quietly, Washington's wine industry has grown immensely over the last decade. Of the 50,000 acres of vines, more than 40 percent have been planted in the last 10 years, according to the Washington State Wine Commission. Chateau Ste. Michelle remains the biggest company, but the state now has over 1,000 wineries.
While much of this growth has been in the value-driven tier (led by brands like Columbia Crest, Hogue Cellars, Charles Smith, Powers, and Pacific Rim), many of the newer brands sit in the more premium segment and are a result of significant investment from outsiders.
Bodegas Valdemar opened its first winery outside Spain in Walla Walla in 2019. Several California companies have established Washington outposts, including the Cakebread family with Mullan Road Cellars, and Duckhorn with Canvasback.
Bridging the Old and New World
Most of the action and attention is focused on Walla Walla Valley, now 100+ wineries strong, at the southern end of the enormous Columbia Valley and covering a full third of the state's landmass. Columbia Valley accounts for 99 percent of Washington's wine grapes, encompassing eight sub-AVAs, including Walla Walla.
Washington's low vineyard prices are certainly enticing, yet the real lure is the wine quality, says Neil Bernardi, vice president of winemaking for the Duckhorn portfolio. "Washington State Cabernet often has the aromatic profile of Napa Valley—ripe, dark, blue fruit flavors—yet a tannin structure more like Bordeaux."
Dennis Cakebread, of the eponymous Napa label, founded Mullan Road Cellars in 2012 and he sources Cabernet and Merlot grapes for the winery's single red blend from several areas in Eastern Washington, including Seven Hills Vineyard, one of Walla Walla's oldest sites. "Walla Walla reminds me of Napa maybe 30 years ago, but with a more advanced wine culture than Napa 30 years ago," says Cakebread.
The conditions are ideal for quality winemaking, contrary to what many might imagine, Cakebread notes: "People think of Washington and they think of Seattle and everyone wearing rain gear. But Eastern Washington's a desert." Not only is it dry, Washington growers are fond of asserting that the high latitude gives their vineyards two more hours of sunshine per day in summer than California. This advantage enables Washington vines to ripen grapes like Cabernet that struggle to achieve ripeness in other regions.
Hitting the Price and Style Sweet Spot 
"I'm a huge fan of Washington wines and I think they fit perfectly in a steakhouse," says Winn Roberton, head sommelier at Bourbon Steak in the other Washington (D.C.). "The dry, warm growing season Walla Walla enjoys results in wine with a lot of fruit ripeness, muscle, and grip. What I love about them is the minerality that I seem to find in any volcanic or basalt-driven wines, from Washington State or elsewhere. The word I like to use to describe this feeling is tension. I think that tension really drives the flavors of the wine throughout a really long finish."
"Our customers mostly have California wine palates," says Petra Polakovicova, wine director at Epic Steak in San Francisco, noting that full-bodied Cabernets from Washington, like L'Ecole No. 41, for example, also do well on her wine list. "You can get a good Washington Cabernet for much less than Cabernets from other world-class regions."
It's not just price, though: Generally speaking, Washington wines tend to have more freshness than many California wines, a growing preference with consumers. "People opt for Washington Cabernet because Napa Cabernets are expensive," says Polakovicova. But many people actually prefer them stylistically, as they offer a nice middle ground between Old World and New, she continues: "Washington wines tend to be less powerful, less extracted; they are more elegant compared to Napa Valley versions. Yet they aren't as earthy as French wines."
Relative to other lesser-known wine regions that may require a challenging hand-sell, Washington is easy: "We had a big promotion for two years with Washington wine," says Maurice DiMarino, beverage director for the Cohn Restaurant Group, which owns 27 restaurants around San Diego. It was extremely successful, he explains, because Washington wines have accessible reference points: "They are similar enough to California wines—it's not like trying to sell someone on Virginia or Canada."
Ryan Gerni, wine buyer for Davidsons Liquors in Highlands Ranch, Colorado, says that the quality–price ratio of Washington wines is what wins over his customers. "There are so many great wines being made between $20 and $40 [retail price] that taste like wines that are much more expensive, especially when you compare them to wines of similar varietals from other regions both nationally and internationally," Gerni says.
And Cabernet is not all that Washington excels at: There are nearly 70 varieties planted across the state. Tom Rinaldi, who has made wine in Napa Valley for more than 40 years (at Freemark Abbey, Duckhorn, Provenance, and Hewitt) and has consulted for Ambassador Wines in Washington for the last several years, says, "I think Syrah's the champion up there."
Bernardi likes the Merlot, as well as some newly planted areas for Riesling, such as the Ancient Lakes, Naches Heights, and Lake Chelan appellations. With a more diverse range of new vineyard plantings coming into production, the conversation about Washington is sure to evolve—and grow louder.