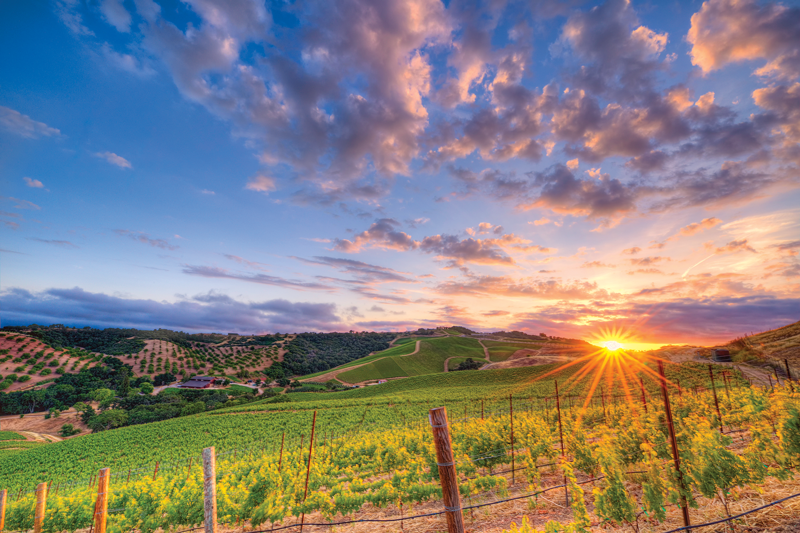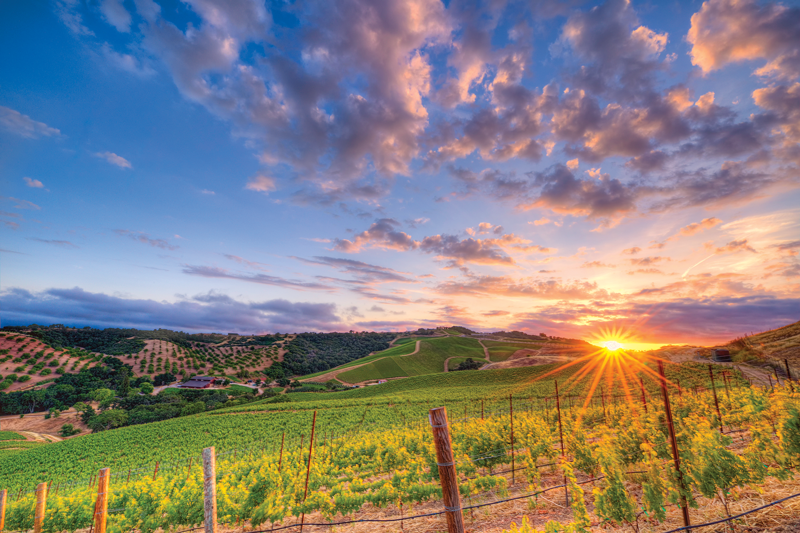 Young and Productive, Paso Robles is Earning Respect of Trade and Consumers
By Jack Robertiello
When Maeve Pesquera, then in charge of the beverage program at the fine dining chain Fleming's Prime Steakhouse & Wine Bar, originally visited Paso Robles, she arrived with no expectations. But that week changed her future.
"What was happening in Paso really reignited my passion in wine," says the now-Senior VP for Paso Robles Bordeaux-blend specialist Daou Vineyards and Winery. "It was so thrilling to see that there was still a wine region with amazing land available for reasonable prices, so that winemakers could do what they were driven to do, as opposed to regions where the costs were too prohibitive to really let things fly."
While Paso Robles (pronounced by locals as "ROW-bulls" rather than ROW-bleze) is best known for deep, rich Bordeaux and Rhône blends (Cabernet accounts for nearly 40% of the region's output), that sense of adventure and possibilities, as well as the relatively inexpensive cost of acreage, comprehensive range of soil types, topography and micro-climates among the 11 sub-AVAs, translates into a sort of Wild West of wine.
"There's such a variety of soil and climate here—growers and winemakers have a huge palate from which to choose," says Steve Lohr, CEO and co-owner of J. Lohr, perhaps the best-known Paso producer. "Because of the openness to try different things, it's one of the most dynamic wine growing regions anywhere on the west coast."
J. Lohr has been making wine in the region for about 30 years, and as the company replants vines, there are adjustments based on what's been learned along the way. "There's a huge expanse from relatively warm to somewhat cool, from little rain to quite a bit, from clay to sandy—a lot to work with," says Lohry. "In Paso we're still relatively young enough and there are many people coming in with different ideas about what they'd like to do, so we're not locked in to Cab." It's also the largest in acreage, and it's not uncommon to encounter blends including Grenache Blanc, Picpoul, Cinsault, Counoise and many others.
Playing Around
Winemakers, especially smaller garagistes and boutique producers have the advantage of working in a region cordial to many varieties, says Clarence Chia, Vice President of Marketing at Justin Vineyards, best known for the Cabernet Sauvignon, Cabernet Franc and Merlot blend Isosceles.
"One reason is the dramatic diurnal swings we have, which allow the vines to cool off each night even when daytime temperatures reach into the triple digits. Although thinner-skinned varieties tend to be more delicate, there are sub-regions within Paso Robles that allow these grapes to thrive," he says.
For Chronic Cellars, playing around with different vineyard lots and varieties has made the most sense as a way to take advantage of the region's qualities. "We didn't want to be beholden to traditional single varietal wines or historic blending model," says Josh Beckett, co-founder and winemaker. "Because the winemaking tradition here in Paso Robles is relatively young in a commercial sense, there is just more freedom to explore and carve out a defined space for the winery."
Sales Appeal
The same qualities that make Paso Robles intriguing may limit its appeal to the average wine consumer says Kat Kaliski, owner of Blends Wine Bar in Belton, TX.
"Paso doesn't in-and-of itself help me sell wine. It's certainly a pro that I carry Paso wines for those who have been, or lived in that area. What does help is that I have been to Paso, experienced the wines, seen the landscape, and heard the stories. My customers look to me for suggestions. It also helps that Paso has some outstanding winemakers that I enjoy supporting."
That's a hook savvy winesellers can use. "There's nothing better than introducing a guest to their next favorite wine or wine region," says Pesquera. "From that perspective, Paso is incredibly attractive because of the overdelivery of quality at the price point, and that allows buyers to bring wines onto their list or stores that their guests or clients are going to be thrilled with."
Lohr points out that the qualities that have long made Paso attractive are more sought after today than ever, as prices up north grow less affordable and winemakers looking to chart a new course take a closer look.
Pesquera echoes that thought: "Wines made here are competing with many other regions in the U.S. because they are delivering, and over-delivering in many cases, on the promise in the bottle. We have only just begun in Paso, and even though there is a long tradition here, the best is yet to come."
Paso Power
Centrally located halfway between San Francisco and Los Angeles along California's Central Coast, Paso Robles American Viticultural Area (AVA) was established in 1983 with 17 wineries and 5,000 vineyard acres. Today there are 32,000 acres under vine and more than 200 bonded wineries.
Paso is the largest and most diverse wine region in California, with 30 distinct soil types, many microclimates and varying topography within 612,000 total acres. It also experiences the greatest day-to-night temperature swing of any California AVA, typically 40 to 50 degrees Fahrenheit during the growing season.
Zinfandel is the region's heritage wine grape variety, first planted in the late 1880s, but Cabernet Sauvignon and other Bordeaux varieties now represent the AVA's largest planted wine grape varieties, covering 55% of the region's vineyard acres.