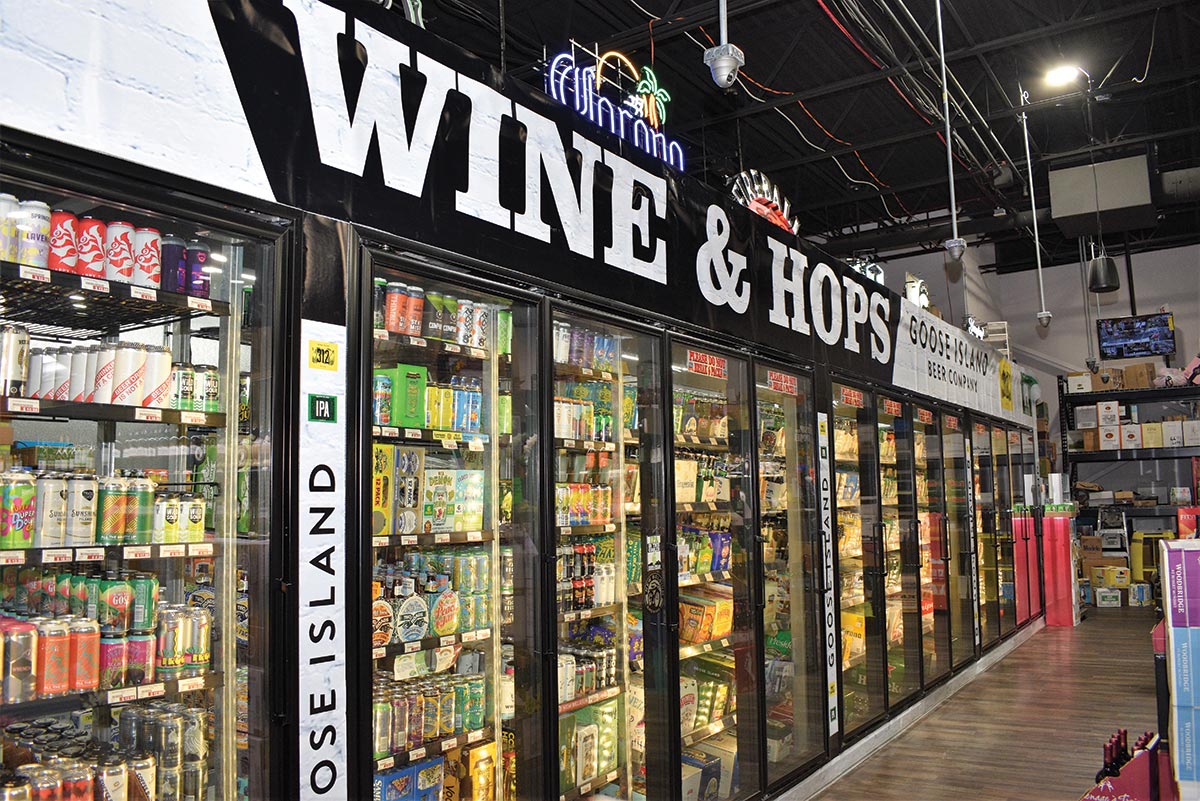 Wines & Hops
51 Monroe Turnpike
Trumbull, CT
Square footage: 4,800
Years in operation: 1 year
By Sara Capozzi
Charul Kothari and his partners opened their new retail venture, Wines & Hops, in mid-March 2020, the day after Connecticut's mandated shutdown of nonessential businesses and schools due to the COVID-19 pandemic went into effect. While the consequences of timing were an unforeseen factor – purchasing the store in 2019 and preparing to open in early 2020 – the team and its patrons have been able to weather the storm brought by the events of the past year.
Wines & Hops' first year of business was a "roller coaster," according to Co-owner Charul Kothari. "The first two months after the shutdown, people went into panic mode thinking everything was going to be shut down, so the first couple days it was a big rush. Inventory that we had was still available at that point, so we could order more."
But after several months of continued high demand, combined with supply chain issues and materials shortages such as aluminum, Wines & Hops joined the retailers across the country who were faced with product shortages that they'd never dealt with before.
"For us to cope with that was a major struggle," Kothari said. "Because even the distributors didn't have [product] … In the process, what happened was the patrons that kept coming in, they had to get used to something different. If Don Julio wasn't available, they'd have to go to Casamigos … whatever was available is basically what [sold] because the other product wasn't available. So that was a boatload to get used to, for us as well as for the patrons, as well as the distributors; it was a big learning game. After a while, you adjust to the situation."
The challenges of the past year brought about several silver linings for business at Wines & Hops. For instance, dealing with the product shortages provided the opportunity to develop and strengthen relationships with customers. The team also orders products available upon customer request, which further builds the newly won customer loyalty. A value-add for customers is Wines & Hops' delivery service, which services the neighboring towns of Shelton, Trumbull, Newtown, Fairfield and as far as Milford and Westport.
"Now we've gained that confidence, we've gained that customer and, in the process, if we have that product, we keep selling it to other people as well – that product becomes a regular." As the majority of product shortages ease, shoppers enjoy a broad selection of more than 8,500 SKUs. Popular items include French and South American wines, as well as seltzers and other low-calorie items.
Wines & Hops' location was previously owned by a larger retail chain and many of the location's former customers continue to frequent the store. The team has witnessed an influx of new customers, including New Yorkers who have moved from the city to Connecticut during the pandemic, said Kothari.
At some point in the future, the partners may open additional locations in the state when the right opportunity arises. For now, Kothari and his team are focused on creating the best shopping experience for customers. Plans include reorganizing the inventory to make finding items even easier, to go along with the stress-free atmosphere the team has already created with relaxing music and environmentally friendly LED lighting. With these details, "Shopping becomes a little more enjoyable," Kothari said. "Low-key is what we want. We like it that way."