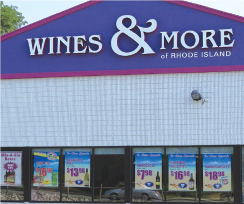 Wines & More of Rhode Island
125 Sockanosset Cross Road
Cranston, Rhode Island
By Bob Sample
Square footage of store: 15,000
Years in operation: 5
Becoming a "destination store" for out-of-town shoppers is always a worthy goal in the retail business, but it helps to start with a great location. Before breaking ground in 2008 for Wines & More, owner Andrew Annaldo chose a site adjacent to a long-established shopping center called Garden City Plaza. The plaza, and the surrounding shopping area, was in a renaissance, with a new Whole Foods Market and numerous other upscale retailers already in place.
Since opening doors in 2009, Annaldo and his staff have worked diligently to deliver the perfect mix of selection, friendly service and expertise. It's a formula that has worked well. "We get plenty of customers from other parts of Rhode Island and from out of state as well," said Sara Slahetka, marketing and advertising manager for Wines & More. "Plenty of folks visit our store to obtain items they've been unable to find closer to home – and return again and again because they know we have a great selection."
Wines of every variety and price point take up about 65 percent of the store's floor space, with the balance equally divided between beers and spirits. "We carry more than 3,000 bottles of wine and another 2,500 varieties of craft beers and spirits," said Slahetka. "We have everything from everyday wines and wine boxes to an extensive selection of high-end wines."
One wall is devoted to the wines of Italy, France, Spain and Portugal, and shoppers can find plenty of offerings from Australia, South Africa, South America and wine-producing U.S. states as well. To aid in browsing, wines are segmented by variety, too.
At any given time, the store's website announces in advance the robust array of tastings hosted, as well as in-depth wine and beer seminars. These are conducted by the store's Fine Wine Manager, Brett Marggraff and Craft Beer Manager, Ryan Donaldson, as well as by representatives from wine, beer and spirits companies. Occasionally, the staff plans cooking demonstrations, pairing foods with wine or beer.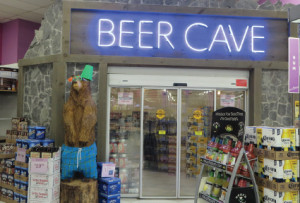 Besides using Facebook and Twitter for publicizing events, the store's monthly online newsletter – The Wine Press – gets the word out on monthly beer, wine and spirits specials, and contains food and drink recipes. Wines & More also relies on direct mail. "We'll send out about 95,000 pieces at least once a month," said Slahetka. "Our mailers often have over 50 sale items, and customers know to look out for them." Wines & More also runs print advertising in select local papers, and airs radio spots during Providence and Boston Bruins hockey games and all major holidays.
Several other services provide additional incentives to shop at Wines & More. The store's craft-beer selection is quite vast with a "mix-a-six" program that helps spark sales of lesser-known brews. Gift baskets are another item that shoppers don't necessarily purchase often – but when they do, they know they can find them here. "Many local doctors and businesses place special orders with us each year at Christmas," said Slahetka.