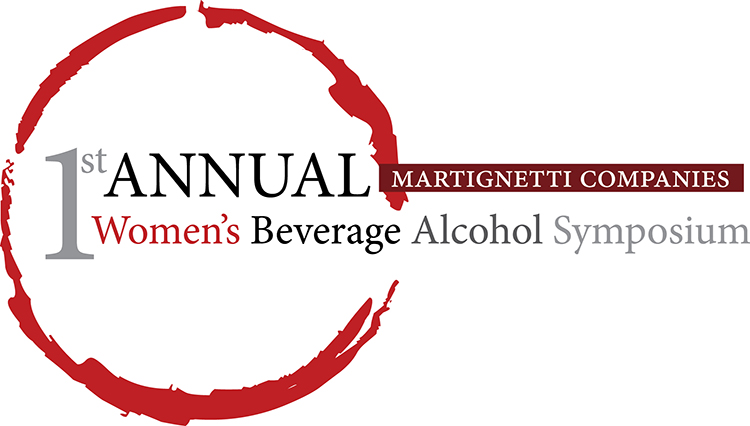 Band of sisters: Beverage industry conference highlights evolving roles
By Lauren Daley
You may think that in this day in age, discrepancies between men and women in the workplace are gone, or least very minor. While society has come a long way from the "Mad Men" era, when the majority of women were secretaries or housewives, women are still a minority in high power positions in many industries, including the beverage industry, said Mary Masters, vice president of Classic Wine Imports/Martignetti Companies, a New England distributor of wines and spirits.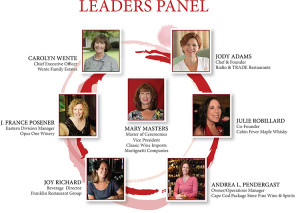 The first female vice president in Martignetti history, Masters helped organize and moderate the Inaugural Women's Beverage Alcohol Symposium in Newton, Mass. on March 26.  Some 215 women gathered at a luncheon discussion at the Newton Marriott to hear and ask questions of a panel of women in the service industry. Their underlying message: Support other women.
Panelists were Carolyn Wente, CEO of Wente Family Estates; Jody Adams, chef and founder of Rialto and Trade restaurants; J. France Posener, Eastern Division manager of Opus One Winery; Julie Robillard, co-founder of Cabin Fever Maple Whiskey; Joy Richard, beverage director at Franklin Beverage Group, and Andrea L. Pendergast, owner and operations manager of Cape Cod Package Store Fine Wine & Spirits.
We caught up with Masters recently to ask her about the current state of women in the beverage industry.
BEVERAGE JOURNAL: How did the idea for this event come about?
MASTERS: The idea was spawned over a dinner with Mark Fisher, president of Martignetti, and Carol Francolini, the New England Regional Manager at C. Mondavi & Family. The discussion came up of me being appointed to Vice President of Classic Wine and Imports, making me the first female vice president, and what else Martignetti could do to support women and growth in the beverage industry. After the dinner, Mark formed a committee; I was on committee along with male and female managers, 10 or 12 total. He asked us to come up with (an event).
BVJ: Why did you choose a panel?
MASTERS: Basically, we wanted a woman from sales, spirits, packages store, food — all aspects of the industry. We created a list of questions to pose to these women. We did take suggestions of questions (from the women in the audience) and the question asked most often was: "In our industry, a lot of business is done on the golf course. How can women who don't golf create a bonding experience?"
And that's an important networking question, because it happens so often, where business is done on the golf course. I don't golf. One of our panelists, Carolyn Wente said she didn't golf either, and was left out. So she learned golf. She told the women: Learn golf. It's important that you're part of the bonding experience in the industry. If it means learning golf, learn golf.
BVJ: What were some other questions the women had?
MASTERS: "Who was your mentor?" Because often, there aren't enough women in the beverage industry to mentor each other, nine out of 10 times, a woman's mentor is a man. They asked, "How do you network in this industry?" "How do you put in all these hours and still have time for life and family?" Women have the unique situation of children. I don't have children, but it is an obstacle for many, many, many women. Even though I never had children, I was still the one to fix dinner and do laundry at my house. One panelist suggested outsourcing as much as possible, meaning if you need to be in the office 14 hours a day, hire a babysitter, or a cook if you can.
BVJ: And the event was for women only, correct?
M: Yes, we debated allowing men, but eventually decided against it, and in hindsight I'm glad we did that. We wanted a forum where women could speak freely and not feel uncomfortable asking delicate questions.
BVJ: Can you give an example?
M: Situations that take place at work, or they've encountered with male peers or bosses. Like, "How can I get in the in-group? The clique?"
BVJ: Meaning that the "in-group" is still a boys club?
M: It is a boys' club. Women encounter different obstacles that men don't. It's a male-dominated industry. There aren't a lot of women, and we want equal opportunities. That's why we gathered these women together to inspire and encourage each other; to ask "Is there a glass ceiling and can we break it?" We want to cultivate our strength. There's always the struggle to feel you have the same opportunities as males in the business. I've dealt with situations where people aren't used to dealing with a woman, and come out and ask, "Is there a male I can talk to?"
BVJ: That was recently?
M: That was in Atlanta in 2000. (Some) men still had that attitude. And based upon the number of women in that room at the symposium, I'm quite sure (it's still prevalent) in 2014.
BVJ: What are some other difficulties you've had as a powerful female in the beverage industry?
M: I've worked at Martignetti for seven years, and they're wonderful. Before that I was a vice president at a (alcohol beverage) company in Atlanta, Georgia, and the president of my company at the time, would go up and down the hall and invite all the vice presidents to lunch.
In the South, there's something called "meat and threes," where you get a mystery meat and three vegetables swimming in butter. I hated the food; it wasn't healthy. So one day when he invited me, I said, "You know, I'm just going to sit at my desk and have some yogurt." And it was a bad decision on my part, because I removed myself from that bonding experience. I shouldn't have done that. I was looking at it solely as lunch. And it wasn't lunch. It was more than lunch. There are conversations that take place during that time.
BVJ: What else is different?
M: Men's style of communication is different than women's. Sporting events are important, and women are not always into that. Sports lead to bonding time with superiors and peers, so women might be the odd one out, which is why the golf question was so important.
BVJ: What does the beverage industry look like today compared to 10 years ago?
M: There are a lot more women in sales than there used to be, and more women middle-managers. But at the very top, we're still lacking. When I'm with other top executives around the country, 99 percent of the time, I'm the only female in the room. So that's still an obstacle.
BVJ: What does the future of the industry look like for women 10 years from now?
M: I believe we're going to see more women in executive positions. I also hope to see more flexibility, for both males and females, in terms of which hours you put in if you need to take care of your family. Everyone should have time to do that: males and females with children.
BVJ: What advice do you have for women in the beverage industry?
M: Women can also be the most critical of other women, and that's something we need to recognize. We need to own it and stop it. At the end of the day, we're going to be stronger if we help each other.
Masters is putting together the next symposium, slated for March 2015. Any woman in the beverage industry can also ask to join Masters' LinkedIn Group: "Martignetti Companies Women's Beverage Alcohol Symposium."