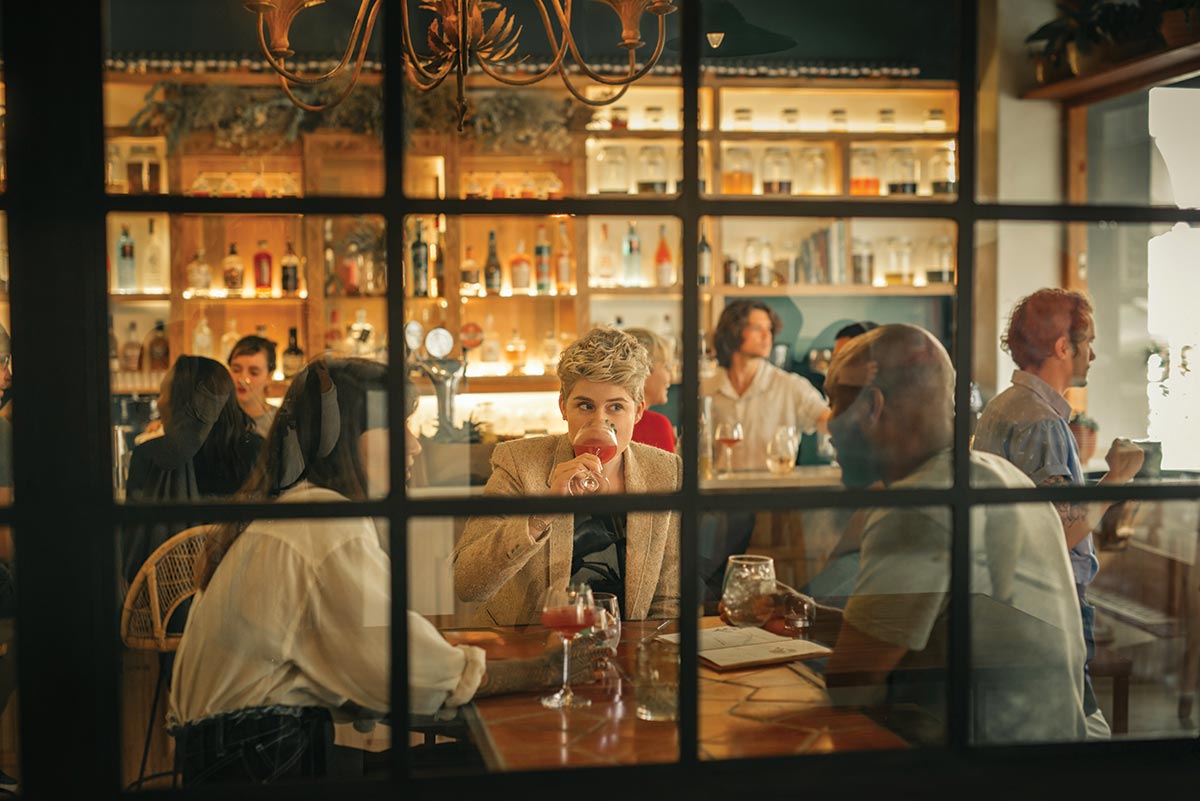 By Khalid Williams
Have you ever felt that culture has left you behind? How does it feel to be on the outside looking in? Not as bad as it feels to be on the inside looking around and recognizing nothing. I assert that I am one of the forces that has changed the Connecticut beverage industry. I also assert that I really need to take inventory and update my knowledge to reflect a changing beverage industry, hospitality culture and world in general.
There are those who are married to their static expertise. They imbibe upon the compliments heaped on them by their guests. The intoxication leads them to stop learning with the vigor and motivation they once had. This is a precipice upon which we balance—until we fall.
We see the cocktail that we were congratulated on for creating is now on the menu of a homogenous chain restaurant where the bar book looks like a criminal code register. We open this lovely publication and don't recognize any of the styles of wine that are "hot right now." That bourbon we gush over? Yeah … it's 30% more expensive and 89.9% less available … at least that's the false story we are told (you know who you are) and we don't know a comparable substitute.
There comes a point where our best achievements of yesterday are today's common occurrence, when we awaken from the slumber of our own self-importance and professional complacency into the high-alert state of knowing that we don't know what we don't know. I know what I don't know.
While we may be the dynamic personalities who helped build the wine and spirits industry in our state, we have a choice to make at this point. We can make fun of every new thing that we come across, thereby confirming our own infallibility and alienating the fresh faces, ideas and concepts that the next generation has to offer us (and it may feel really good in the moment, yet it will ultimately result in the zeitgeist of the day passing).
Or we take on the difficult task of reexamining what we know, discarding what's outdated and downloading new information. It is really uncomfortable. Like me, climbing the rope in gym class with the varsity football team as a morbidly obese seventh-grader uncomfortable. It also results in beautiful realizations and revelations that we didn't know we still had the capacity to experience.
One of the most active thinkers that I know in this business is north of 60 years old. He possesses the perfect blend of historical experience and a sense of being a steward of the culture. No matter what he already knows, he works to absorb new information and be equal parts mentor and mentee.
Some of the worst foolishness that I ever heard perpetrated in the industry was done so by so-called "leaders" and "luminaries." I damn sure don't want to be one of them, so I have a short self-check questionnaire that has been helping me attempt to keep my mind relevant and my contributions to Connecticut drinks culture valuable to the entire population. Give it a try yourself:
1. How many new products have I read about or tried this month? If the answer is less than seven, I have work to do.
2. Of those seven, how many of them are from a place that isn't famous for making said product? How many of them are formerly varietals, brews or mash bills? If you doubt the beauty of Italian Chardonnay, you ain't been tasting enough. If you think that you need to wait in line for world-class IPAs, you need to go to a beer festival—today. If there isn't one today, have your own private tasting (or come to one of mine).
3. How many cocktails from your first year behind the bar have you revived? If the answer is less than five, you can be such a benefit to the next generation by dusting off those old menus and discussing your classic repertoire with rookies in the industry.
4. Who are your professional connections? How many people who work in the industry do you meet per month? If the answer is less than three, it's time to make some introductions. By meeting new beverage industry pros, you give yourself an opportunity to add value with your knowledge and experience and you're guaranteed to hear some techniques and concepts that you wouldn't have thought of otherwise.
5. How are you using social media to stay connected? We all work crazy schedules, so extracurricular activities related to our work aren't always easy. However, how easy is it to replace 10 minutes of falling down the rabbit hole of Marvel Cinematic Universe memes with intentional interactions on social platforms? Our industry is one of the most reciprocal and giving within the digital landscape.
The more we knew yesterday, the more we will benefit from learning today. Those of us who are veterans of the industry owe it to ourselves—and the culture at large—to dive in like we did when we first learned how to stir a Manhattan and shake a daiquiri. Come teach me something because I damn sure want to learn.
Khalid Williams is a bar manager, spirits brand representative and program consultant specializing in marketing, engagement and data. His passion is for exploring the "why" behind consumer decisions. He loves Old-world wine, New-world rum and Connecticut beer. Follow him on Instagram @thebarrelage.