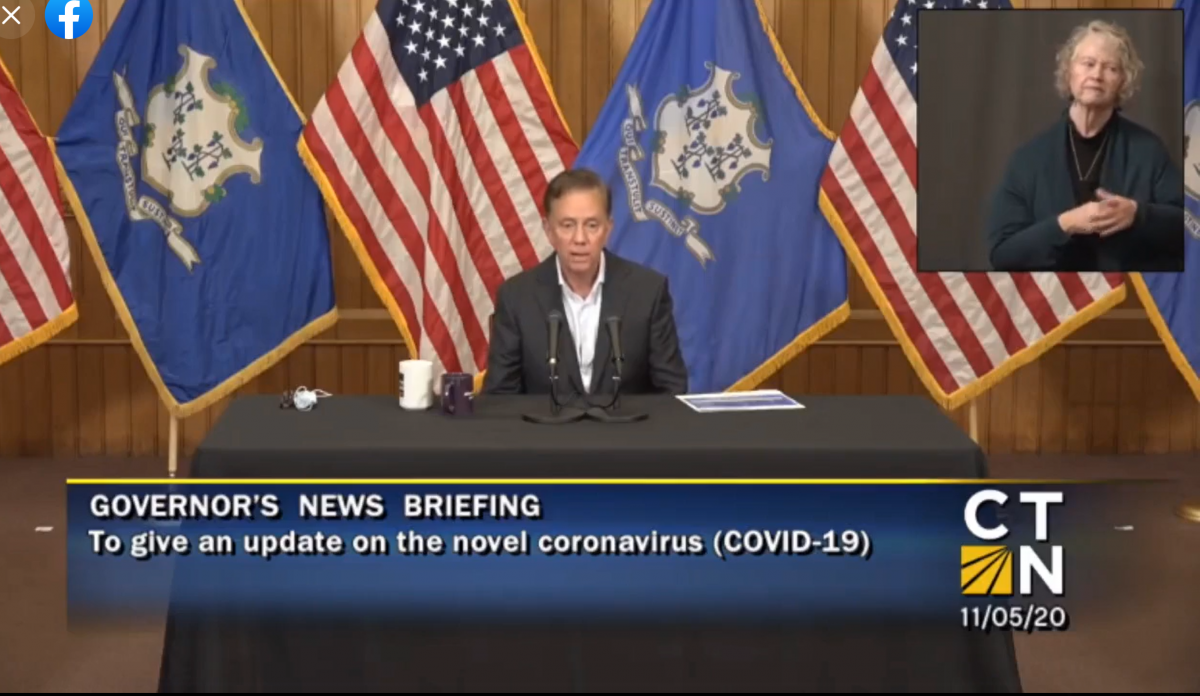 From Staff Reports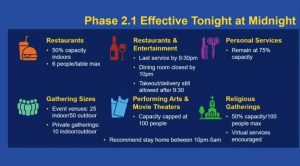 Connecticut Gov. Ned Lamont ordered the state to roll back to Phase 2.1 rules effective Nov. 6. The new set of restrictions is a modified version of the previously enacted phase two guidelines.
The following business sectors will be subject to a 10:00 p.m. closing time seven days per week:
Restaurants: Last service for in-person dining at 9:30 p.m. Takeout and delivery may continue after 9:30 p.m.
Entertainment and recreation venues: e.g. movie theaters, bowling alleys, performing arts theaters.
Indoor and outdoor events at commercial venues.
For restaurants that means shifting back to 50% capacity indoors with six-foot spacing and/or non-porous barriers and a maximum eight people per table.
Scott Dolch, Executive Director of the Connecticut Restaurant Association said, "That Connecticut will roll back to Phase II presents a renewed challenge to Connecticut restaurants, an industry that was hit sooner and hit harder by this pandemic than nearly any other. In recent days Governor Lamont has said the recent uptick in COVID cases is not being driven by restaurants, and we greatly appreciate that acknowledgement. We hope he and his administration will keep this fact in mind during the weeks and months ahead as we continue working with them to help local restaurants make it through this winter and through this pandemic. The Governor and his team have kept an open door to our industry and have rightly continued to make adjustments to the state rules along the way. We appreciate their responsiveness and look forward to working with them on these areas and others in the days ahead."
For private, social and recreational gathering sizes at commercial venues, a maximum capacity of 25 people for indoors and maximum capacity of 50 people for outdoors has been instituted. Events previously scheduled to take place prior to November 9 may still take place in accordance with the phase rules that were in place in their municipality prior to the announcement of Phase 2.1. Masks and social distancing measures must still be followed, including for private events.
Lamont had issued a statewide public health advisory because of the rise in COVID-19 cases and urged residents to limit non-essential trips outside the home between 10 p.m. and 5 a.m. Mirroring international trends on rising infection rates, Lamont said private, "informal" gatherings are "where we're seeing the ignition taking off in terms of the infection rate."
He also extended two existing executive orders pertaining to the pandemic through Feb. 9, 2021. Through Executive Order 9L, announced on November, all COVID-19 related executive orders which are in effect and not yet expired will be automatically extended to that date. Lamont's latest action will also extend any unexpired rules or guidance put forth by public health agencies or municipalities which pertain to COVID-19 . The extension of the executive orders which impact the restaurant industry include extension of expanded outdoor dining, extension of prohibition of alcohol without food, and extension of alcohol to-go orders.
The move also enables continued DECD authority to enact sector rules governing mandatory closing times. See all orders all here. See all Connecticut COVID-19 guidelines information here.