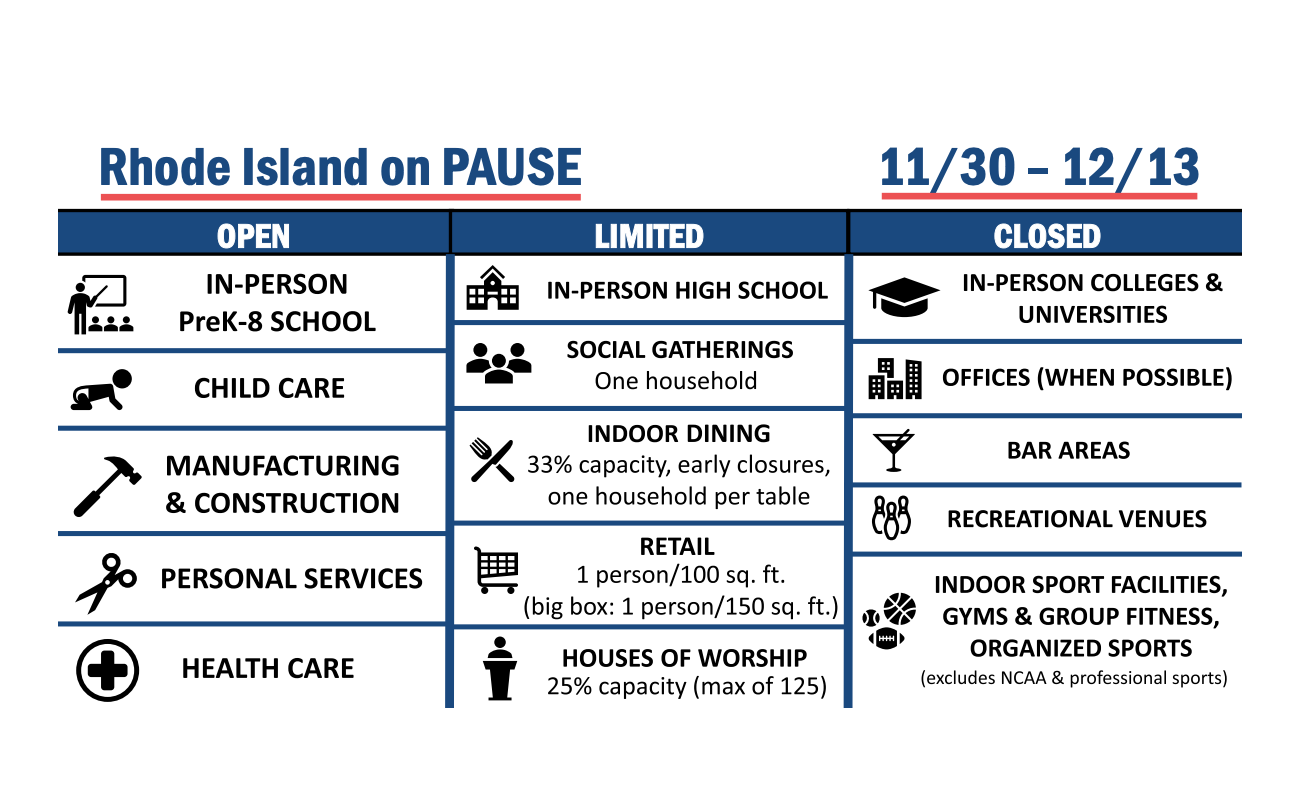 Staff Reports
As the holiday season begins and COVID-19 cases in Rhode Island continue to rise, Gov. Gina Raimondo announced new restrictions for individuals, businesses and schools during a press conference on November 19. In an effort to bring the numbers of coronavirus cases in the state down, the new measures will go into effect during a two-week "pause," which will begin on November 30. In compliance with the order, offices, in-person higher education, gyms and recreation facilities, including the Twin River casinos, will be ordered to close.
Also, starting immediately, Raimondo announced that residents are not permitted to have social gatherings with anyone outside of their households. This measure is to remain in place until December 13. "I'm in a world of all bad choices. And I am trying to pick the least bad options," she said.
During the two-week period, bars and bar seating will not be permitted. Restaurants will be allowed to continue to offer indoor dining, but their number of guests cannot exceed 33% capacity. Outdoor dining is not included in the capacity limit and takeout and curbside pickup can remain in service. Other dining restrictions include a new limit of five people per table indoors. Only people living in the same household are allowed to be seated together and restaurant staff are required to tell patrons about this new rule when seating guests and taking reservations.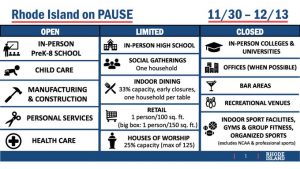 The stay-at-home advisory, which Raimondo put in place on Nov. 5, is still in effect. The advisory requires all residents to be home between the hours of 10 p.m. to 5 a.m. on weeknights and between 10:30 p.m. and 5 a.m. on weekend nights. Businesses, including restaurants and personal services such as salons, are required to close by 10 p.m. on weeknights and 10:30 p.m. on weekends.
Retail establishments are permitted to remain open with the current capacity restrictions: One customer per 100 square feet in regular retail outlets and one customer per 150 square feet in big-box stores.
Dale J. Venturini, President and CEO, the Rhode Island Hospitality Association (RIHA) issued the following statement: "The RI Hospitality Association has been in ongoing conversations with the governor's office over the last several days with a goal of avoiding the shutdown of indoor dining, as several states across the nation have already mandated. While we were successful on this point, today's announcement with additional dining restrictions is tough and could not come at a worse time as we enter the holiday season. However, we understand how difficult these decisions are and appreciate the ten-day lead time to prepare. We look forward to evaluating the results of the new restrictions after the two-week period concludes.
"The RI Hospitality Association is currently working with Rhode Island Commerce to provide additional economic relief to the restaurant industry and its employees beyond the current Restore RI program."
During the press conference, Raimondo said she plans to revisit these regulations on December 13 and that a complete lockdown may be needed if Rhode Island case numbers continue to trend upward. Rhode Island's test positive rate was 5.8% on November 19.
Providence and Central Falls Announce New Gathering Limits
Raimondo's latest orders were announced just several days after Providence Mayor Jorge Elorza announced stricter restrictions for private gatherings within the city on November 17, limiting the number of people allowed at private gatherings to five people. The maximum capacity allowed at catered events was lowered to a maximum of 10 people indoors and 25 people outdoors, reduced from the 25 people indoors and 75 people outdoors that had been allowed statewide during Phase III of the state's reopening.
The town of Central Falls was also the first municipality to ban on-premise dining this fall. Central Falls Mayor James Diossa signed an executive order on November 16 that ordered all dining rooms in town to close through the month of November.
The Rhode Island Hospitality Association issued the statement: "The RI Hospitality Association and its members understand and agree with the need for continued vigilance within our industry, however, we have not seen any evidence that restaurant dining has contributed to this recent surge. It is irresponsible for Central Falls to take this action without a plan for providing economic relief to the businesses and employees who will now find themselves unemployed right before the holidays. Shutting down Central Fall's restaurant industry will leave lasting damage to the community and this vital industry."
More Business and Individual Grants Announced
In response to the tightened restrictions, Gov. Raimondo announced a new Coronavirus Relief Fund/CARES Act grant program for restaurants and bars whose income has been affected by Executive Order 20-95, which mandated earlier closing times.
To be eligible, owners must be registered with the RI Division of Taxation, maintain an active Meals and Beverage account with the division, have an active liquor license, and have filed and paid sales tax and meals and beverage tax during the months of July, August and September. Available through the Rhode Island Division of Taxation, the deadline to apply for one of the grants is Dec. 15, 2020. Business owners can apply at tax.ri.gov/RICares/.
Another grant program available to restaurants, Restore RI, has doubled its grant size to $30,000. Business owners can use the grant money to cover expenses such as rent or mortgage payments, utility bills, physical adaptations, supplies or equipment, inventory and more. Eligibility has also been expanded to include nonprofit organizations and private child care facilities who have not received other CARES Act funding. Businesses can apply at commerceri.com/about-us/restore-ri/.
As a second round of Commerce RI's Take It Outside business adaptation, grants of up to $50,000 are also available through the Rhode Island Commerce Corporation. Grant recipients can use the funds to offset the cost for items purchased to expand safe outdoor-dining options for guests, including tables and chairs, heat lamps, tents, PPE, lighting, signage, Wi-Fi and more.
A second round of funding is also available through the RI Hospitality Employee Relief Fund. Available to member businesses, the fund provides individuals who are facing economic hardship due to COVID-19 with money for basic necessities. Visit rihospitality.org for more information.
HArT Grants Available for Hotels
Beginning on Nov. 3, the Rhode Island Commerce Corporation will accept applications for the Rhode Island Hotel, Arts & Tourism (HArT) Grant Program. Rhode Island has allocated $20 million for the program, the goal of which is to support arts, culture, hospitality and tourism businesses and institutions, and help prevent their closures, due to factors brought on by the COVID-19 pandemic.
Through the program, eligible businesses and nonprofits can receive grants of up to $1 million. A total of $20 million is available, with $10 million earmarked for Engagement, Service and Resiliency activities ("ESR" Funds), which are designed to positively impact the economy. For example, hosting COVID-safe events, activities and meetings; providing hotel vouchers and/or discounts to people working or learning remotely; and enabling virtual and remote events. The remaining $10 million will be donated directly to hotels, arts, culture and tourism organizations.
The HArT ESR application can be downloaded at commerceri.com.