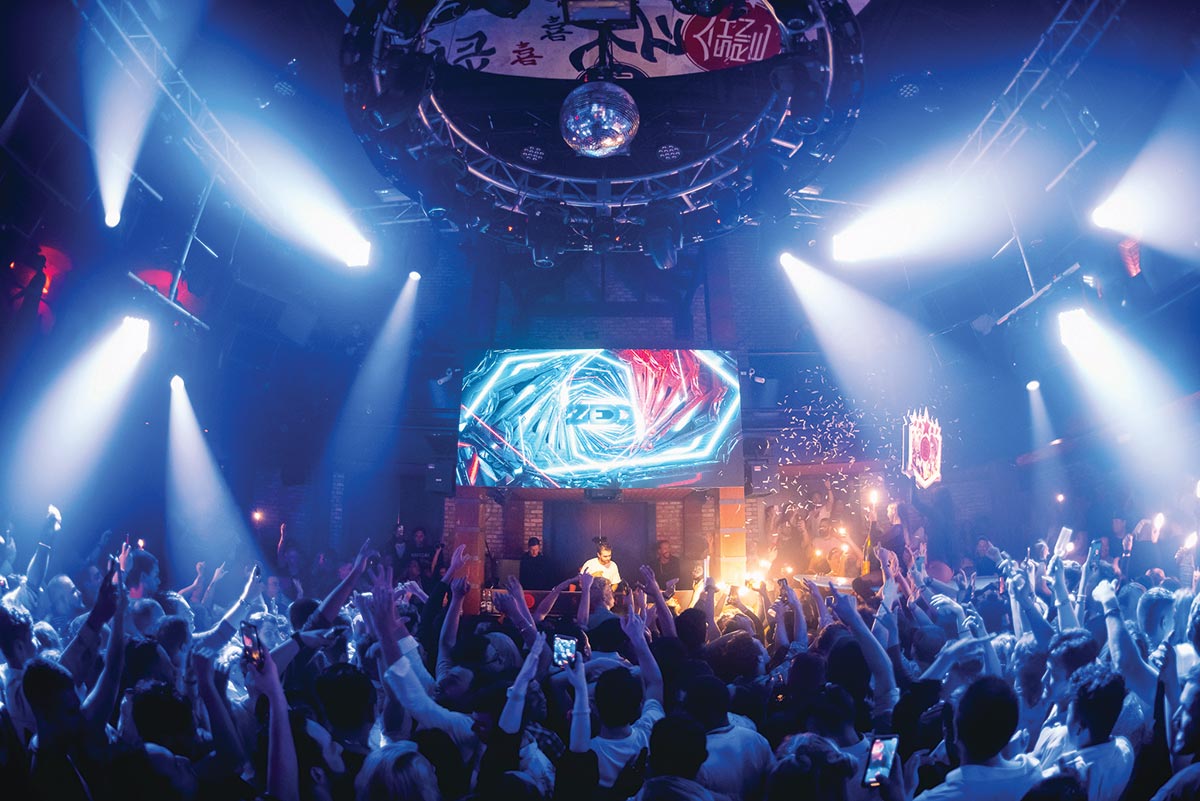 With pandemic regulations lifted, Connecticut clubs begin reopening
By Sara Capozzi
Since March 2020, the majority of Connecticut's nightclubs and bars have been closed for business. With Gov. Ned Lamont's executive order lifting occupancy restrictions and mask mandates on May 19, the state's bars and clubs started hiring staff and scheduling musical acts. People are ready to get back into the groove and businesses are ready to welcome back guests.
Several club managers and owners across the state shared their experiences in reopening and what they're expecting this summer.
New Haven's Cafe Nine, a neighborhood bar regularly featuring live musical acts, reopened at limited capacity on April 9 with shorter hours during several nights per week, at first booking mainly acoustic acts, according to Owner Paul Mayer. The week after Memorial Day, the venue expanded to a five-day-a-week schedule and began booking full bands and DJs. Mayer said he expected the venue's calendar to be full by the end of June, adding afternoon and evening shows on the weekends.
"Business is better than I anticipated," Mayer said. "I'm optimistic, and people are starting to show more confidence in coming out and getting together with other people, so I think it's a great sign … It's been a tough year. We scrambled to do a lot of different stuff to help defray some of the costs and everything seemed to work out. The community was [really] supportive. We're fortunate that we have a community that likes to come here and see shows."
One challenge of the reopening has been hiring new staff, since the majority of Cafe Nine's former staff moved on to other employment during the pandemic, understandable since "we were closed a year and people's lives change," Mayer said. "The staffing has been an issue and I see moving forward that it's going to get a little tough as we expand our hours, we're going to need more people to cover the shifts. I think there's people out there; for us it's finding the right ones that are the right fit because it's kind of a different environment than a restaurant or bar space."
A silver lining of the shutdown is that it gave the Cafe Nine team a chance to assess and adapt some aspects of its business, Mayer said. "It gave us a chance to reset some of the things that we were seeing pre-pandemic, look at what was working for us or ways we could make improvements, the hours we're putting in or the types of shows we're doing."
One assessment is its use of space. With an indoor capacity of about 125 people and only 14 outdoors, a key change Mayer would like to make is to expand outdoor seating into the adjacent parking lot during the summer. "Going forward, [the pandemic] is changing the way we're going to operate as far as outdoor seating and outdoor serving; I don't think a lot of towns will turn back to their previous restrictions. I think it will benefit restaurants and bars to be able to have that expanded outdoor access during the summer."
With many bars and clubs reopening in New Haven, the management of one of the city's largest venues has opted to keep its doors shut for now. William Santagata, owner of Club Vandome, said he has tentative plans to reopen in the first or second week of August.
During the shutdown, Club Vandome's management has continued to maintain its building and grounds and is ready to reopen when the time comes. "We could open the club tomorrow if we want," Santagata said. "We just feel that waiting till the end of summer would be a little better because let the people enjoy the outdoors, and the fall and winter are our busiest times of year anyway."
Santagata said he has been in touch with his staff of 42 during the shutdown, and he said that the majority are planning to return upon the venue's reopening. Club management plans to abide by Centers for Disease Control and Prevention guidelines for guests and staff, only requiring masks for those who remain unvaccinated based on the honor system.
Mohegan Sun's novelle reopened at partial capacity in June 2020 with masking and social-distancing protocols in place. Since the health guidelines were relaxed on May 19, the venue has changed its floor plan to accommodate larger groups while keeping some health safety measures in place, including providing hand sanitizer, maintaining plexiglass dividers in some areas and the continued use of virtual menus. Guests have continued to return in greater numbers through the spring.
"Overall, business at novelle is strong," said Chris Greaney, Director of Fine Dining, Mohegan Sun. "We are catering to our high-limit players while putting on live performances that they cannot experience anywhere else in the casino while gaming. We are also gaining traction from our guests that may have started their night out with a bachelorette party at Todd English's Tuscany, a date night at TAO Asian Bistro & Lounge or within novelle as a birthday party, as well as guests who visit Mohegan Sun for other celebrations and are looking to cap off their night with some great music and a great vibe."
The venue has also kept guests entertained through its themed Acoustic Hideaway nights and its Bubbles, Brunch & Beats experience every Sunday. Novelle brought on a number of new bartenders and servers this spring and will continue to hire more staff as the summer progresses and the demand continues to increase, Greaney said.
Foxwoods' Shrine nightclub reopened to a sold-out weekend on May 21, with a packed crowd featuring hip-hop artist 50 Cent. Behind the scenes, though, there was an enormous amount of work to prepare for reopening. "Business is as if there was never a pandemic," said Jennifer Ramos, Bar & Beverage Director for Big Night Entertainment Group, which owns and operates Shrine and other award-winning destination venues in Connecticut and Massachusetts, including The Grand, Explorateur, Empire, Red Lantern, The Scorpion Bar, Guy Fieri's Kitchen & Bar and VERSUS.
"People are ready and those that are comfortable are out, so the business is wonderful, it's great, from that perspective. The staff is making money and they're busy and we definitely have a lot of opportunities. I think there's just some challenges on the rebuilding, regrowing and starting back up again," said Ramos. Some of those challenges include hiring staff and dealing with product shortages, which are temporary, and the team is taking them in stride, she said.
Guests are required to stick to CDC guidelines, which currently call for unvaccinated people to wear masks and allow fully vaccinated people to forego them altogether. According to company policy, all Foxwoods staff are required to wear masks while working at the casino, regardless of their vaccination status.
Shrine, which accommodates around 1,000 guests, has a packed calendar for the summer, with popular acts including DJ Pauly D and Lil Jon already on the books. "We're still actively planning," Ramos said. "We're doing what we do – booking as many amazing acts and artists and DJs as we can and throwing the best parties that Connecticut has. We're back to doing that, which is awesome."