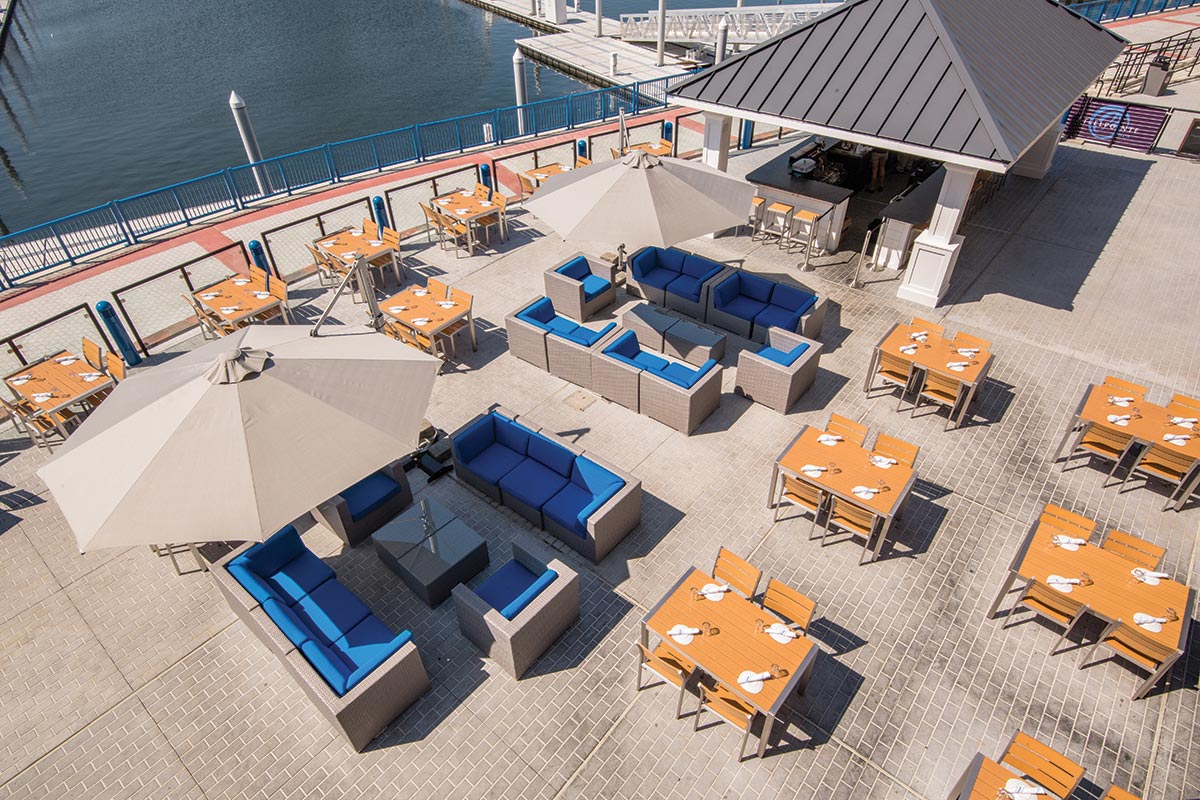 The outlook also brightens with vaccinations well underway
By Sara Capozzi
As vaccinations in the state ramped up and COVID-19 case numbers continued to trend downward, some restrictions placed on restaurants and events were lifted. On March 4, Gov. Ned Lamont announced an end to the capacity limits placed on restaurants, retailers, personal services, houses of worship and museums via executive order, effective on March 19.
Indoor entertainment venues such as movie theaters were allowed to increase their occupancy limits to 50%. Large event venues, including stadiums, were allowed to reopen on April 2 at 10% capacity indoors and 50% capacity outdoors. Gatherings at private residences were capped at 25 people indoors and 100 people outdoors, while social events at commercial venues were not to exceed 100 guests indoors and 200 guests outdoors.
Additional changes to business restrictions, including lifting curfews and the green light to reopen bars, are expected to be announced after April 20, when a number of Gov. Lamont's executive orders expire. The relaxed restrictions were announced as Connecticut's case positivity rate continues to trend downward, along with associated hospitalizations and deaths.
Restrictions that remain in place include mask requirements, social-distancing protocols and the 11 p.m. curfew at restaurants, while bars remain shuttered. Restaurants are allowed to seat no more than eight guests per table and tables must be six feet apart.
More federal aid on the way
President Joseph Biden signed the long awaited $1.9 trillion American Rescue Plan into law on March 11, addressing multiple areas of COVID-19 relief, by providing direct cash payments to eligible Americans, extending unemployment benefits, emergency retail assistance and funding of more vaccine development and distribution. Within the American Rescue Plan, $28.6 billion has been set aside for restaurants under the Restaurant Revitalization Fund (RRF).
The RRF provides for grants equal to the amount of restaurants' revenue losses and up to $10 million per company and $5 million per location, setting aside $5 billion for the smallest restaurants, those whose annual revenue is $500,000 or less. The RRF federal grants, geared toward restaurants with 20 or fewer locations, will be administered by the U.S. Small Business Administration.
The bill's Raise the Wage Act, which would have required states to increase their minimum wage incrementally until reaching $15 per hour while eliminating the tip credit, was dropped on its way to the Senate.
Aid for many affected businesses remained available through the Consolidated Appropriations Act, which was signed into law on Dec. 27. Qualifying businesses were able to receive both Paycheck Protection Program loan funding and enhanced benefits through the Employee Retention Tax Credit (ERTC), a refundable tax credit against employment taxes, including Social Security and Medicare, of qualified wages an employer pays to its employees. In 2021, the ERTC covers up to 70% of eligible wages paid by the employer, with a total credit of up to $14,000 per employee. These benefits are extended until June 30.
Events ramp up, bookings return
Some good news came for the event and wedding sector, when the governor announced an increase in occupancy limits at indoor events on Feb. 16. The new guidelines allow for up to 100 people at indoor events, or a maximum of 50% occupancy, and up to 200 people at outdoor events, effective on March 19.
The expanded occupancy limits make it possible for events like graduation parties and weddings to resume. Some professionals in that sector began to look ahead to a potentially great improvement in business this season, compared to what they saw in 2020.
Kristin Ferrarese, Executive Chef and Creative Director, Fortuna's Catering Co. of Bridgeport, said she was "cautiously optimistic" about the upcoming event season.
"I think the clientele is a little split," she said. "Half of [the customers] are like, 'You know what, we're going to wait another year, we want it to feel more normal, with more vaccines in the mix,' and the other half is like, 'Let's do it now.' We're ready to go for whoever … I think with a year of experience catering in this new world, we feel very confident that we can take any event and put it together safely. In the event industry, we're supposed to be the creative ones. I think we can take any space and say, 'OK, how do we make this fun and safe and let us roll with it.'"
Fortuna's has a variety of events on the books for the remainder of the year, including in-person and virtual fundraisers and weddings, some with slightly scaled down guest lists. "We're hearing about birthday parties and showers and dinner parties, things that were not on people's minds last year as far as let's book it, they are ready to go, which feels good for us," Ferrarese said.
Brian Mitchell, Director of Wine & Beverage, Max Restaurant Group, whose 11 venues include Max Burger, Max's Oyster Bar, Savoy Pizzeria & Craft Bar, Max Amore Ristorante, Max Fish, Max Downtown and Trumbull Kitchen, said the team started seeing an increase in business in February and early March. "I would say we've already started to see the impact of vaccines happening," he said. "We've started to see an uptick in the last few weeks, especially on the weekends, and we're starting to get more and more requests for people who want six-, eight-tops, bringing families; they're getting together for the first time in a long time."
Mitchell noted that while increased capacity is welcome, until more COVID-19 restrictions are relaxed, businesses still won't be able to seat more guests due to spacing requirements. "The reality is that Lamont lifting the capacity restrictions to 100% occupancy … doesn't do anything," he said. "It's not going to change anything in the way we operate because we still have the spacing restrictions, and even with the limited capacity, in many of the restaurants we weren't able to get to the limited-capacity levels with the spacing restrictions, let alone 100%."
However, the capacity increase for organized events will have a positive effect, Mitchell explained. "The capacity on events does help, because it allows us to book parties that are a little bit larger." Increased bookings for rehearsal dinners, corporate events and some larger outdoor parties are bright spots. "People definitely have spring fever and want to get outside," Mitchell said. "More vaccines in arms is going to translate into more business on our side, so more good things to come."
Boca Oyster Bar, a waterfront venue located on Steelpointe Harbor in Bridgeport, is gearing up for a safe and busy warm-weather season. According to Yanni Taxiltaridis, Boca Restaurant Group Partner, in one week, the restaurant booked more than 65 events for the upcoming spring and summer season. "I'm very excited for the upcoming season, I really am," he said. "I think more people are starting to go out, I think people are feeling safer."
With its 1,000-square-foot patio and proximity to the waterfront, Boca Oyster Bar had a "good" warm-weather season in 2020, even with adjusting to health guidelines, seating guests on its socially distanced patio and indoors, and offering Dine and Dock meals for boaters who ordered takeout to enjoy on their boats.
"Last summer, we got very lucky with the amount of space we have," Taxiltaridis said. "Even with all of the restrictions, we were one of the lucky ones … in the grand scheme of things, the outlook of the summer is going to be amazing. I'm optimistic that we're headed in the right direction and I'm very happy with the way things are going right now. They can only get better."
As consumer confidence continues to increase, he said, that will translate to better business for all venues, even with some restrictions still in place. "Our capacity isn't able to change, but the buzz and that people can't wait to get out of their house is going to benefit us. That's really good news for us and a lot of other people in this area. People are really chomping at the bit to get out of their houses."