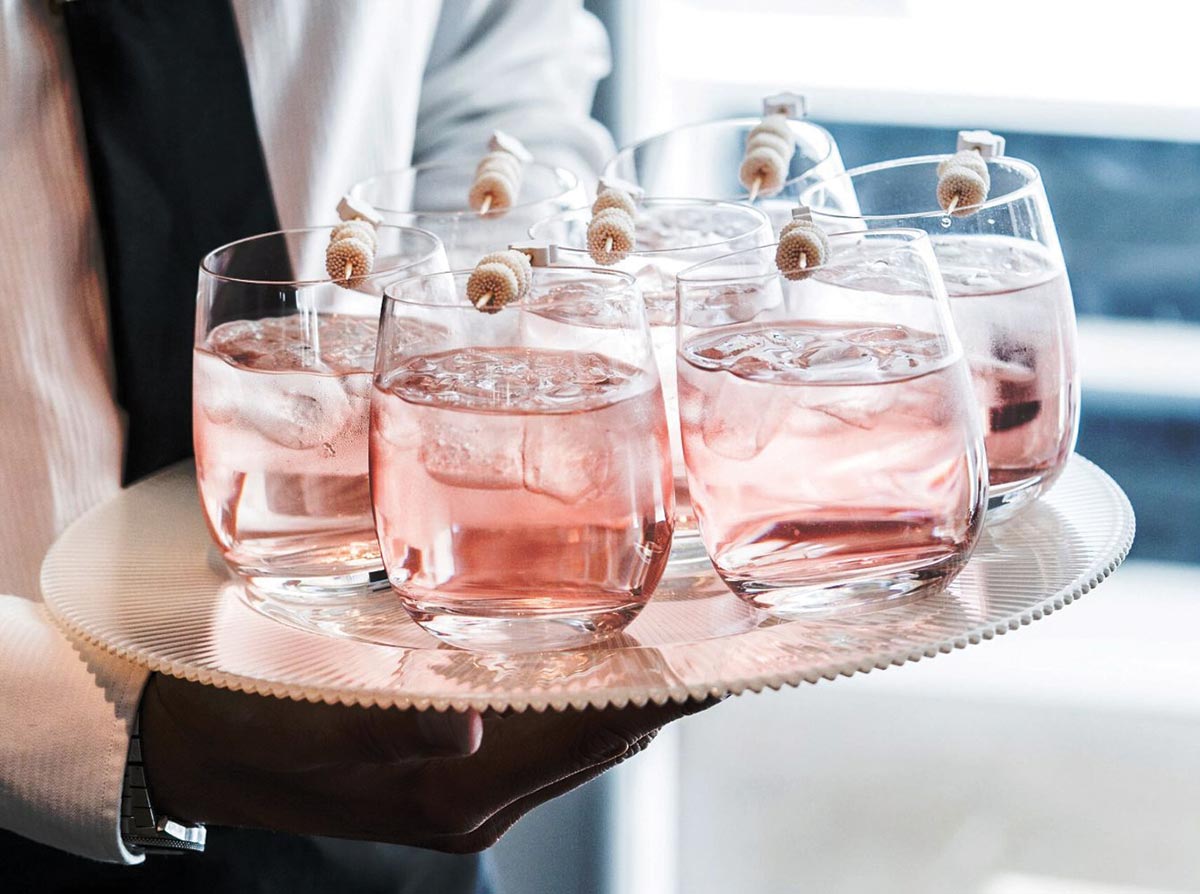 As another year of uncertainty begins, positive trends emerge
By Sara Capozzi
As 2021 comes to a close, the hospitality industry also bids adieu to another year spent under the uncertainty brought forth by COVID. Industry leaders shared their thoughts and predictions for the new year, some finding a cause for hope, even as supply chain issues and staffing shortages continue to present a challenge to the sector.
Most agree that as the industry was forced to shift to adapt to the new normal brought on by the pandemic, these changes will continue to reshape service in the near future. From legislative action to on-the-spot innovation, the local industry remains ready for the task.
The Connecticut Restaurant Association (CRA) continued its work to advocate for the state's bars and restaurants, who had a better year in 2021 than in 2020, but still may need access to stimulus funds to make it through the cold weather months.
"Connecticut's restaurant industry has faced many challenges in its attempt to survive a pandemic that is now approaching two years. While we have made historic progress and partnered with federal, state and local elected officials to weather this storm, the reality is that our industry still has a long way to go in its recovery due to issues like the worker shortage, supply chain disruption and overall inflation," said Scott Dolch, President & CEO, Connecticut Restaurant Association.
"While there is a positive outlook for our industry in 2022, we still need to be vigilant over the next four to six months to make sure our small businesses can make it through the difficult New England winter months. The Connecticut Restaurant Association will continue to work with partners at every level to secure the resources and support our members needs, so that all of our restaurants, caterers and private event venues see beyond COVID-19," he said.
An infusion of ideas
"It's hard to predict the future for our industry," said Chelsea Solkowski, Bar Manager, The Charles. "So many variables can change the way in which we work and interact with both the consumer and our staff on a day-to-day basis. We just need to be ready and willing with an open mind to accept the changes and to overcome them.
"That being said, we are back, and we are working. People have been more adventurous and supportive of creative cocktails than I've ever seen before. I don't know if it is due to the lack of access to bars and restaurants, or to the overabundance of internet inspiration, but it has led to an explosion of craft interest. I've made more throwback drinks during this pandemic than I have in the last 14 years and it's exciting. Bell bottoms are back, and so is Drambuie."
Suzie Johnson, Bar Manager, Taino Prime, said, "I think the coming year will be focused on drinks trends that make people feel good. With the pandemic still looming, it makes sense that people want to focus on health when imbibing. They can feel good about what they're putting in their bodies by purchasing drinks that focus on healthy ingredients with local produce and herbs, or even no abv and low abv options. I have a drink with a cilantro syrup on my menu at Taino Prime and it [is] increasingly popular because it looks healthy like a smoothie, but tastes like a delicious tropical cocktail."
In the craft beer world, many beer drinkers are returning to more classic styles too, which Alisa Bowens-Mercado, Founder, Rhythm Brewing Co. said she expects will continue. "Lagers are back, well at least in my universe … I see a trend of beer drinkers returning to classic, clean, crisp brews. 2022 will prove to see changes across the board with beer, demographics and inclusion.
We are slated to open up a taproom in March or April, where we'll offer "Gateway Brews," transitioning domestic market consumers to the craft beer market. The Gateway beers are going to be pilsners, lagers [and] ales. Very classic brews. We will dive into IPAs, but they will not be as heavy," she said.
"My prediction for the upcoming year is that innovation will continue to transform the industry," said Dave Rudman, DipWSET, Executive Director, WSET Americas. "Even as the pandemic subsides, people and their expectations are forever changed. There will continue to be legislative pressure to increase consumer access to wines and spirits through e-retail, and to eliminate restrictive laws regarding the on-premises and what they are able to do with their licenses. People will learn about wines and spirits in virtual environments, but will still demand an interpersonal experience with guided tasting."
The guest experience gets a reboot
Khalid Williams, Consultant, The Barrel Age, who also serves as state Brand Ambassador for Highclere Castle Gin and was named CRA's Bartender of the Year 2021, said he thinks a lot of venues are facing "a reckoning" in the current climate in addressing staffing shortages. Owners and managers can either choose to treat employees better and invest in their workers or underpay and overwork staff, which has its impact not only on retention but also on guests, too, he said.
While many aspects still feel in flux, guest behavior has improved since last year, from his viewpoint. "Guests have calmed down. Last summer when restrictions got relaxed, it was the first time where I was frustrated with my guests, because people were just being feral. They hadn't been out, they were forgetting their social graces, they want everything quicker than they normally would in an environment that is more stressed than it normally is … [it] was awful at times. That has changed considerably. People have been a lot more understanding and I've seen a minority that have been corrected by a vocal majority."
As supply chain issues continue, Williams also predicts that "brand deserts" will remain an issue faced in hospitality in the new year. "That's put a lot of pressure on package stores, who are really feeling the hit of that … It's also created in restaurants the need to be [nimbler] with menus … It's spurring creativity." As for consumer tastes, Williams said, "Innovation is taken in small doses. Guests want to see cool versions of things they already recognize. Innovation right now is akin to uncertainty and people have had enough uncertainty; they could use a sure thing. Menus are taking on a real classic air … the mobile bars that have come out in the last year, [and] the state has finally opened their hearts and minds to new concepts which I applaud them for."
Williams also expects venues to continue to streamline their beverage programs, creating the need for brands to differentiate themselves. "Brands are starting to understand that they need to make themselves essential to accounts if people are going to give them the time of day," he said.
Ben Dubow, partner in The Hospitality Collective, follows a similar thought track. "I think the coming year will bring ups and downs to the industry. My sense is we are still 12 to 18 months away from things settling out in terms of supply chain issues, labor issues and rising costs. That said, those who can innovate, remain nimble and adjust to the new realities, will do well. Those who are stuck waiting for things to return to 'normal' will struggle. If you are creative, entrepreneurial and innovative, this is a good time to be in the industry."
Retailers see shifts
For retailers, who also were impacted by COVID-19 adjusting everything from store capacity to floor plans to service hours and styles such as developing curbside pickup or delivery, sales were booming nonetheless.
Alan Wilensky, who owns Max's Package Store in East Lyme and is a long-serving member of the Connecticut Package Stores Association as a Legislative Co-Chair, said, "Unfortunately with the pandemic, so many businesses have not done well over the course of the last two years. Overall, the liquor industry has done well, as a lot of people have taken to consuming their adult beverages at home … and that's obviously sad for the people that have gone out of business in restaurants and bars. It has been something of a boon to the retail beverage industry."
While in some cases, sales have switched from off-premise back to on-premise as bars and restaurants have been allowed to reopen, Wilensky said some consumers have gotten used to doing mixology at home and may continue to do so.
"I think there will be people that will continue making cocktails and doing parties at home and celebrating. Once people get used to things, I think there's a certain amount of it that will stick. But I think a lot of people have also missed going out, and during football season, being at the bars with friends and neighbors, being part of the sports scene and just restaurants in general."
Private events accelerate
Jeff Selden, Managing Partner of Marcia Selden Catering, a family-owned boutique catering company serving the Tri-state area and southern New England and winner of the 2021 Caterer of the Year Award from the CRA, said that while private events are booming, corporate events are still on hold. Also notable is how geographical areas have shown differences of comfort levels in entertaining, if at all.
"I think it really varies from locations on where we are in Connecticut," Selden said. "Fairfield County is feeling really different from upper Connecticut … [and] social is feeling really different than corporate, so all the social clients are thrilled to be hosting events and they're anxious to get back to party party party, and the corporations are a little more skittish still."
"I think the good news, at least from an events perspective, and as a prediction, is our booking pace for next year has far surpassed any previous years, so as an indication of parties coming back and people being back in business and back into hosting events, our booking pace has really been a great indicator for us to see how comfortable people are with moving forward with events, and I say that more on the long-term social plans like weddings, bar mitzvahs, huge social celebrations," Selden said. "On the flipside, the corporate [side] is very slow to coming back, and my guess is once we get through the winter that people are going to feel more comfortable again in the spring, once things open up to having the availability of doing outdoor events. I think that's just going to be a reality on winter events for corporate."
Selden said he does have corporate clients who would like to host events, but that they fear liability due to the possible spread of COVID. "Even though our whole team is vaccinated and a lot of our clients are requesting their guests to be vaccinated, there's still the unknown that some people are worried about, at least from the legal side on the corporate side of things."
He predicts that in the near future, events will become more normal, although there may be changes to them that could be permanent. "I think that COVID is here to stay, unfortunately," Selden said. "And I don't mean that in a way that it's going to shut us down again, but I think we're just going to learn to live with it. I think it's going to be like having the flu … I feel like we'll learn to do new things and be safer in different ways and maybe we'll be wearing masks for a few years to come. I don't know that answer, I think that there's learning that comes from these situations, so I think sooner than later we'll be back to good."