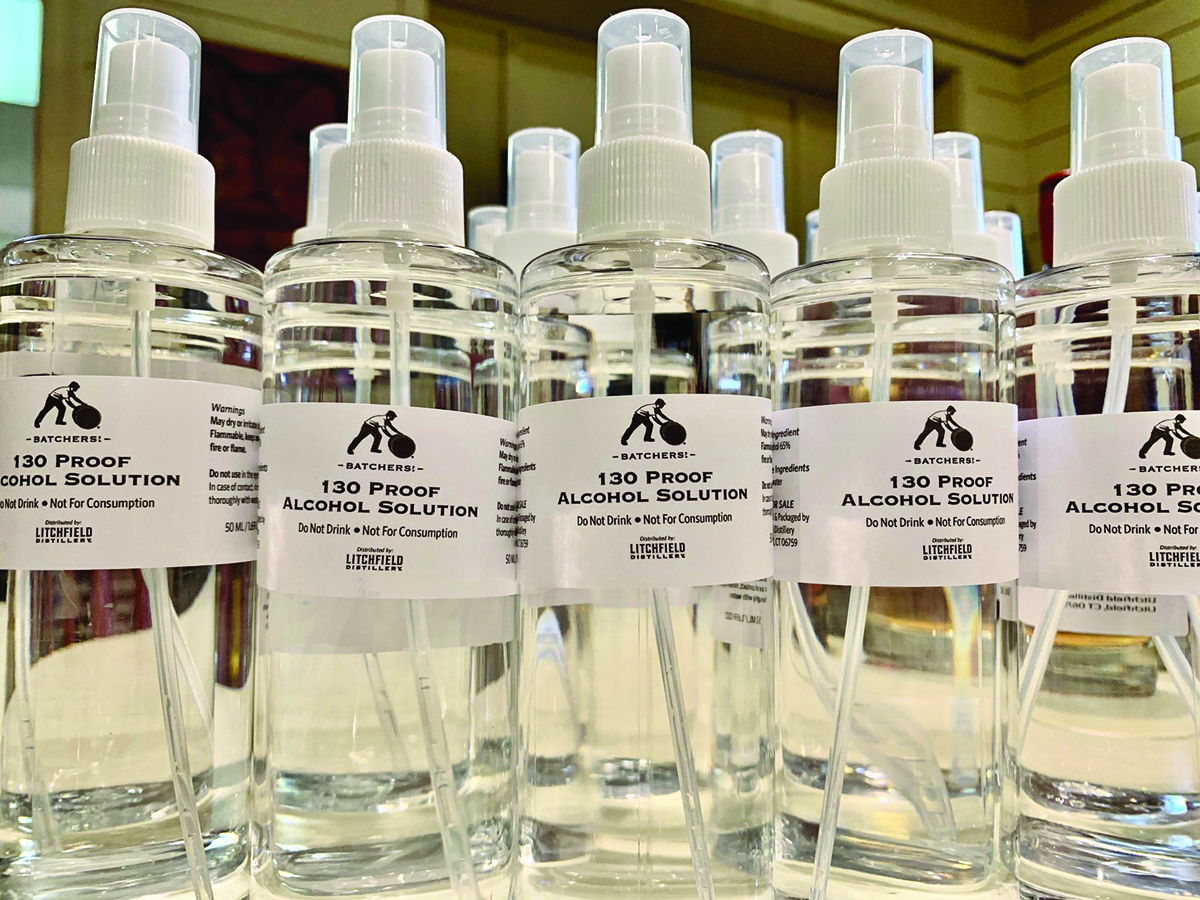 Efforts helped amidst local demand shortages
By Dana Slone
Distillers quickly responded to shortages in a key supply chain to help prevent the spread of coronavirus: hand sanitizer and hand wash. Litchfield Distillery, Fifth State Distillery, Hartford Flavor Company and many more, including breweries, began the shift in early March, quickly working within the community to make, bottle and supply the much-needed product locally – and, in some cases, regionally.
The Alcohol and Tobacco Tax and Trade Bureau issued a temporary exemption allowing distillers to produce alcohol-based hand sanitizer without obtaining additional permits, set to run through the end of June at the least, as of press time. The World Health Organization (WHO) formula and U.S. Food and Drug Administration (FDA) guidelines were announced as distillers quickly rallied their internal operations to join COVID-19 prevention efforts.
Litchfield Distillery made its 80% ABV sanitizer product available for free with curbside pickup from its distillery, fulfilling an influx of need from health care workers, police departments, soup kitchens and homeless shelters, as well as individuals within the community. Social media quickly spread the word locally and across the U.S. for the company.
By the end of March, the team made more than 1,200 gallons and filled over 32,000 containers of various sizes, all at no cost. "The community has supported us, so it's an obligation, if you have a product that could be helpful. It's what you do," said Jack Baker, Co-founder, Litchfield Distillery, in a New York Times interview. The effort was so well-received the distillery asked people to return empty sanitizer bottles, as bottles also quickly became another item in short supply.
Baker also quickly acted upon learning the Connecticut Drug Control Division was concerned that state distilleries were producing hand sanitizer, which requires a Drug Manufacturer License.
Baker reached out to State Representative David T. Wilson and State Senator Craig Miner, who then reached out to General Counsel of the Governor's office Doug Dalena. An executive order, adopting the CDC and FDA guidance that allows for the manufacture of hand sanitizer, was signed by Governor Ned Lamont, avoiding what could have been a problem in the continuance, or commencement, of state efforts.
Bridgeport's Fifth State Distillery began a program with the creation of a product called Hand Wash, a concoction of 70% ethanol (140 proof) with its first efforts and is sold in its 750-ml vodka bottle. The company is providing donations to local police and fire departments and all are available with curbside delivery at the distillery.
Bridget Schulten, Owner, Fifth State Distillery, said, "We are working around the clock to supply local nursing homes, local government agencies and the U.S. Postal Service in four nearby states, as well as our many loyal customers." Schulten said they have been in touch with Bridgeport Hospital to help fill any sanitizer supply needs if the distillery develops it at no cost.
"Everyone is also supporting Connecticut farmers in their purchase as we use locally grown corn," Schulten said. "We transitioned quickly from spirits production to hand wash and we want everyone to know that we appreciate their support."
Hartford Flavor Company, makers of Wild Moon Liqueurs, began offering 2-, 4- and 12.7-ounce bottles of hand sanitizer for purchase, for $2, $4 and $13, respectively. Some bottles are being donated to local health care organizations as well as to restaurants and liquor stores.
Tom Dubay, Co-founder and CEO, said, "Demand for the sanitizer has been very high, with lines at the distillery the first several days of its availability. Requests have come in from large organizations such as the U.S. Postal Service, U.S. military branches and large manufacturing companies."
Westford Hill Distillers, producers of aged brandy, eaux-de-vie and other fine spirits, has joined in the help efforts too. The business is now producing a medical-grade sanitizer following the WHO formulation, serving eight healthcare facilities and is building a waiting list of other institutions.
"We've received inquiries from healthcare providers across the country but our size as a craft distiller limits us to serving our local community where we are allocating our production to healthcare workers on the front lines," said Louis Chatey, Co-owner, Westford Hill Distillers. "We are grateful for our customers who have supported local distillers in good times so that we are here to give back in difficult times such as these."
U.S. distilleries can receive credits against the federal alcohol excise tax at a rate of $3 per gallon of the alcohol that is used in hand sanitizer and distributed at no cost to the public.
 Hickory Ledges Farm/Full Moonshine, Canton: Mine Hill Distillery, Roxbury; Hartford Flavor Company, Hartford; Fifth State Distillery, Bridgeport; and Sono 1420, Norwalk are all producing hand sanitizer as of press time. Numerous efforts within the community from meal donations to food distribution to webpages with resources have been springing up and shared via social media.
If you have a link or story to share, email dana@thebeveragejournal.com.