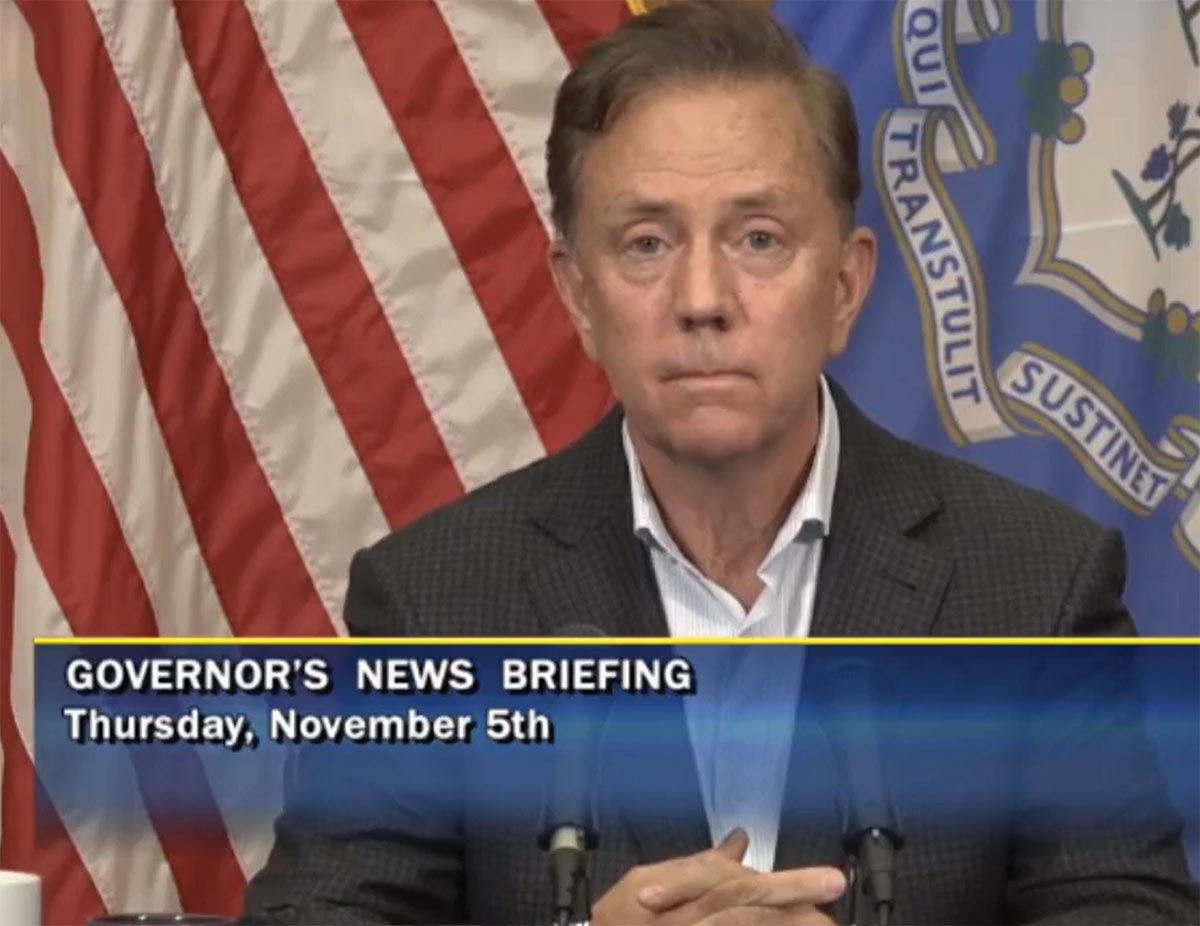 Staff Reports
COVID-19 guidelines are likely to keep evolving as state cases rise.
State restaurants faced a new business hurdle this fall as Gov. Ned Lamont called for a rollback to modified phase two COVID-19 guidelines, called phase 2.1, announced during a press conference on Nov. 2. The changes, which took effect on Nov. 6, were made via executive order in response to increasing coronavirus case numbers, hospitalizations and deaths. Connecticut's average test positivity rate was 6.37% as of press time.
The restrictions reduce capacity rates allowed at restaurants from 75% indoors to 50% and mandate that all venues close by 10 p.m. seven days a week, with last call by 9:30 p.m. Takeout orders are allowed after 10 p.m. Other rules include a reduction in party size at restaurants, with no more than eight people allowed to be seated at a table at a time.
A maximum of 10 people is allowed at both indoor and outdoor private gatherings, while catered events at commercial venues are capped at 25 people indoors and 50 people outdoors. Indoor event venues will now have a capacity limit of 25 people. Movie theaters are permitted to have a maximum of 100 people and religious institutions are allowed to be at 50% capacity or less. Gov. Lamont also instituted a voluntary curfew for Connecticut residents between the hours of 10 p.m. and 5 a.m.
While state officials acknowledged that restaurants are not responsible for the increase in case numbers and most are operating in full compliance with changing guidelines, contact-tracing efforts have shown that informal gatherings are fueling spread. Only a small number of state venues have been fined or shut down by police and health officials for allegedly operating like nightclubs or hosting large parties despite specific orders and guidelines.
Gov. Lamont also extended Executive Orders 9K and 9L, which have extended already in-place COVID-19 related mandates until Feb. 9, 2021. Those impacting the restaurant industry include the extension of expanded outdoor dining, extension of the prohibition on sale of alcohol by certain permittees without the sale of food, and the extension of alcohol to-go. It also enables continued DECD authority to enact sector rules governing mandatory closing times.
Industry Reacts to the Latest Guidelines
Scott Dolch, Executive Director, Connecticut Restaurant Association (CRA), wrote in response to Gov. Lamont's Nov. 2 news: "[That] Connecticut will roll back to Phase II presents a renewed challenge to Connecticut restaurants, an industry that was hit sooner and hit harder by this pandemic than nearly any other. In recent days Governor Lamont has said the recent uptick in COVID cases is not being driven by restaurants, and we greatly appreciate that acknowledgement.
"State restaurant owners and other trade employees have also expressed their concerns over the latest guidelines, as restaurants are already facing a potential business slowdown with colder temperatures on the way and less outdoor dining options available for guests. Forcing venues to close earlier each night significantly cuts into the amount of revenue normally made at those times, especially on weekend nights."
In the four-day period, restaurant owners, industry workers and the CRA were successful in changing the restaurant closing time mandate, pushing forward to 10 p.m., and hope to change the mandated closing time to 11 p.m. for weekends.
Industry members also continued to bring attention to the issues faced by restaurant owners and operators, from individually run online petitions to the newly formed Connecticut Hospitality Workers United Coalition, a group of food and beverage trade professionals with the mission to share information and bring attention to the struggles currently being faced by the industry.
Use of Enclosed Structures Approved for Outdoor Dining
As restaurants work to offer options for guests that are not only safe but also comfortable in colder weather, venues have gotten creative with their al fresco options, offering enclosed tents or personal igloos, structures which were first banned by the state in late October. As multiple state media outlets showcased a high-profile story of Chef Tyler Anderson's handcrafted dining greenhouses among them, restaurateurs and the CRA lobbied the Connecticut Department of Economic and Community Development (DECD), which then reconsidered after stating its initial concerns about adequate ventilation. The structures are now allowed as long as the inside air is constantly being vented through intake fans, vents, windows and doorways.
Other guidelines include that the entry door and two or more window-style vents must be open at all times; there must be sanitization of all touchpoints in between parties; staff must complete a full opening and airing out of the tent/structure OR allow 15 minutes downtime for passive dilution ventilation in between parties; touchless service is encouraged whereby servers do not enter the structure; signage is required to inform customers of heightened risk of enclosed spaces; and vents are required to remain open at all times. A heating source is allowed but requires local approval.
New Grant Program, Resources Emerge
Gov. Lamont touted a new grant program to aid businesses. Through the Connecticut CARES Small Business Grant Program, businesses and nonprofits who employ 20 people or less, or who had a 2019 payroll of less than $1.5 million, are eligible to receive a one-time grant of $5,000.
Administered by the DECD, the grants can be used for business expenses including payroll, rent, utilities, purchase of inventory or equipment, or costs associated with making changes due to mandated guidelines for health safety and social distancing, such as installing plexiglass or setting up outdoor dining. In all, $50 million of funding is available through the state's Coronavirus Relief Fund. View at portal.ct.gov/DECD/Services/Coronavirus-Business-Recovery.
In an effort to prevent business layoffs, the Connecticut Department of Labor has expanded its shared work program. The program gives businesses the chance to retain employees, who work for a reduced number of hours per week. Unemployment benefits cover the wages for the remaining hours employees don't work and they are able to keep their health benefits. More information can be found at portal.ct.gov/sharedwork.
Regional Coordinated Approach
Governors from Connecticut, Rhode Island, Massachusetts, New Jersey, New York, Pennsylvania, and Vermont were meeting on a regional response plan over the weekend of Nov. 14-15, signaling a potentially more coordinated and restrictive approach to reducing spread. Lamont said he had no plans to enforce lockdown measures in the state, although he told press that this decision could change if numbers continue to increase.