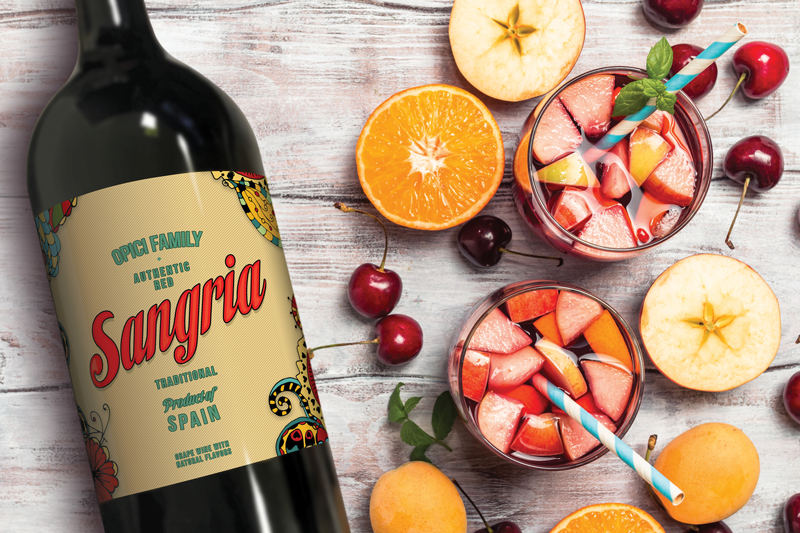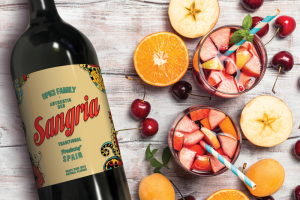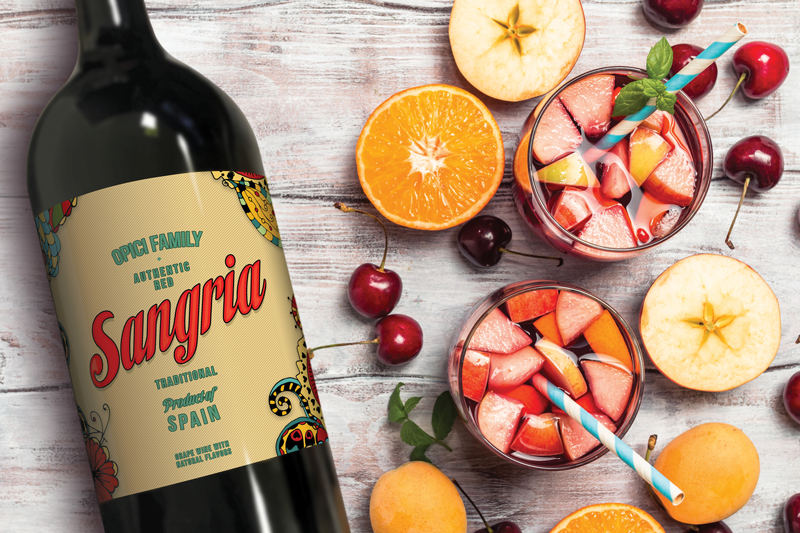 With the category growing faster than Table wine, Opici family sangria stakes a claim
By W. R. Tish
Sangria at its best keeps things simple: while wine is the base, fruit is the primary focus. The recipe is variable and easily controlled compared to traditional winemaking, leading to more ready-to-drink sangrias than ever in the marketplace.
Opici Wines, tapping suppliers in Spain—sangria's spiritual homeland—has doubled-down on their RTD offering—adding White to the original Red and refreshing the package—all to better catch the sangria wave on the upswing.
"The perception of sangria quality has certainly been elevated in recent years," says Mike Wolff, Vice President – Marketing at Opici Wines. "Sangria occasions have evolved beyond the norm. What was once a summer favorite is now seeing demand, like rosé, year-round."
Opici Family Sangria has resonated within the Millennial demographic, notes Wolff, largely due to its authentic traditional recipe, approachability and food-friendliness. Built on regional table wine from La Mancha, Spain's oldest winemaking region, Opici Family Sangria is bolstered with citrus extract from Valencia, arguably home of the world's best oranges. The end result is fruity and sweet but still tangy, with a fresh citrus burst and a touch of spice atop the ripe red-fruit wine base.
Given sangria's reputation as a casual, easy and fun, it is no surprise that Opici Family Sangria is offered in both 1.5L bottle (SRP $9.99) and 3L bag-in-box. The box has real party appeal (and house wine appeal too). "Our ability to offer premium quality, authentic white and red sangrias with natural flavors in a sustainably packaged 3L box is just smart business for today's consumer and marketplace," says Wolff, "Consumers understand boxed wine can be of premium quality with air-tight packaging that extends freshness."
Blanco Joins the Party
Opici Family Sangria has earned the coveted "Rising Star" Award from Beverage Dynamics for two years in a row (2017, 2018). Red Sangria has been the driver for the brand, providing a strong base for the recently introduced extension. The launch of the white companion sangria is gaining extra attention with the colorful package refresh.
In terms of lessons learned from market feedback, Wolff notes that Opici Family Sangria has been equally embraced among entry-level wine drinkers and more serious wine lovers. He adds, "Sangria is really a social beverage—it is never meant to be enjoyed alone! Opici Sangria calls for a fun occasions, especially when paired with a variety of dishes."
Coordinating with the package refresh, Opici has all-new merchandising tools for both On- and Off-Premise, and the brand will be launching a dedicated microsite this spring as well. With promotions from multiple angles and delicious juice in the bottle (and box!), Opici Family Sangria is poised to stay ahead of the category wave