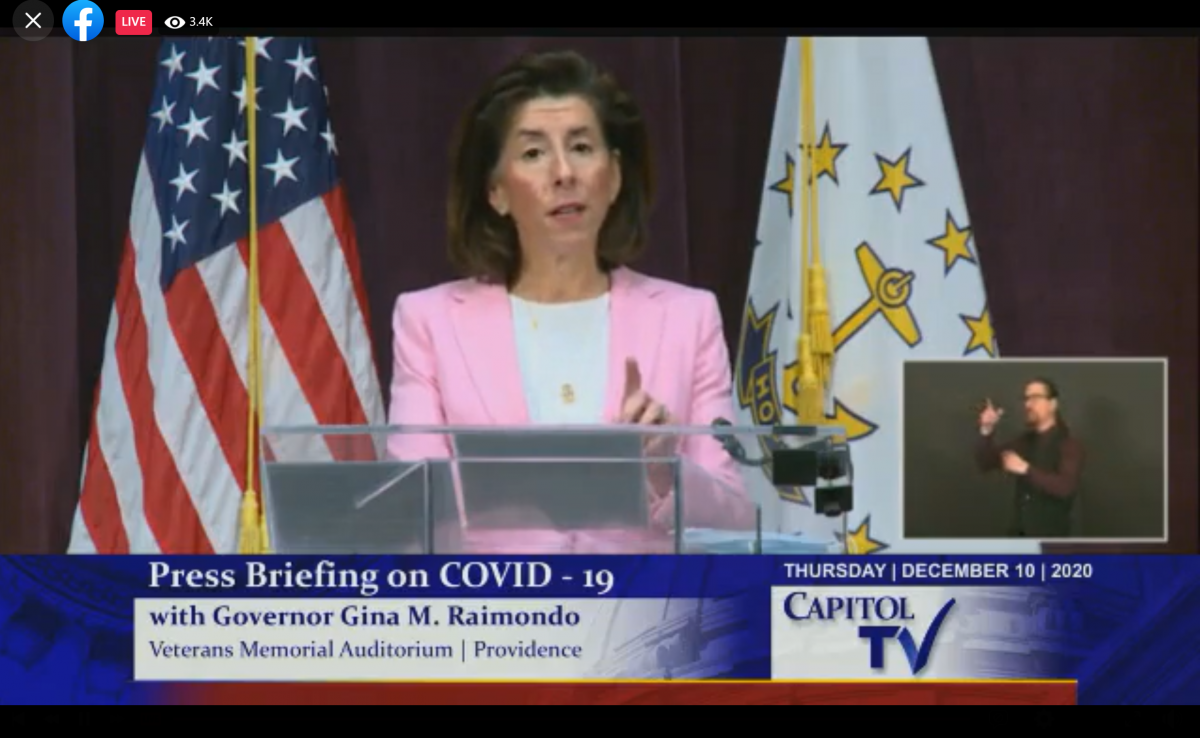 RI Pause Extended One More Week: Raimondo Announces Restrictions will Continue Until Dec. 20
Staff Reports
Gov. Gina Raimondo extended Rhode Island's state "Pause," for one more week, with restrictions on social gatherings, businesses and restaurants now extended until Dec. 20. Raimondo announced the latest extension during her weekly press conference on Dec. 10. The "Pause," which began on November 30, required that offices, in-person higher education, gyms and recreation facilities, including the Twin River casinos, were required to close temporarily. Other new restrictions included a prohibition of social gatherings for residents with anyone outside of their households.
The goal of the Pause, originally scheduled for two weeks, was to reduce the state's test positive rate to 5% or less by cutting down on social gatherings and any other indoor environments that may be increasing the spread of the virus. In December, the Centers for Disease Control (CDC) reported that Rhode Island had more cases per capita than any other state. On Dec. 10, the test positive rate in Rhode Island was 7%, hospitalizations had reached a high of 461, according to the RI Department of Health and there were 948 new virus cases reported and 14 deaths.
During the Pause, bars and bar seating are not permitted to be open and restaurants are mandated to reduce their indoor dining capacity to 33% occupancy. Other restrictions require that only members of the same household are allowed to be seated together indoors, not to exceed five people per table; up to two households for outside dining. The state also remains under a stay-at-home advisory, requiring residents to remain in their homes from 10 p.m. till 5 a.m. on weeknights and 10:30 p.m. and 5 a.m. on weekends.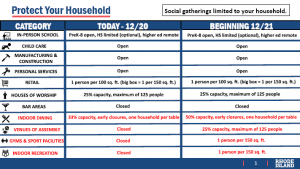 After the pause expires, most restrictions will remain in place, however restaurants will be able to increase their indoor seating capacity to 50%. Patrons seeking indoor dining must still be seated only with members of their own households.
Bars and bar service will continue to be suspended. Customers are permitted to order alcoholic beverages with their meals. Catered events and private events will still be prohibited.
As restaurants and other small businesses continue to wait for federal aid, there are several state economic relief programs available for small businesses. The Coronavirus Relief Fund grant program is for Rhode Island bars and restaurants whose businesses were directly impacted by the early closing times mandated through Executive Order 20-95. Grants of between $2,000 and $10,000 are available to qualifying businesses who are able to prove the financial impact of the early shutdown.
The Pause Economic Relief program is available for businesses impacted. Through the program, $50 million is available in total, with grants of up to $50,000 available for each business through the Division of Taxation's Economic Relief program, with a bonus unemployment benefit is $200 a week. The first round of checks to businesses, totaling about $10 million, will be sent out to about 500 companies on Friday, according to Raimondo. She said about 1,800 businesses have applied so far. The deadline to apply is Dec. 14 and more information is on the Division of Taxation website. All details on the latest rules for the Pause and reopening are posted on reopeningri.com.