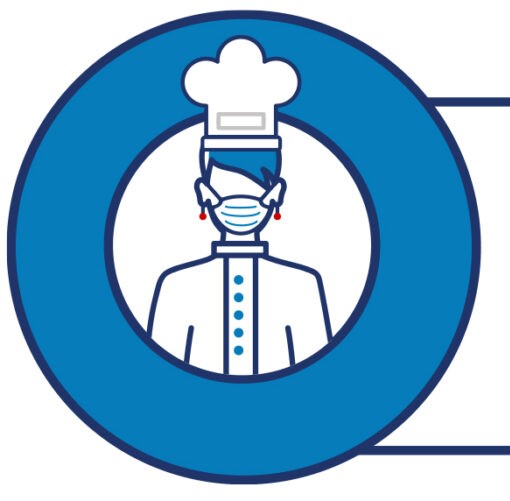 Confidence is high as restrictions lift
By Sara Capozzi
Rhode Island's hospitality industry prepared to operate with fewer restrictions in May and June, as the rate of COVID-19 cases remained under 2% and approximately 56% of the state's residents had been partially vaccinated as of press time.
Many restrictions were eased for restaurants and bars in time for Mother's Day weekend on May 7. Restaurants were given the green light to seat guests at 80% capacity inside and at full capacity outdoors, with no limits on table size. Beginning May 18, fully vaccinated individuals were no longer required to cover their face or social distance, indoors or outdoors, in most situations; mask lifting only applies if fully vaccinated.
Even more rules were eliminated on May 19, when the state of Rhode Island dropped the rule requiring restaurants to perform Contact Tracing on staff and guests and the table spacing requirement was axed. On May 21, venues including restaurants and casinos were allowed to accommodate guests at 100% capacity and bars and bar areas were allowed to resume standing service indoors, with no plexiglass required. Nightclubs were permitted to reopen at 50% also beginning May 21. If the nightclub can verify that all staff and customers are vaccinated, they can host at 100% capacity. All restrictions were dropped for catered events and private parties as well. Businesses can still require their staff and customers to wear masks at their discretion. For current guidelines, visit reopeningri.com.
Two sides of the current coin
While on-premise restaurant traffic has increased and consumers are clearly looking to enjoy the summer season, businesses continued to report staffing shortages, hampering the ability to serve. In an effort to encourage more people to return to work, the Rhode Island Hospitality Association (RIHA) lobbied for changes to the state's unemployment insurance system.
"Restaurants and hotels across the country are struggling to find employees," RIHA said in an online petition. "In Rhode Island, at the same time the state is reopening the economy, our industry cannot operate because they simply don't have the staff. A large part of this struggle is due to the extra $300 weekly UI benefit mandated by the federal government."
The first measure, which went into effect on May 23, adds back a work search requirement for Rhode Islanders who are receiving unemployment benefits, requiring that they show proof that they have applied to at least three jobs each week. Employers are allowed to report people who don't attend work or interviews to the Rhode Island Department of Labor and Training.
The second measure, Senate Bill 858, will allow people to collect partial unemployment while working part time, and also receive the additional $300 per week from the federal government. The bill was passed by the Senate Labor Committee on May 5 and referred to the House Finance Committee for further approval.
New resources for new restaurants
Gov. Dan McKee, in partnership with the RI Department of Business Regulation and Rhode Island Commerce, launched a new website that helps users navigate how to open a new restaurant, food truck or mobile establishment. The website, openarestaurant.commerceri.com, provides a general road map, including how to obtain necessary local and state permits and licenses.
Despite the challenges of the COVID-19 pandemic, officials say the state broke a new record of registered businesses, with more than 10,000 with the Secretary of State's office in 2020, an 11% increase from 2019. The site comes as a result of partnership across organizations and state and local government agencies, including the RI Department of Health, RI Department of Environmental Management, RI Department of Labor and Training, RI Department of Transportation, RI Department of State, RI Division of Taxation, Office of the State Fire Marshal, RI Coastal Resources Management Council, Narragansett Bay Commission, City of Pawtucket and RIHA.
Grant funding continues
New funding was introduced for small businesses who claimed revenue of up to $1 million or less prior to the pandemic. The Small Business Grant Relief Program, administered through the RI Commerce Corporation, was made possible through $30 million in CARES Act funding. The program is open to most for-profit businesses in the state who received less than $25,000 in other state COVID-19 relief assistance to help them economically recover. Businesses that qualify for funding will receive $5,000 each.
New federal grants became available through the American Rescue Plan Act's Restaurant Revitalization Fund, with applications opening on May 3. Available through the Small Business Association, the forgivable grants are available to qualifying restaurants and other establishments serving food and beverages to the public, including caterers, bars, breweries and wineries who have had a significant loss in revenue due to the pandemic. Through the program, $28.6 billion and up to $10 million per business is available for eligible businesses to use to offset pandemic-related revenue loss. Businesses are urged to apply as soon as possible since funds are expected to be exhausted quickly.
For links to grant and relief programs, visit thebeveragejournal.com/coronavirus-updates-resource-links/.