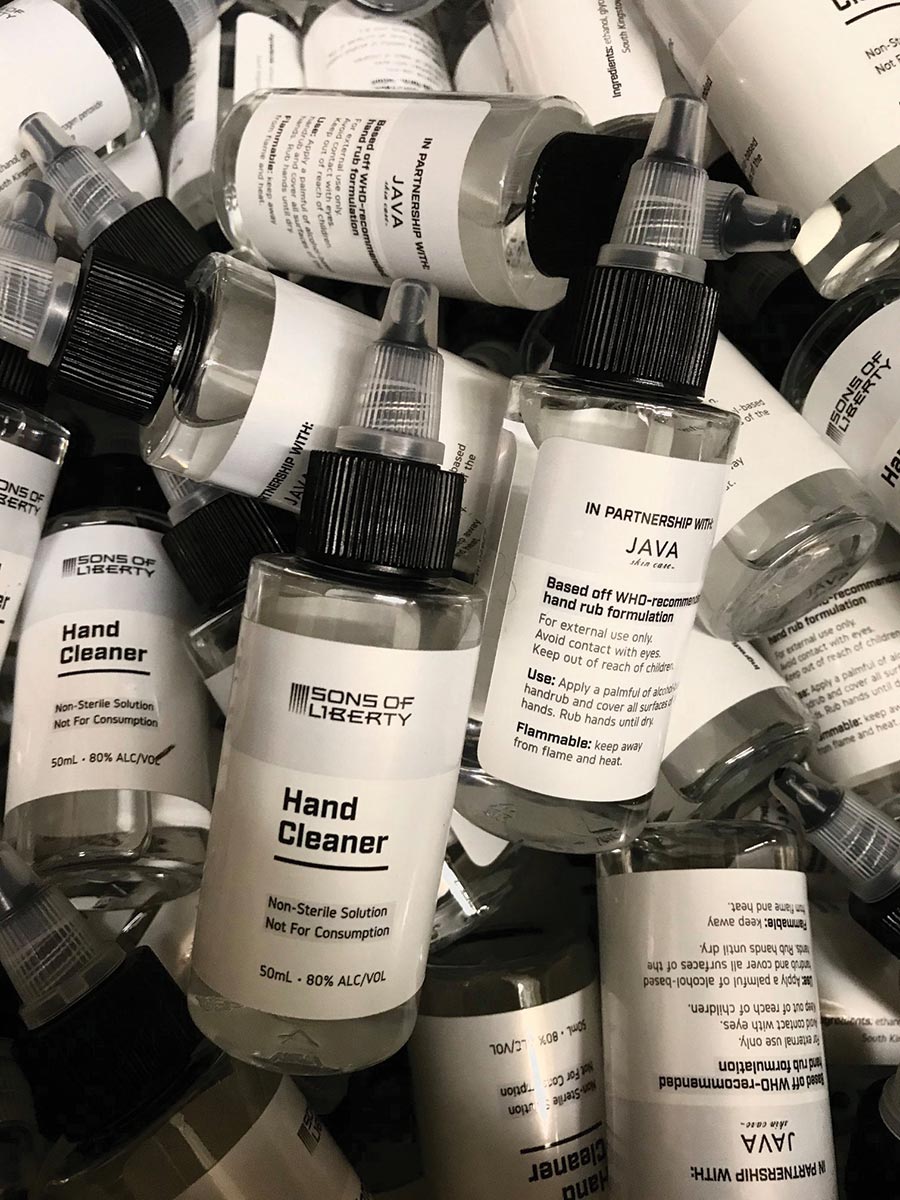 Distilleries shift gears in community efforts
By Dana Slone
Alcohol beverage companies quickly responded to shortages in a key supply chain to help prevent the spread of coronavirus: hand sanitizer. In early March, distilleries quickly began working within the community to make, bottle and supply the much-needed product locally – and, in some cases, regionally.
The Alcohol and Tobacco Tax and Trade Bureau issued a temporary exemption allowing distillers to produce alcohol-based hand sanitizer without obtaining additional permits, set to run through the end of June at the least, as of press time. U.S. distilleries can receive credits against the federal alcohol excise tax at a rate of $3 per gallon of the alcohol that is used in hand sanitizer and distributed at no cost to the public.
The World Health Organization formula and U.S. Food and Drug Administration guidelines were announced as distillers quickly rallied their internal operations to join COVID-19 prevention efforts.
The Massachusetts-based branch of M.S. Walker began producing hand sanitizer from its Boston production facility to help local efforts, converting its liquor production in order to help mitigate the much-needed products amid shortages during the coronavirus crisis regionally and locally, including Rhode Island.
M.S. Walker has donated more than 100,000 bottles of hand sanitizer to first responders throughout the Northeast, including police and fire departments, state police, local health care workers and its employees, among others. The hand sanitizer formula follows World Health Organization guidelines, using its high-proof grain alcohol as a base.
"In light of the recent COVID-19 situation, we were able to pivot our production capabilities to focus on the production of hand sanitizer. Leveraging our supply of high-proof grain alcohol and expertise in developing formulas, we have ramped up production to provide more than 100,000 bottles of sanitizing solution – free of charge – to our team members, local first responders and organizations in desperate need of hand sanitizer, which is currently hard to come by on store shelves," said John T. LeRoy, Director, Strategic Communications, M.S. Walker.
"As a company, M.S. Walker prides ourselves in the deep connections that we have with our local community. From restaurants, who are suffering immensely throughout this unprecedented situation, and liquor stores to our employees, friends and families, community is what matters the most right now. Whatever our production capabilities allow us to do, we will do to play a small role in helping our community stay safe during this unprecedented time."
Sons of Liberty Beer & Spirits Co. also created an alcohol-based hand sanitizer, partnering with local company Java Skin Care to make the product. The distillery began in March by making 2,000 50-ml bottles of hand sanitizer, which were distributed for free during safe curbside pickups while supplies lasted. Sons of Liberty Beer & Spirits Co. accepted financial donations, which went toward the business and its employees who are out of work due to the pandemic. With supplies quickly distributed to first responders and within the community, the team fulfilled business requests only, packaging in 1-gallon jugs.
Jennifer and Alan Brinton, Owners of Grey Sail Brewing of Rhode Island, opened South County Distillers with plans to make whiskey and vodka, as their permit approval and license was granted in early March. They began making hand sanitizer to aid the community instead, putting the spirits line and opening plans on hold for now.
The first batch of its aptly named hand sanitizer, Launch, is made in batches to produce the equivalent of 200 8-ounce bottles and will be distributed for free to area community agencies.
Providence-based distillery The Industrious Spirits Company also made hand sanitizer and distributed it for free from one of the facility's windows on March 19, with its hand sanitizer made from a vodka byproduct.
The team at RI Spirits in Pawtucket began using its cargo van to help get supplies and make deliveries on behalf of the Rhode Island Pride COVID-19 Emergency Food Supply Drive. The Pride team is accepting requests from anyone in need and sending deliveries of food, toiletries and sanitizer to them. Volunteers are delivering all over the state and have helped more than 500 households in March as the pandemic impacts began to wear on. Donations of supplies or funds are being accepted to help continue these efforts.
RI Spirits Co-owner Kara Larson said, "We have always tried to be responsive to the needs of our community by supporting nonprofits, and in this case, we saw an opportunity to use our vehicle and time while we can't work. We hope we can help Pride RI make a real impact on those badly in need of assistance."
Numerous efforts within the community from meal donations to food distribution to webpages with resources have been springing up and shared via social media.
If you have a link or story to share, email dana@thebeveragejournal.com.