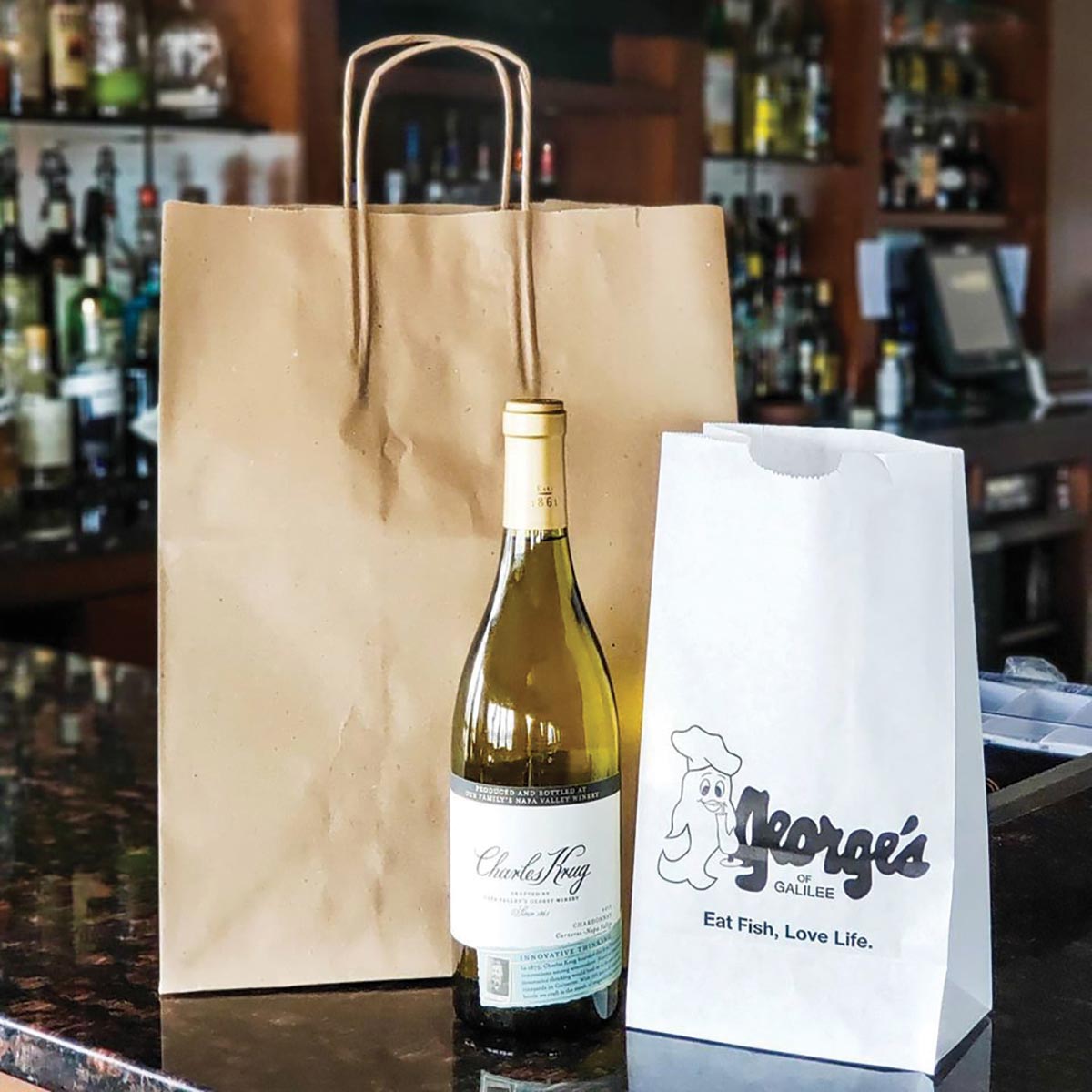 Connections and creativity emerge among hard-hit sector
By Sara Capozzi
As the world adapts to the new reality brought on by the coronavirus pandemic, professionals in Rhode Island's food-service and bar industry have experienced unimaginable hardships in the on-premise sector. After an executive order by Rhode Island Governor Gina M. Raimondo on March 16, all restaurants, bars and cafes closed on-premise dining, enabling takeout and curbside pickup only to stave off infection spread between people. As of press time, the temporary shutdown was set to end May 8, unless again extended by executive order as it had from its April 13 date.
The Rhode Island Hospitality Association served on the business impact and mitigation front line in early March, offering coronavirus education, webinars, small business resources and legislative collaboration to help offset damage that the shutdown would inevitably incur. The team helped secure on-premise sealed beer or wine alcohol sales with takeout food orders.
As COVID-19 cases continued to rise in the state, many venues decided to close until the infection threat passes. In a move to mitigate the devastating financial damage, small business owners and independent contractors are now eligible for a range of local and federal programs from disaster loans to paycheck protection programs to independent contractor unemployment.
Many restaurants are finding ways to adapt to the service regulations, and to support their teams, communities and each other at the same time. Bars are innovating by creating "cocktail kits" to go with food orders and the allowable sealed beer, spirits, Champagne or wine bottles and cans.
To give exposure and easy access to restaurants providing takeout and delivery, David Dadekian, Founder, Eat Drink RI and food industry advocate, compiled a list of restaurants on the Eat Drink RI website. As local breweries grappled with taproom closures hitting sales, Dadekian also put together a state breweries list of those offering curbside takeout sales. Using social media and a statewide network, Dadekian quickly offered a way to connect businesses with the buying public.
Kevin Durfee, Owner of George's of Galilee, said he shut down in-restaurant dining several days before Governor Raimondo mandated the closure of all nonessential businesses in the state. Since then, Durfee and his staff have been selling food to guests through curbside pickup at the restaurant's takeout window.
During this challenging time, Durfee said he has done what he can to help his staff, many of whom are still working at George's. "We were fortunate that with the mild winter we were in a good financial situation," Durfee said. To help employees through, Durfee has given each of his employees a bonus check, with some of his kitchen staff members taking paid vacation time.
George's is working with a local food truck to bring meals to the elderly in the Narragansett area who are sheltered in place. The restaurant is also giving 10% off to first responders, hospital employees and others working on the front lines. "It's little things we can do," Durfee said. "We can't afford to do too much, but we're doing what we can to give back a little bit to our great staff and the local community."
Durfee and his team are also using the mandated time to create and plan future food and beverage menu items. George's bartenders have been making instructional videos and posting online demos of cocktail creations such as an Espresso Martini, along with kid-friendly posts, too, showcasing milkshakes and dishes.
Charlie Holder, Owner of Midtown Oyster Bar & Surf Club, decided to close the operations of both venues starting March 15. "We just figured for a restaurant our size it probably wasn't worth it economically trying to open to do some takeout, because the volume would have to be so high, and we're not really set up for delivery. Plus, by closing two days before the mandatory closing it gave our employees head starts on getting onto unemployment."
Holder said he hopes to reopen sometime in early May. "What I'm hoping to see is they slowly open places back up … to allow people to gradually get back out there. In Newport, I think we might be a little bit luckier than other places because there's such a big local community as far as the restaurant and hospitality industry goes. There's a good amount of people that will come out and support the bars and restaurants, especially the ones that will open doing takeout. Our community usually gives back pretty quick. Obviously, the big question is how long is it going to take for the tourism industry to get back up?"
The Red Parrot Restaurant Owners Esther and Russell DuLac offered 25% off normal prices for customers, with the extra 25% given back to its 50 employees who are out of work. "People appreciate it I think on both ends," Esther DuLac said. "Certainly, the servers will appreciate it, but I think the customers are really appreciating it. We're doing some business." The Red Parrot operates its curbside pickup 1 to 8 p.m. at a neighboring bus stop. "We're bringing it out to people, so they don't even have to get out of the car," Esther DuLac said. "It's mainly trying to just keep doing something for the community and something to give back to the staff, which is the reason my husband and I are doing it."
Jonathan Feiler, Group Wine Director at Ocean House Management Group, said the inn and restaurant are closed until May 21. To help in the community, the Ocean House team dispatched its food truck to the ice-skating rink in Westerly, where it provides free lunches for school-age children on Mondays, Wednesdays and Fridays. A free Easter dinner was also distributed to those in need.
The Ocean House offers takeout with reduced pricing on some choices and "slashed pricing" on selected wines to pair with the food. "We've found that there are a lot of people that have homes in Watch Hill that have moved back to get out of the cities; they are taking advantage of our to-go option," Feiler said. "We're good with that and are going to keep that going." Using social media, the Ocean House team shares tutorials on mixing cocktails, baking cookies or opening oysters, appealing content to those who can no longer visit in person.
Bars and bartenders are connecting with furloughed customers, new fans and each other through social media and receiving direct tips via Venmo, PayPal or other direct pay programs, opening a new avenue of connection.
As an early presence on Facebook and Instagram, Christina Mercado, Proprietor, ShakeStirPour, LLC, a beverage consulting and education business, found ways to engage by hosting cocktail demonstrations. Mercado's first demo, on gin and gimlets, featured local spirits from Rhode Island-based Newport Craft Brewing + Distilling Co. and Rhode Island Spirits.
The demos have been a great way to stay in contact with customers during the shutdown, Mercado said. "I have been able to reconnect with guests who were my bar regulars and others who have taken my in-person cocktail classes, as well as connect with new faces. It's my plan to continue this new format even after our restrictions are lifted," she said. Social media followers leave "tips" via Mercado's Venmo account – support she appreciates. "Every little bit helps in times like this," she said.
Jonathan Pogash, The Cocktail Guru, also regularly gives live cocktail demonstrations on Facebook. He started a new Facebook live feed, "Some Good Booze," where he focuses on how to make cocktails using ingredients viewers may already have at home. "Thanks to all who have watched and supported the 'Some Good Booze' show every day. In honor of all of you, we are now making a donation at the end of each week to the USBG National Charity Foundation Bartender Emergency Assistance Program," he posted.
Kai Restaurant and Bar Owner Jason Kindness set up a social media virtual tipping program for Martucci Group and other area "servers, bartenders and baristas" for East Greenwich bars, restaurants and coffee shops to participate in. Customers and employees of the now-temporarily closed venues can select a name from a running Google Docs spreadsheet in which a person gets "called out" to go live, create a drink and collect funds as part of the program.
Bartender Matt Simmons, who serves as social media manager for Mill's Tavern and Relationship Manager for FOH Marketing Agency, has been advising companies on how to stay relevant during the shutdown. "Sending bartenders merchandise and products so they can do cocktail demonstrations on social media is a great way to stay relevant in consumers' minds," he said. "Social media is going to be incredibly important, super crucial to every brand and every company because that will keep them afloat, and the bigger companies are just trying to get back what they lost."
Local fundraisers, along with global supplier brand-driven donations, aim at keeping a high profile and helping front- and back-of-house employees who are now out of work. Wholesalers donated money and partnered with restaurants to offer free meals. An outpouring of local donations and efforts set the stage for a trend that keeps building as of press time.
Restaurant gift card sales is another way both businesses and their patrons were supporting workers. Among them is Newport Restaurant Group (NRG), who committed to donating 100% of the proceeds of all gift cards purchased to its relief fund until it reached $100,000. With the goal reached in less than 24 hours, NRG extended the program and will contribute 30% of all gift card sales in the month of April to the fund.
Twin River Casino Hotel and Tiverton Casino Hotel, which both closed to the public on March 14, donated 2,765 pounds of food to nearby shelters on March 16: the Amos House in Providence and The Elisha Project in East Providence. On March 25, Twin River donated 4,500 pounds of food to The Elisha Project in Rumford. More than 700 (2-ounce) hand sanitizers are on their way to Crossroads Rhode Island to be utilized by the shelter's staff and residents.
Twin River is also the location of a rapid COVID-19 drive-through testing site, which began on April 6, in coordination with the Rhode Island Department of Health, CVS Health, the Rhode Island State Police and the Rhode Island National Guard.
The RI Hospitality Education Foundation launched its RI Hospitality Employee Relief Fund on March 24, with the goal to fund financial assistance for food-service, lodging and tourism employees who have been laid off due to the shutdown measures.
"COVID-19 has had a tremendous impact on the hospitality industry workforce. As public places of accommodation, our industry was the first to be shut down by executive order resulting in thousands of unemployment claims. There are five generations working in our industry who will be struggling to pay rent, mortgage, household utilities, groceries, gasoline, and student loans. Basic human needs begin with food and shelter and COVID-19 has stripped these employees of their ability to financially provide these two basic needs for their families," the website reads. Apply or donate at rihospitality.org/RIHEF-Employee-Relief-Fund.