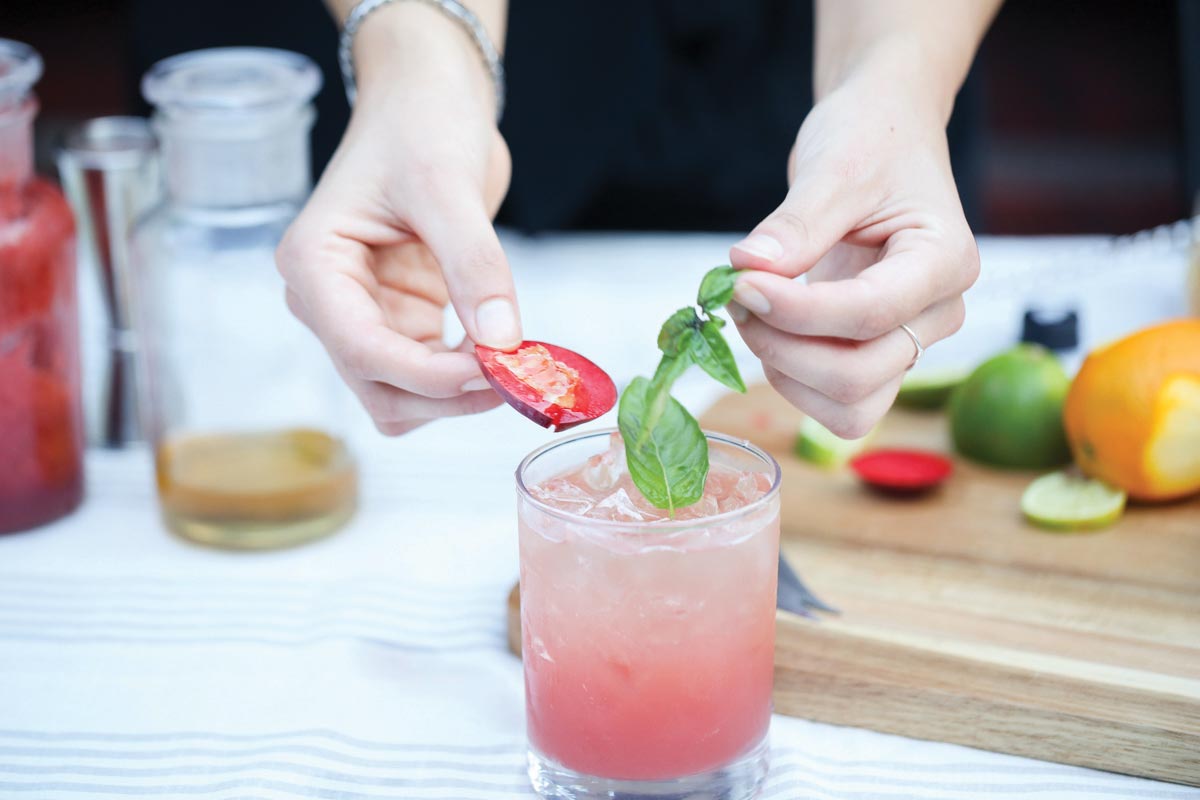 As another year of uncertainty begins, positive trends emerge
By Sara Capozzi
As 2021 comes to a close, the hospitality industry also bids adieu to another year spent under the uncertainty brought forth by COVID. Industry leaders shared their thoughts and predictions for the new year, some finding a cause for hope, even as supply chain issues and staffing shortages continue to present a challenge to the sector. Many agree that as the industry was forced to shift to adapt to the new normal brought on by the pandemic, these changes will continue to reshape service in the near future.
A study by the Rhode Island Hospitality Association (RIHA) and carried out by Salve Regina University students in 2021 revealed that the state's hospitality industry lost $2.2 billion in 2020, due to effects of the pandemic. "Rhode Island's hospitality industry was one of the hardest hit industries in the state during the COVID-19 pandemic," Dale Venturini, President and CEO of the trade association, said in a statement. "Our membership of hoteliers, restaurants and attractions were extremely transparent on overall loss of business, but this study further illustrates the magnitude of the financial impact to the third-largest industry in Rhode Island."
In 2022, Venturini predicts that "supply chain challenges will lead to reduced menus and increased prices at restaurants," that restaurants will "continue to rely on takeout and delivery to stay afloat;" that "workforce shortages will lead to reduced hours and the adoption of more technology" and that "businesses who didn't receive RRF will struggle to survive the winter."
Kristin Adamo, President & CEO at Providence Warwick Convention & Visitors Bureau said, "I firmly believe that someday we will look back on 2022 as the year that rewrote all the rules." Adamo anticipates this sea change resulting from two factors: "The pandemic fundamentally shifted the way the hospitality business works. Some of those changes were actually good, like offering more takeout and outdoor dining options. I think those helped to broaden the restaurant revenue stream and will continue. The other side of that coin is that hotels and destination marketing organizations like mine have to figure out how to offset losses in corporate and group travel … one of the ways to do that is to double down on leisure travel and create more events and activities," she said.
A second element, Adamo said is COVID-related stimulus money which states have received since the start of the pandemic. "That money is an unprecedented opportunity to think smartly and strategically about how to build back," Adamo said. "That includes broad-based initiatives that affect our industry, like affordable housing, transportation infrastructure, etc. It also includes things that could directly benefit hospitality. For example, I would love to see a major tourist attraction in Providence. Warwick is a perfect place to build more athletic facilities to grow the sports market. And, holistically, hotels in the northern half of Rhode Island … are still recovering."
Hotels are still struggling
While restaurants and bars in the Ocean State were hit hard, in the spring 2021 most restrictions were lifted and guests began to return, leading to their slow but steady recovery. For hotels, the experience has been different as travel continues to remain slow for the corporate sector.
"I look at the landscape of hospitality and I see that restaurant rebound in general is much better than hotels' rebound, especially in the Northeast and especially in metro and urban areas and city centers," said Farouk Rajab, past-Chairman RIHA and General Manager, Marriott Hotels. "I think the hotels in the leisure market, the destination market, are doing better than other markets, but I believe the other markets are going to take longer to catch up … cities like Boston, Providence and New York will not go back to 2019 levels until 2024. We have quite some time to go."
Most companies continue to limit the travel and large-scale events which normally brought business to large hotel chains. Marriott Hotels saw less than half the number of events they had in 2019, Rajab said, and the events that did take place had smaller guest lists. "As long as corporate America does not travel, the hotel industry will not rebound," Rajab said. "And that will affect liquor sales in hotels."
As many continue to work from home, some restaurants in urban centers continue to be affected. "When corporate America goes back to travel and office buildings are filled up again, city restaurants will start seeing that lunch business come back, which would be really good," Rajab said. But it isn't all bad news. "2021 is better than 2020," Rajab said.
Changing demographics influence beverage programs
Elisa Wybraniec, Wine Director, The Coast Guard House, sees some positive trends emerging on the other side of the worst part of the pandemic. "It appears we might be on the other side of the past 20 months, and I'm feeling fortunate to have survived on so many levels," Wybraniec said.
"Guests continue to anticipate the hopeful, more collective gatherings, like our history dinners, wine dinners and other events we have previously hosted. What we have seen in guests is the continued need to celebrate. We have noticed the steady increase in trading up, whether that be entrée selection, bottle selection or going for a three-course meal. Dining experiences go hand in hand with trading up, and our igloos have re-established themselves for the 2021-2022 season with much excitement."
Wybraniec said she has noticed a "demographic shift," as more guests are in the Narragansett area during March or November because they are now working from home, and the addition of transplants from neighboring metropolitan areas, who moved to the Ocean State during the pandemic, leading to an evolution in her beverage program, saying this "has given us the opportunity to expand our wine program even further."
"Guests also are fully accepting of disposable menus, allowing us to be nimble with menu changes. Which enables me to offer new varietals, varying price points and a range of wine styles for our by-the-glass program," she said.
Private events continue to grow
Nicole Mattiello, Vice President of Marketing & Business Development, Pranzi Catering, said the company hasn't seen much growth from corporate and university events, as decision makers continue to hold off on large-scale events; it is private affairs such as weddings, birthdays and special occasions that have been booming. Pranzi is looking ahead to a busy 2022, according to Mattiello.
"I would say that people are still ready to get out there and celebrate and come back from being hunkered down or dealing with restrictions from 2020," Mattiello said. "People are going to be doing a lot of celebrating. I still feel like we're going to be doing a little bit of catch up [from postponed weddings]."
Mattiello expects outdoor events in the warmer months to continue to be popular, along with tent rentals. The pandemic has changed the way people book their special day, she said, with "weddings scheduled every month of the year, which was previously unheard of," Mattiello said. "There is no wedding season anymore."
She said requests for corporate lunches are still down since workers aren't in the office, companies aren't hosting team building sessions, holiday parties or grand openings; colleges and universities still aren't conducting the range of events which would have been part of Pranzi's normal reoccurring events.
Rising inflation, which has contributed to increased costs of everything from meat to packaging, remains an issue and results in a higher bill for catering clients. Staffing has also been an issue in all facets of hospitality, including catering. "I hope that more people come back to work," Mattiello said.. It seems like every industry was short staffed and struggling [this year], so I really hope that that takes a turn for the better."
Bar and beverage trends
"I believe we have learned quite a bit about our industry and guests in the last year," said Newport-based Bartender John Begin. "Personally, I believe like every winter season in Newport, it's time to plan for what's to come and also a time to celebrate accomplishments. This summer was an unforeseen success, but challenging for most because of the limitations with staffing. I can't see sitting at bars with plexiglass shields and masks in the coming year and that's a blessing. I hope we will continue the conversation between business owners and our city leaders, as this has produced great relationships and a better understanding of each's strengths and limitations.
"Mostly I believe what should come from this pandemic experience is more understanding between the customer and the server and appreciation for their daily struggles. I have faith that we will be able to come to some understanding, as the bartender is your friend and no one goes out to have a bad time," he said.
Beverage Consultant Len Panaggio sees the growth of breweries continuing in the state. "It's refreshing and will hopefully continue along with distilleries, as consumers love local products more than ever before. Beer halls are in, and we have some great ones in Rhode Island," he said.
"Consumers also want to know how the ingredients used to make beer, wine and spirits are grown. The health of the planet is a big concern, not only to millennials, but more and more to the older population." Cannabis and THC-infused beverages will also continue to gain ground. "Constellation Brands invested in a cannabis company within the last couple of years and now owns a 40% stake and has an eye on distributing THC-infused beverages to retailers across the U.S.," Panaggio said.
Alyssa Venuti, Owner, Stirring Liquor expects trends that emerged during the pandemic to continue out of necessity, requiring bartenders to "execute a lot of creativity and get back to their roots. Bartenders needed to consciously think outside of the box with what we had to work with knowing nothing was truly at disposal."
She also predicts the Tiki influence will continue, along with more agave-based and mezcal cocktails and reinventions of classics among continued trends. Pisco and cachaça are also being utilized more as bar teams grapple with shortages of other spirits, she explained.
Supply chain and staffing shortages remain
As staffing continues to be an issue in the hospitality industry, Venuti predicts that issue will continue into the new year. "Whether it is being understaffed due to businesses not having the funds or lack of interest, the caliber is not quite there yet," she said. More positivity from management can remedy this issue at least somewhat. "If a team isn't motivated or all in, you feel it the moment you open the door, and chances are that party might not come back," Venuti said.
"We are nearing the dreaded 'slower' months for restaurants in New England. Let's take the time to get motivated and excited about curating experiences, go back to the basics, have staff tastings, menu and product education days, cross-train, have conversations with guests, or a field trip to another bar and notice how you feel while there. What can you do better?" she said. "I think the solution to the staffing crisis is to believe, empower and train who showed up to the best of your ability, instead of talking about how great staff used to be: let's create it again because they showed up."
Supply chain issues also aren't going away anytime soon, either. "The supply-chain disruption is not going to correct itself in the short term," Beverage Consultant Len Panaggio said. "Clearly, demand for popular brands in all categories is very strong; the restaurant community has reported good growth over the last year. But, not having those must-have products is going to be a problem. Customers are going to have to settle for something out of the ordinary or at best, a close second to the desired product."
"The labor situation is also going to be an ongoing problem," Panaggio continued. "I fear that many who lost their jobs due to COVID are looking for work in other industries. Those of us who have worked in the hospitality business can attest that it is very demanding work."
Jonathan Feiler, Group Wine Director, Ocean House Management also predicts shortages to the supply chain will continue. "We will continue to see pricing increases on core brand items," Feiler said. "We will have to search out undiscovered regions to find value and access. Our focus should be to educate our guests on these issues and open them up to new wines and beverages."
Feiler also believes the staffing shortage is far from over. "As employers, we will have to find ways to better incentivize our employees to keep them engaged with our guests and coworkers and create new working environments to lure back those who have left or want to join the hospitality industry," he said.
"I believe now more than ever the public needs restaurants and hotels to find a sense of normalcy and have someone genuinely take care of them, at least for a moment."