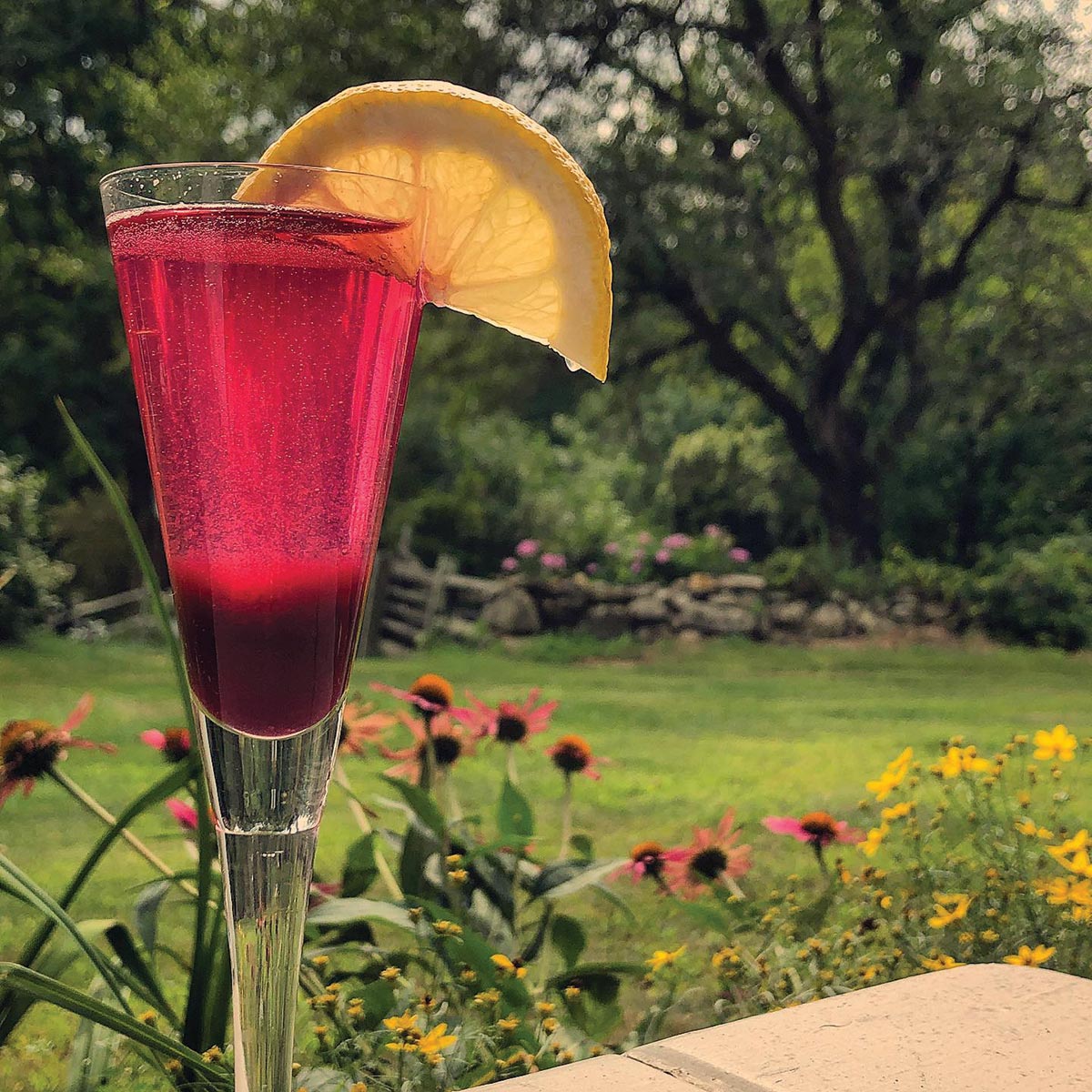 Connecticut distilleries seek to safely welcome guests back
By Sara Capozzi
When the state shut down all nonessential businesses in March, Connecticut distilleries made headlines for their efforts in switching their operations to produce much-needed hand sanitizer for health care and other essential workers, but they were also forced to shut down their tasting rooms. Business from distillery tasting rooms accounts for a large source of revenue for most small and independently owned distilleries.
According to a study from the Distilled Spirits Council of the United States, more than 40% of craft distillers derive more than 50% of their business from tasting rooms sales, and since the COVID-19 pandemic began, 41% of craft distilling sales have disappeared – representing a loss of around $700 million – while 31% of employees have been furloughed.
As businesses continue to navigate new guidelines and safe service parameters, distillery operators open up about the challenges and opportunities of welcoming back the public.
Bridgeport's Fifth State Distillery has not fully reopened to the public out of an abundance of caution, both for Fifth State staff and guests, according to Co-owner Bridget Schulten. "We are a small team of five people and we work shoulder to shoulder in production and bottling," Schulten said. "If one of us becomes ill, it could mean a shutdown of our business for several weeks, so we are being very cautious."
The distillery has been giving outdoor tastings to guests on Fridays and Saturdays in a tent outside its facility since July, with social distancing and masks required. "We have had a great turnout made up of regular Fifth State customers, many new customers and previous hand sanitizer customers returning to try our 14 spirits," she said. "It's been very well-received because people just want to get out of the house when the weather is nice."
In general, spirits sales are up for the distillery, Schulten said. Fifth State has worked to make its products more easily accessible to consumers, offering its line of spirits for purchase through online ordering, curbside pickup and home delivery.
From the start of the pandemic, Fifth State made and bottled FDA-approved hand sanitizer for essential workers and continues to make it for customers purchasing it for commercial, school and personal use. "2020 has caused a great disruption in our spirits business and we are grateful that we could help our local community and essential workers with the production of hand sanitizer," Schulten said. "This pivoting allowed us to weather the storm of COVID-19."
Hartford Flavor Company, makers of Wild Moon Liqueurs, reopened its tasting room to the public in July, with visitor capacity capped at 50%, according to Co-owner Tom Dubay. Even with the changes, the arrangements have been well-received by guests.
"We have found that everyone has been super appreciative of being able to visit while having a great time in a safe environment," Dubay said. "We have set up two dedicated areas in the distillery/tasting room spaces to ensure social distancing and required groups to be only with people they know."
At the start of the pandemic, Hartford Flavor Company joined other state distillers, pivoting its operations to produce and bottle hand sanitizer. Over a span of four months, the company donated more than $100,000 worth of hand sanitizer to hospitals, health care providers, front-line workers and nonprofit organizations. "We also are selling sanitizer to the public and that is helping us be able to do the donations," Dubay said. "We feel like the public has enabled us to be able to donate to totally worthy causes while keeping our company afloat and even growing a bit in the process. That feels rewarding to say the least."
Sales of the company's Wild Moon Liqueurs and new Botanics lines continue to grow and Dubay attributes some of that to the media coverage the company received during the pandemic. "We have found that the average purchase in the tasting room of our Wild Moon Liqueurs products, sanitizer and general merchandise has increased as compared to pre-COVID levels," Dubay said. "Due to the exposure we received from the Connecticut media over the last handful of months, we believe that many people that would have not learned about us are now fans of Hartford Flavor Company and our various products."
Westford Hill Distillers in Ashford reopened its tasting room the third week of May and "initially kept publicity low to be sure that we could manage traffic and keep guests safe by complying with state mandates for reopening," said Co-owner Lou Chatey, who, along with wife and partner Margaret, runs the production of its fine fruit brandies and eaux de vies.
The distiller decided not to host its annual music series, which normally brings a good number of guests to the tasting room on the weekends, and instead opened its gardens for guided tours, donating the proceeds to the Ashford town garden club. The facility has hosted other small events outdoors, including a recent lecture given by Rick Ross, a horticulturist for the former Caprilands Herb Farm. The event featured a variety of cocktails made with Westford Hill spirits that included fresh herbs from the distillery's organic herb garden.
While a limited number of guests are allowed in the tasting room at a time, Westford Hill continues to see an interest from the public. "With regard to our visitor center, we have been extremely pleased with how our retail business continues to grow," Chatey said. "The distillery is in a very secluded rural location, which has made us a destination for people to come and enjoy a craft cocktail and unwind." The distillery's hospitality manager, Summer Webster, creates craft cocktails on-site using Westford Hill's spirits and the farm's fresh fruit, herbs and vegetables, and has "gained her own following" among guests, Chatey said.
Also available for tasting and purchase at Westford Hill Distillers is BouveryCV Chocolate Liqueur, which is made on-site. Launched in 2019, BouveryCV, a chocolate-infused vodka liqueur, was created by spirits entrepreneur Danny Bouvery. Bouvery acknowledged that while small brands have struggled due to the inability to hold tastings in tasting rooms, bars and retail outlets, he's been pleased with the sales from the Westford Hill Distillers tasting room.
Bouvery said he was "pleasantly surprised" by how well his product has sold during the pandemic. "Having Lou has been a godsend for the distillery tasting sessions. It really has helped reach a new audience."
Bouvery has continued to be creative with marketing during the pandemic by doing giveaways of branded cotton masks for every bottle purchased in the tasting room and Zoom mixology sessions to reach customers. "This situation that we're in, you've really got to adapt to what's going on," he said. "You could well go under through lack of sales or just not taking advantage of the situation where you're just not bringing any money in and that's just not good for anybody, depending on your overhead, so you have to reinvent yourself in many ways."
Brandon Collins, Owner/Head Distiller of Continuum Distilling in Waterbury, had the brand's grand opening celebration in February, but it wasn't open long before it was forced to shut down in mid-March. Now Continuum is open for limited tastings on Fridays and Saturdays, helping introduce customers to its products, a green spirits line created from repurposed beer from local breweries.
"That's absolutely critical to us right now," Collins said. "Being able to let guests experience our story as well as being able to taste our products and make sure that we tell them about the process because that really ties everything together. Then it really comes down to being able to taste it and understand that this is a novel product, that you can't just call it bourbon or gin or vodka and people just expect it to taste a certain way, that it does have these nuances … that's where we're very successful when we do have someone in that they do enjoy it and then take some home and share and get the word out that way."
Still, he said, safety of staff and guests has remained paramount. "We've been very conservative with our approach because of the safety measures we have to take," Collins said. "So when we do appointments and reservations, it allows us to control the traffic flow, the number of different groups that are in, make sure things are sanitized and keep not only our staff safe but the public that's in as well."
The staff at Continuum Distilling spent the last six months focusing "primarily on production," Collins said. "Now our biggest goal is to just get product in as many locations as we can so that it's accessible for the consumer." The company recently signed on with Star Distributors, Inc., for retail and on-premise distribution, which started in September.
In the coming months, the distillery is exploring the idea of holding outdoor tastings and plans to work with farmers markets to continue to gain exposure to consumers. Another lifeline has come via Continuum Distilling's 27 brewery partners – who include Half Full Brewery's Third Place in Stamford, Kinsmen Brewing in Southington and Black Hog Brewing in Oxford – who have begun offering cocktails in their tasting rooms using Continuum Distilling spirits.
"We've had some brewery partners as they've reopened their taprooms want to offer more diverse selections for their guests embrace our products for making premixed cocktails and things like that," Collins said. "So, we've had a few of those guys who have ordered and reordered and keep us on a draft line in a premixed cocktail and that's been helpful."
Did we miss your business this reporting round? Send us a note so we can include you as the series continues.