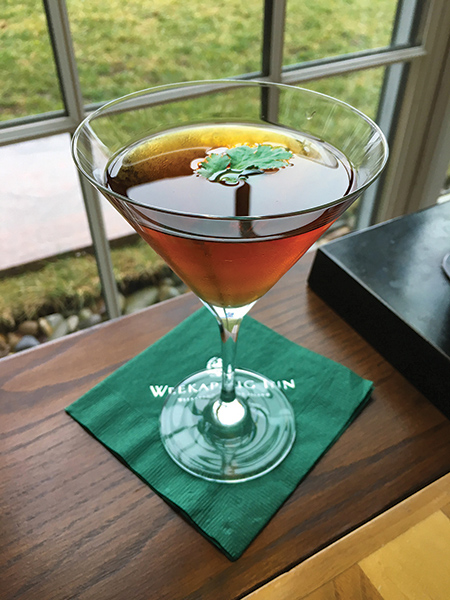 The Weekapaug Inn
25 Spray Rock Road
Westerly, RI
The historic and award-winning Weekapaug Inn overlooks the Quonochontaug Pond and the Atlantic Ocean. Its farm-to-table restaurant provides guests with fresh, locally-sourced ingredients paired with its curated menu of craft beers, cocktails, mocktails and wines. The restaurant's wine program earned an Award of Excellence in 2016 from Wine Spectator. 
Bartender: Ryan Robinson, Senior Restaurant Manager and Sommelier
Cocktail: Irish Spring
Recipe:
Build in a cocktail shaker, and mix
2 oz. Irish Whisky
.5 oz. Fernet Branca
.5 oz. Ginger-Brown Sugar syrup*
*For the syrup, boil fresh chopped ginger and equal parts of brown sugar and water.
Enjoy either up or on the rocks and garnish with fresh cilantro.
"The month of March brings two of my favorite days, the first day of spring and St. Patrick's Day," said Ryan Robinson, Senior Restaurant Manager and Sommelier. "An elevated alternative to the classic St. Patrick's Day shooter, this cocktail features an Irish whisky base and fragrant sugar syrup. The fragrance of cilantro blends well with the unique bouquet of Fernet Branca and provides soothing digestive relief after a day of imbibing."