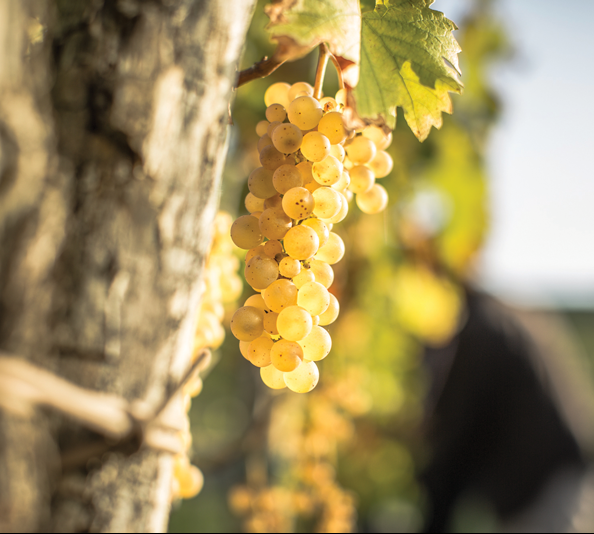 Eastern Europe Emerges From Anonymity, Delivering Discovery
By Jim Clarke
---
Western Europe may be the functional home of wine today; the vineyards of France, Italy, and Spain make up almost a third of the world's plantings. But research suggests that wine's origins lie at the far end of the continent, with evidence of winemaking in Georgia dating back 8,000 years.
Truth told, all 20th century, wines from there or countries like Moldova, Slovenia and Croatia barely merited a shrug here in the U.S. Many weren't even countries at all during the Cold War, and what wine they made was consumed locally or fed the demands of the Soviet Union. Now, 30 years since the fall of the Berlin Wall, the wines of Central and Eastern Europe are a growing presence on wine lists and shelves everywhere, feeding the U.S. winedrinkers' curiosity for new things.
It's a large, diverse area, and local traditions have had a long time to develop. In Central Europe, some grape varieties such as Welschriesling and Blaufränkisch spread far and wide under the auspices of the Austro-Hungarian empire; others remained local specialties. While international varieties did penetrate, native varieties are leading the way today. "I think the wines that really show their origins, their traditions, and the local grape varieties are of most interest to our buyers," says Ilya Shchukin, owner of Vinum USA, which imports Croatian, Slovenian and Macedonian wines. "There's already plenty of generic wine in the market from anywhere in the world."
Here are some highlights of what several former Soviet Bloc countries are doing to stand out.
Croatia
With 33,000 hectares of vineyards scattered across three major regions, a couple on the Adriatic Sea, one decidedly continental, Croatia exemplifies the way a small country can offer lots of variety. "Croatia has a very long coast," says Shchukin, which encompasses the winegrowing regions of Istria and Dalmatia. "Those coastal wines have great minerality and salinity, savory qualities that complement food well."
Croatia also enjoys a link to a variety well-known in California: Zinfandel. Dr. Carole Meredith identified Zinfandel as Crljenak Kaštelanski in 2001. While few vines are left in Croatia, a child of Zinfandel, Plavac Mali, is the nation's most planted red variety. It also may be connected in many American minds with Dornish red, one of the fictitious wines featured on Game of Thrones. Croatia provided many of the settings for the show.
Georgia
Georgian wines began a turn away from their traditional Russian market and toward the West around a decade ago; a 2006 adulteration scheme followed by political squabbles subjected the wines to a series of trade barriers and restrictions. The wines the Russians were buying were mostly made in a conventional, modern style, but it's Georgia's deep history of winemaking that has caught American attention.
While Georgia hosts a number of native varieties, often with vowel-deficient names such as Rkatsiteli and Mstvane for whites and Saperavi for reds, it's an aging vessel, the qvevri, that has become the thing to know about Georgian wines. These large clay amphorae are sunk into the earth of the cellar; the must, white or red, ferments within.
White grapes treated thusly yield so-called amber or "orange" wine with some aromatics and tannic structure derived from skin contact during fermentation. "They have been making wine in this manner for eight millennia," says Lisa Granik, MW, who's working on a book about Georgian wines. However, "qvevri wines are about one percent of the wine produced in Georgia."
Other approaches, including skin contact in modern stainless steel, are also prevalent. Granik says producers are exploring native grape varieties more intensely, and as attention moves away from the qvevri and onto the grapes and vineyards themselves, there will be a lot to learn about Georgia's terroir
and wines.
Hungary
Given the relative fame of Hungary's sweet Tokaji Aszu wines, it comes as no surprise that Hungary's vineyards were among the first to receive attention from the Western wine industry, with figures like British wine writer Hugh Johnson investing in the region. While those sweet wines remain highly regarded, Hungary's dry wines are a growing presence, pushing imports up 28% in terms of value in 2018 according to Gomberg-Fredriksen.
After 1990, "A lot of people were able to buy back or acquire small pieces of property," says Athena Bochanis, founder of Palinkerie, which imports Hungarian wines. "It's different than other countries in the region" where the large co-operatives and companies of the Communist era still dominate. Bochanis says the huge number of small, "two-to-ten hectare" producers makes Hungary a cornucopia for boutique wine production.
The Hungarian industry has put the spotlight on Furmint as a varietal wine, thanks to its "noble" status and ability to make serious, distinctive wines in several regions including Tokaj and the Lake Balaton area. "I would say Furmint and Hárslevelü are the most interesting, but Olaszrixling (Welschriesling) could surprise us all, especially if it's from an interesting terroir," says Bochanis. "In terms of reds, Kekfrankos—Blaufränkisch in Austria—really fits the profile of what's trending right now, a red fruited, peppery, not ever more than medium-bodied red."
Moldova
Moldova once supplied every second bottle of wine consumed in the USSR, and remained focused on the Russian market until it, like Georgia, endured political tensions with Russia and began diversifying its export markets. While many of its 112,000 hectares of vines were replanted to international varieties post-Communism, the interest today is focused on native varieties like Feteasca Alba for white wines and Feteasca Neagra and Rara Neagra for reds.
Slovenia
Slovenia's most highly-regarded wine region, Brda, enjoys a location abutting Italy. In fact, the region straddles the Friulian border; Collio and Brda both mean "hills," and politics only really split the region in two in 1947. Interest in Friuli's wines extended across the border, and many Slovenian wines made their first appearances in the U.S. on Italian restaurant lists.
Brda has focused on Rebula (Ribolla Gialla) as a signature variety. "Rebula is a native variety grown in this region since the 12th century," says Valerija Simčič at winery Marjan Simčič. "For the best results it needs high positions on the top or western portion of the hills." Grown there, it produces dense, structured white wines. The area focuses on whites, Chardonnay and Sauvignon Blanc in particular; freshness and minerality are defining characteristics. Simčič acknowledges clumsy use of oak in the 1990s, but "today in the Brda region you can find a lot of very pure, mineral, and energetic wines with a lot of authentic terroir."
Brda is just the western edge of Slovenian wine; the more continental region of Podravje also focuses on fresh whites, with many of the same international varieties planted as well as classic Central European varieties like Laški Rzling—Welschriesling once more.