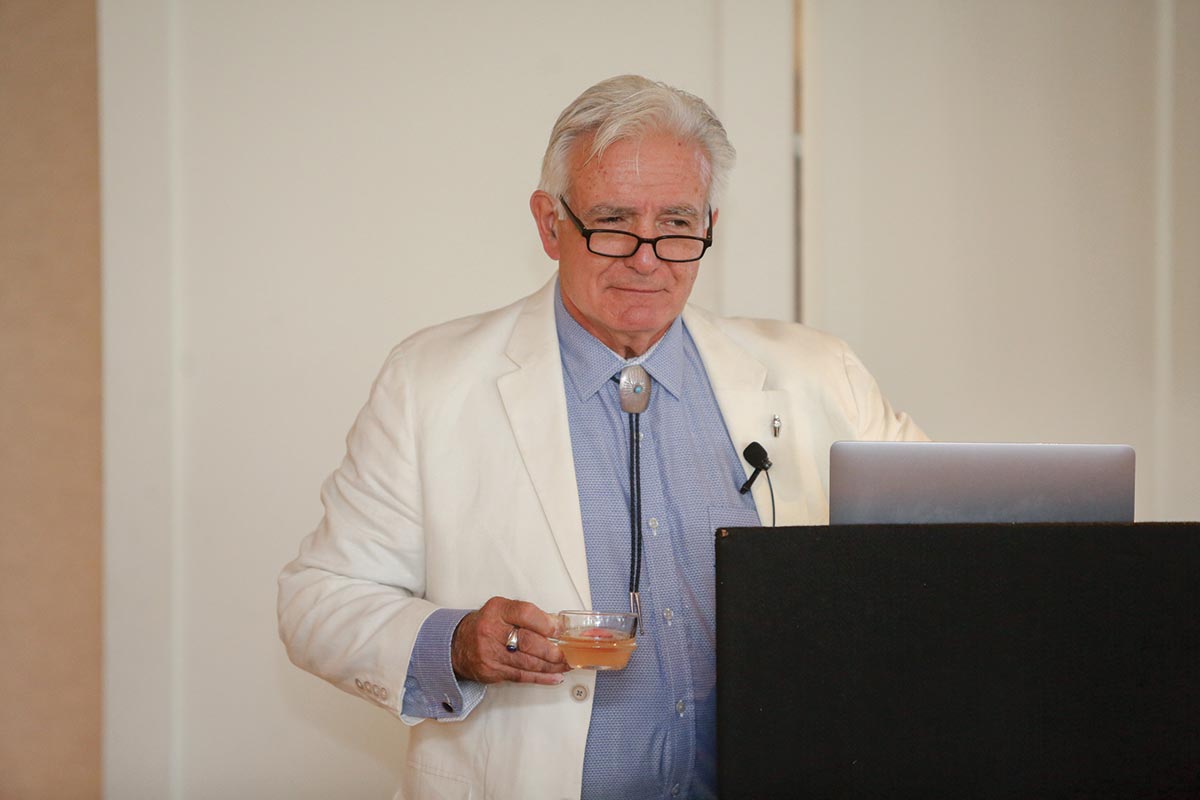 By Jonathan Feiler
On Sept. 1, 2021, The Ocean House hosted the King of Cocktails, Dale DeGroff, for a book signing of the new edition of his book, "The New Craft of the Cocktail." While we do a lot of events at Ocean House with many amazing authors and restaurant professionals, this one had a special meaning for me. Hosting Dale at Ocean House gave me an opportunity to travel back to a special time in my life and reflect on where I was then versus now. I think about how far cocktail culture, our industry as a whole and myself personally have come.
I first met Dale in 2004, during my first job as a sommelier, when he, Ti Martin and the Brennan family of Commander's Palace opened the Cocktail Museum on Charles Street in New Orleans. At the time, there were a lot of things I didn't know: Notably, certain ingredients Dale used in his cocktails were foreign to me, that the cocktail culture in my native New York was so robust, how using a few, but carefully selected, ingredients can make an exciting and balanced drink, and that Dale was, in fact, from Westerly, Rhode Island.
In 2004, the first Whole Foods just opened in New Orleans, and when Dale sent me his list of ingredients, it was almost impossible to find everything: items that are common now, such as Falernum Syrup and Maraschino Liqueur, were not easily found. While Café Adelaide, the restaurant I opened with the Brennan family, was on the cutting edge of New Orleans cocktail culture at the time (we had a "Bar Chef" and did hand-chipped ice), we were still a bit behind the craftsmanship of Dale's cocktails. Going on the scavenger hunt to find the ingredients that Dale wanted opened up my eyes to a new way of looking at cocktail structure.
Fast forward to 2021. Finding Dale's ingredients was a much easier task for the book-signing event, and many of our guests were familiar with him and his drinks; we were in his hometown. Talk about full circle!
We learned about his personal history that intertwined with the history of the cocktail, the backstories of how certain ingredients came to be in specific cocktails, and stories of the restaurants he worked at, including the famed and never-forgotten, Windows on the World. Dale discussed how his family built the ocean wall, just a stone's throw away from the hotel! There was a trove of new information that I, and the 50 enthralled guests in attendance, learned. Dale is still teaching me.
He also treated our guests to three of his favorite cocktails. First, his Hendrick's Summer Punch with Hendrick's Gin, homemade shrub, fino sherry and maraschino liqueur, which was tray-passed as guests entered the ballroom. This drink seemed to be a twist on his Harry's Harveys Punch and was a balanced blend of sweet and dry with a refreshing finish. Next up, The Yuzu Gimlet made with Hendrick's Gin, yuzu and grapefruit juice, and honey-and-agave syrup, garnished with black sea salt. This was a slightly sweet and tangy cocktail that brought fun and layered flavors to its classic predecessor. During the Q&A session, we served Dale's Classic Smoky Martini No. 2. This intense, heady cocktail is prepared with Hendrick's Orbium Gin, Reyka Vodka, Martini Ambrato, Dale's Pimento Bitters and Monkey Shoulder Whiskey.
After his discussion, Dale took time to sign his book for our guests. At this point, I of course got his new book, as well as my old original copy of his book that has traveled with me throughout my career, signed. Dale remarked on how good of condition the book was in and if I actually used it, laughingly. The answer was and is, "Of course I do." I respect the book and the man. While everyone who attended the event took something away from it, my takeaway is that no matter where our careers take us and how much we learn along the way, we are never too old to learn something new — and to learn those things from a master is invaluable.
Jonathan Feiler is Group Director of Wine for Ocean House Management Collection, including the Forbes Five-Star Ocean House, the award-winning Weekapaug Inn, the Watch Hill Inn and the Inn at Hastings Park, where he oversees the wine and beverage program and practices a wine philosophy centered on versatility and approachability. He also is responsible for a full program of beverage education classes for individuals and groups.