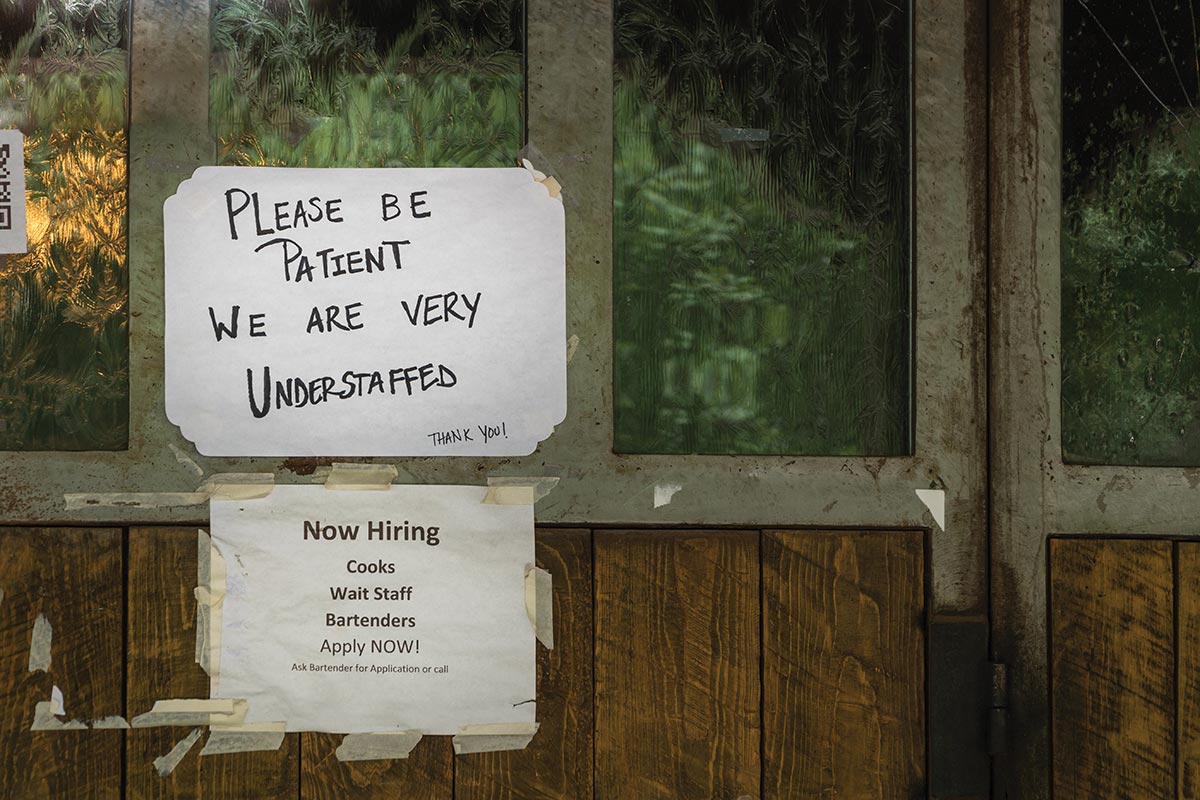 By Len Panaggio
As we enter the last quarter of 2021 – O(ctober), N(ovember), D(ecember) in the business – it's a good time to reflect on the last three quarters and how they may impact the end of the year.
The overarching theme so far? Shortages. In all my years in the restaurant business, I have never seen a shortage of bartenders. What was once a to-die-for position seems to have lost some of its luster. Granted, not all places are experiencing it, but enough are to ask why this is happening.
It seems many hospitality workers have decided not to return to the industry for many reasons, chief among them is fear of another lockdown, which is driving them to seek employment in industries less affected by one, of which there are many. Despite the argument that the enhanced unemployment benefits were the culprit of the staffing shortage, there are people out there who do want to work, but who also want a guarantee that their job will still be there if there is a shutdown.
With winter coming, the resort communities will have a reprieve, as their business hibernates for the season and they release staff to go elsewhere; still, the cities may continue to experience the problem. The resort staff and teams are so exhausted that many restaurants are shutting down for a week to let them recharge. Smart!
Next, the shortages of product. Many I have talked to read their invoices to me: out of stock, out of stock, omg! The trucking industry is feeling the labor crunch too, and as a result, the supply chains are disrupted. My advice is if you can load up on products you know will sell, do so: Tito's, Blanton's, Aperol, Champagne, to name a few.
The holidays are coming. To add insult to injury, price increases are for real. Suppliers are feeling the pain of their raw product going up to craft many of the beers and spirits, with no choice but to pass along the cost. Tack on their rising labor costs, and you get it … inflation is real. Shop wisely, and not just for the beverages, but all the accoutrements associated with your bar: napkins, glassware, straws, etc.
Just when you thought COVID-19 was in our rear-view mirror, the variants have taken center stage. Many businesses are requiring employees to be vaccinated or tested weekly. I'm hoping we won't have to start policing our guests, like the larger metro areas are doing by requiring proof of vaccination to dine indoors. If you think guests were irritated with the mask mandate, just wait to see that potential debacle if it comes to Rhode Island. And as I said last month, dust off your Plexiglas.
In addition to all of these pandemic-related problems, we can't forget the "normal" tasks for this time of year. I mentioned that the holidays are on the horizon; and while it is sort of late, don't get caught with too many Oktoberfest beers; before you know it, winter beers will be available (if they aren't already by now), and those need to be on your menu. Do take the time to create clever winter cocktails and, again, mocktails, in keeping with taste trends.
We have experienced many challenges this year, and there were many lessons learned. Restaurateurs are a nimble bunch and will come up with many interesting strategies to deal with whatever is thrown their way. I have outlined the obvious ones here, but there may be other issues lurking out there.
I still feel that the restaurant industry is one of the best to work in for many reasons. We will get through this and be better for it, of that, I am sure. Hang in there! Oh, have an Oktoberfest while you are pondering your next move.
Len Panaggio's career in food and wine spans more than three decades as an owner and as a beverage director at some of the top restaurants in Rhode Island. Currently a hospitality consultant, Len is a graduate of the University of Rhode Island and has attended the Culinary Institute of America Master Sommelier program and the Sterling School of Service and Hospitality.